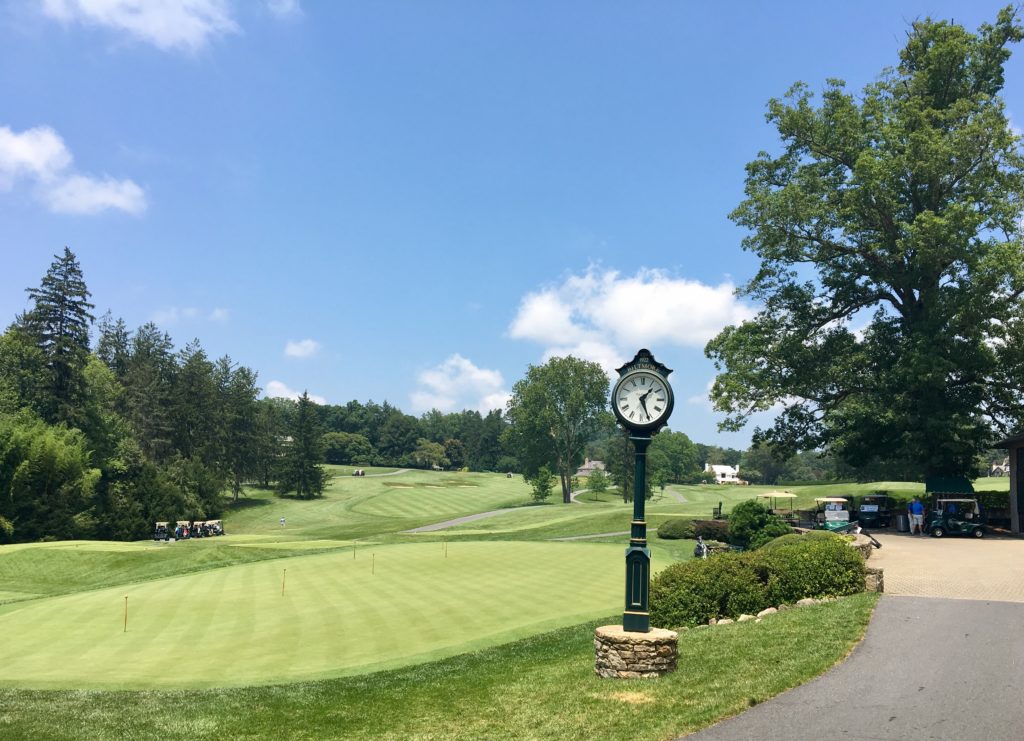 Two invitations, one to a tournament at the historic Biltmore Forest Golf Club; the other, to stay with friends Rosemary and Jerry Crow, gave us three beautiful days in Asheville NC in late July. Seven years ago my Phillips Friends and I had toured the Biltmore Estate, taken a trolley tour around Asheville, and lunched at Grove Park Inn. Marjo and I stayed to ride the Great Smoky Mountain Train and attend the outdoor drama, Unto These Hills. This time I found new things to do while Steve and members of the Society of Seniors played golf.
Day 1: Breakfast and brewery tour with non-golfing wives. Attracted by clean Appalachian waters, the Sierra Nevada Brewery, headquartered in Chico CA, built a large East Coast facility in 2013 near Asheville, the "Beer City." This highly mechanized brewery employs 400 people, but half of them work in the popular attached restaurant. The parking lot is shaded by scores of solar panels that furnish electric power and punctuated with large barrels that catch and recycle rainwater. A spunky tour guide taught us about brewing beer. In addition to water, basic ingredients are hops, malted barley and yeast. We got to touch and smell the pale green hops, peak into laboratories, sit on benches made from local lumber, and best of all, taste old and new varieties of beer.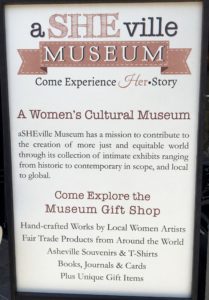 After lunch at Isa's Bistro in downtown Asheville, I discovered aSHEville Museum, a new addition to my growing list of women's museums (Belmont-Paul National Women's Equality Monument in DC and the Women's Suffrage Museum in VA). There I bought a book, The Tall Woman, by Wilma Dykeman, whom the museum deems a feminist and environmentalist hero. Published in 1962, it's an engrossing story of a strong pioneer woman who lived during the last half of the 19th century. My review is here.
Day 2 started with an early morning walk around Crowfields, the lovely complex where the Crows live. Pink clouds, geese, turkeys, and wonderful floral scents greeted me.
My friend Rosemary is a noted composer whose hymn "Weave" is widely known. She served as music director at Trinity Episcopal in downtown Asheville for thirteen years and conducted choral workshops across the county. She took me to All Souls Cathedral in Biltmore Village to see their wonderful organ and beautiful banners by her friend Kirsten. I was intrigued by the church's stained glass memorials to Cornelius Vanderbilt II, grandson of Commodore Vanderbilt and older brother of George Washington Vanderbilt II, who commissioned the Biltmore Estate; and Biltmore Landscape Architect Frederick Law Olmsted, whose work I have admired in Boston, New York, Washington, and Yosemite.
Next Rosemary introduced me to New Morning Gallery, a virtual museum of well-curated handcrafts, all for sale. We roamed rooms full of fine handmade objects, mostly from Carolina, but also tables by Sticks of Des Moines Iowa, the maker of my favorite piano bench, and baskets from Maine like the octagonal one I recently bought at the Chautauqua Art Museum.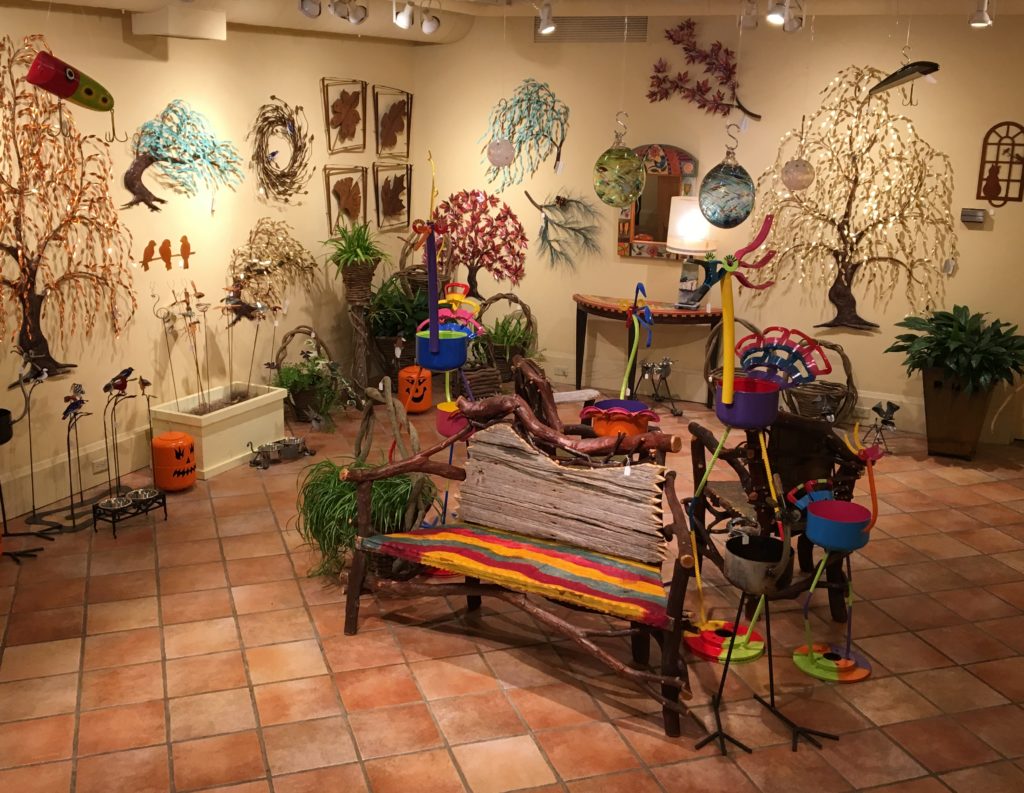 Two of our friends from the Quail Ridge Chorus joined us for lunch at Fig Bistro. By chance, we all wore green. Then we ate well and laughed 'til our sides hurt.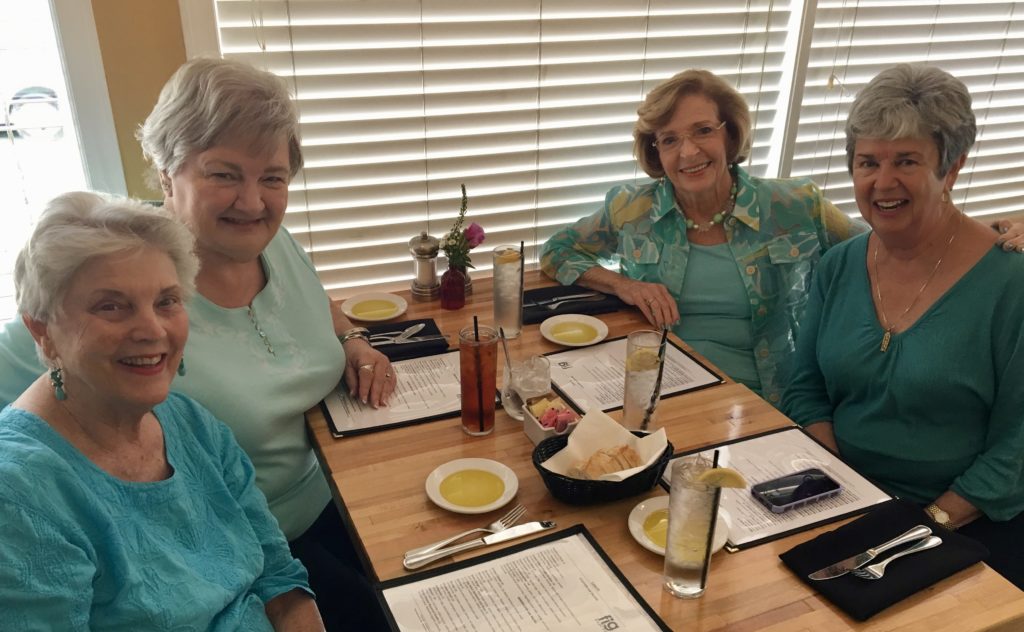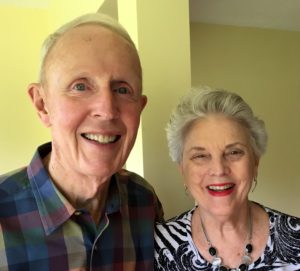 In the evening, Steve and I treated Jerry and Rosemary to dinner at Chestnut. Jerry took us on a stroll around downtown Asheville, where he practiced law for many years. He continues to represent a few clients.
Day 3:  Ever since thick fog greeted Steve and me as we traversed the Blue Ridge Parkway on our honeymoon in 1966, I had wanted to see more of that National Park. The morning mist lifted as I drove from the Golf Club to Craggy Gardens, Milepost 364, and hiked from the picnic area to the visitors center. In contrast to flat Florida, this 45-minute walk involved elevation changes equal to 21 floors. My reward was seeing exquisite flowers, berries, several birds, and meeting a young hiker who exclaimed, "You're in good shape!" That lessened the sting of a pollen-laden bee I disturbed on a handrail.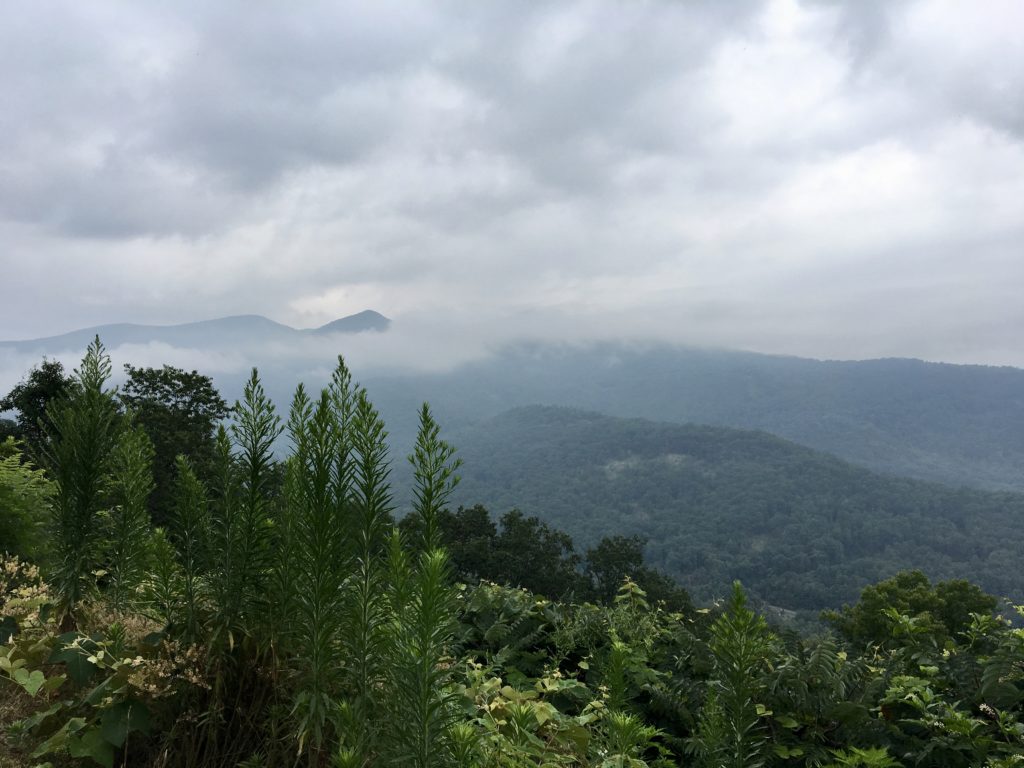 Southern Highland Craft Guild artists were on hand to welcome me to the Folk Art Center at Milepost 382. First I talked with Sandy Adair, who was working on a lovely tapestry a client had commissioned.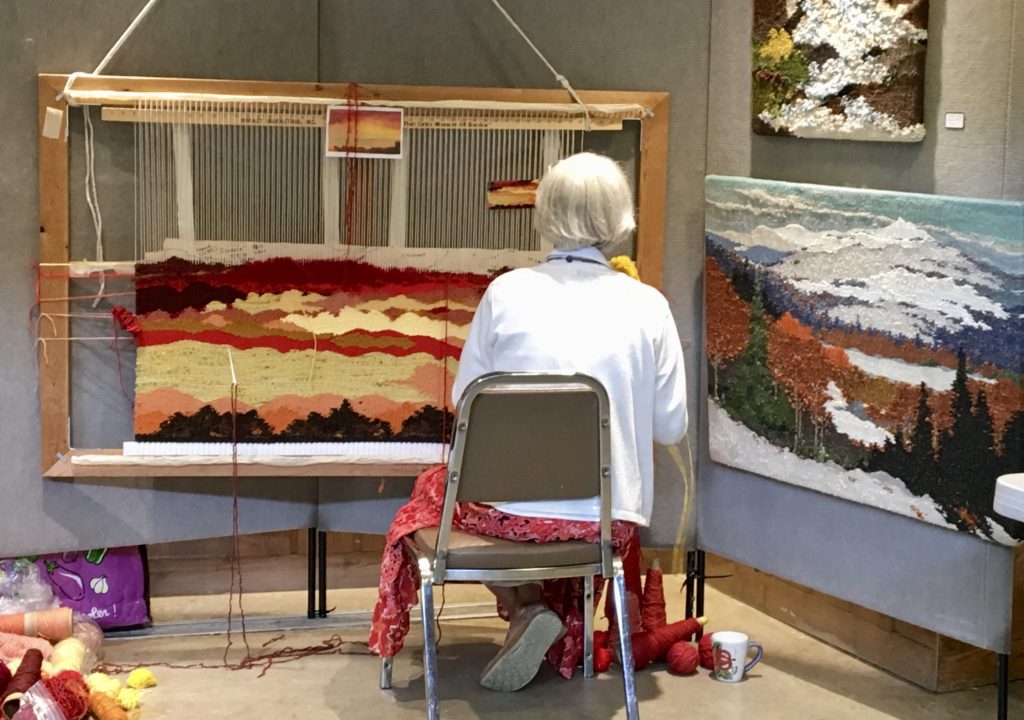 Then I chatted with Lee Entrekin, who agreed to play one of his lovingly-hand-crafted and expensively-priced wooden flutes:
By the time I got back to the Biltmore Forest Club to meet Steve, he and his partner, Jack Gregory, had won the Championship Flight of the Tournament, a perfect ending for our three days in Asheville. Adding to these the nine Fine Days in Carolina we spent in May, plus earlier sojourns in both North and South, we're feeling abundant affection and appreciation for the Carolinas.