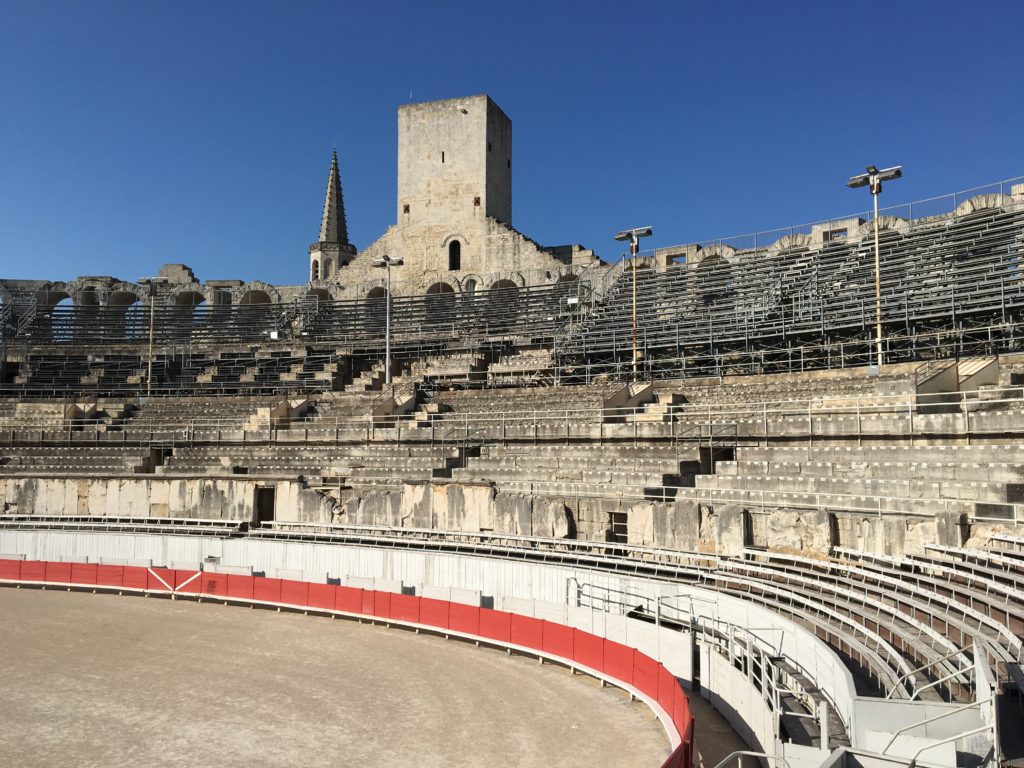 Arles is a city or "commune" in southern France whose area is seven times larger than Paris, but whose population is only 50,000. Its borders include the Camargue delta, where two branches of the Rhone River come together, and a nature preserve teeming with birds. On September 22, we visited sites from several eras of Arles' history. Two of them, the Amphitheater from Roman times and the Romanesque Church of St. Trophime, are part of Arles UNESCO World Heritage Site.
The Arles Amphitheater, pictured above, was built in 90 AD, just 10 years after its inspiration, the Colosseum in Rome. It could seat 20,000 people for chariot races and gladiator fights. I was fascinated to learn that the root of both gladiator and the flower gladiolus is the Latin word for spear. Our guide said that the crowds at gladiator contests put their thumbs to their chest to indicate that a gladiator should be killed with a spear, but those in charge didn't permit many killings, because gladiators were expensive to train and maintain.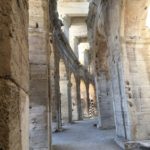 In medieval times, people built houses in the amphitheater and used the field as a town square. Watch towers, like the one in the photo above, were built for protection. Two thousand years later, the original limestone structure survives. The amphitheater is still in use today for concerts and for bullfights featuring the local Camargue bulls. Unlike in Spain, the bulls are not killed, but survive to participate as long as 10 years. Sounded a little like a Texas rodeo to me.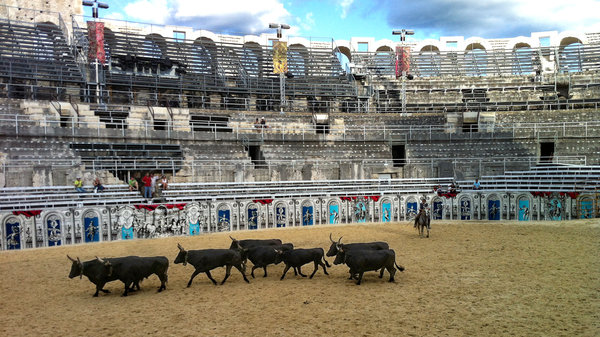 The second part of the World Heritage Site was built much later, between the 12th and 15th centuries. The Church Saint Trophime bears the name of an third century bishop and remains a well-preserved example of Romanesque architecture.
This slideshow requires JavaScript.
Still later, in 1888, Vincent Van Gogh came to Arles for his health and created 300 paintings in just 15 months. When he discovered the Yellow House, he invited Paul Gauguin to come, too, but their joint studio was short-lived. The original yellow house reminded me of the house in Charlottesville where Lilli and her friends lived while attending the University of Virginia. We also felt Van Gogh's presence at the Cafe La Nuit.
This slideshow requires JavaScript.
The most recent layer of history we saw was a monument to August 22-24, 1944, when Allied Forces joined French Resistance fighters to liberate southern France from Nazi control. What a lot there is to contemplate in Arles!