Though Steve and I grew up in Texas, only last month did we finally visit the state's crown jewel, Big Bend National Park. Our friends Jerry (best man in our wedding) and Susan (fellow art lover), who live in Fort Davis half the year, arranged an action-packed, five-day tour for us.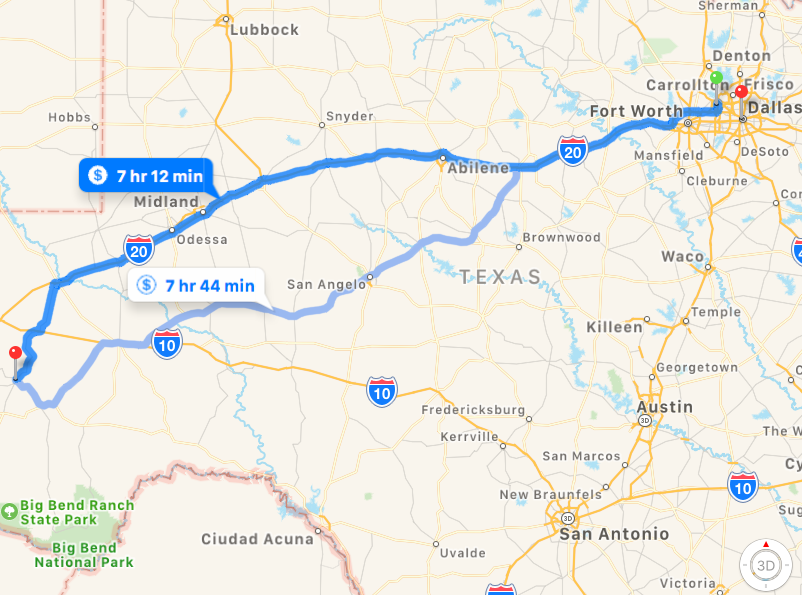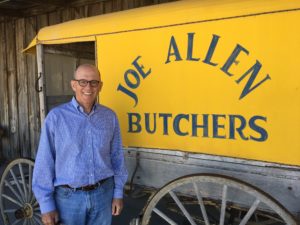 Flying from Fort Lauderdale, we landed in Dallas early Sunday morning, October 22, rented a car, and drove 500 miles west through places in Steve's heart. We stopped in Abilene for lunch at Joe Allen's BBQ. Steve was born in Abilene in 1943, when his father Wayne was stationed at Abilene Army Air Base, now Dyess Air Force Base. Abilene, with a population of 117,063, boasts three universities: Abilene Christian, Hardin-Simmons, and McMurry.
Along I-20 West, we saw cattle grazing under mesquite trees, cotton ready to be picked, and feathery clouds on a vast blue sky. Steve cruised at 83 mph to keep pace with long-haul tractor trailers and Harley Davidsons. Jacks pumped oil; wind turbines whirled. Sweetwater, where Steve, at age four, first met Jerry, is the capital of Nolan County. That county's Roscoe Wind Farm is one of the largest in the world.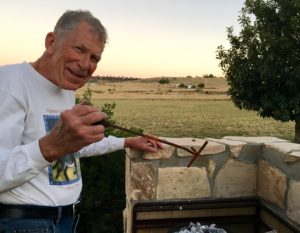 Passing through Colorado City, we remembered our Rice friend Chip Payne, who died in a hunting accident near there in 1965. Chip's mother gave us a hand-crocheted blanket when we married in 1966. As we skirted Odessa, where Steve attended Permian High School, we wondered why, in our many trips there, we never took the kids to see Big Bend, just four hours away. West of Odessa we remembered happy times at Monahans Sand Hills and Balmorhea State Park, then began our ascent into the Davis Mountains. Susan was waiting with homemade tortilla soup; Jerry baked a peach cobbler in a Dutch oven on his grill. Soon it was dark. Viewed from an elevation of 4,892 feet in very dry air, the  Milky Way is a breath-taking sight. Still pursuing my studies on Lake Michigan, I went outside several times that night to find my favorite stars and constellations at 30.59° N, 103.89° W.

The next morning we loaded Jerry's comfortable four-door truck and drove two hours south from Fort Davis through Alpine to Lajitas Golf Resort, nestled between Big Bend Ranch State Park and Big Bend National Park. Susan joined the guys in a round of golf; I rode along in Steve's cart, observing roadrunners, iguanas, and desert plants.
This slideshow requires JavaScript.
Fried okra (my favorite Texas dish) and steak were our dinner at La Kiva in Terlingua, where preparations for the 51st annual international chili cook-off were underway. We retired early to rest for the morrow's full schedule in Big Bend National Park. Susan and Jerry know the park so well. They took us first to Santa Elena Canyon, where we hiked down to the Rio Grande River. A placid heron patrolled the beach. Wish we'd had time for a raft trip down the river; maybe next time. Several overlooks and a visit to the Hot Springs came next, then lunch at Chisos Lodge in the verdant heart of the park. There we hiked a short trail for a view of "The Window" in the Chisos Mountains Basin.
This slideshow requires JavaScript.
It was hard to believe that we could see so much of the park in just one day–that's the value of expert guides. We drove back to Fort Davis late that afternoon in time for a quick supper before the Star Party at McDonald Observatory. The Observatory, part of the University of Texas System, publishes a monthly magazine and a daily podcast, both named Star Date. Our date on the Observatory's mountain that night was cold and windy. Susan and I watched with fascination as the guide directed our attention to certain stars and constellations with a powerful laser pointer. Steve and Jerry checked out the views from telescopes set up near the Star Party plaza. Steve saw the rings of Saturn through one scope and Triton, a moon of Neptune, through another. I remembered a warmer star party there with Marjo in 2014.
On Wednesday Steve and Jerry drove 180 miles each way to play golf at the Butterfield Trail Golf Course near El Paso. Happy Day! Steve scored a 67, his lowest score ever! Susan and I visited the terrific Museum of Big Bend at Sul Ross State University in Alpine. That afternoon Susan took me by Bloys Camp Meeting, founded in 1890. My friend Elizabeth used to go there for a week each August with her Fort Stockton family. Just across the road from Bloys was the Old Spanish Trail Art Gallery. There I met artist Lindy Cook Severns and scored one of her beautiful paintings. Here is her pastel triptych, "Morning, Noon and Night on the Ranch," painted right there en plain air.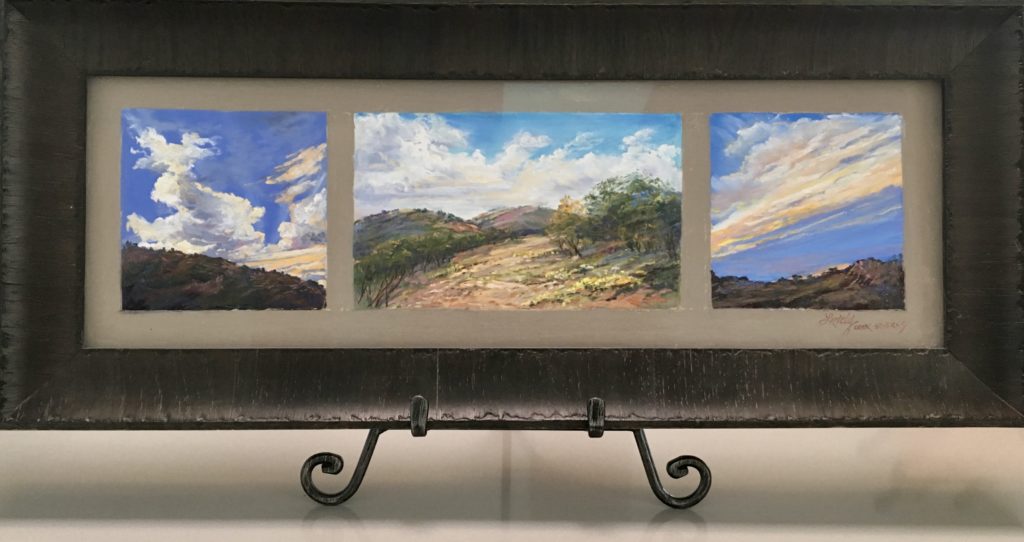 Our evening entertainment was to watch the Houston Astros beat the Los Angeles Dodgers in Game 2 of the World Series.
Thursday, October 26 was yet another beautiful day in West Texas. Our guides took us to the Davis Mountains State Park, where the Civilian Conservation Corps built Indian Lodge and many trails in the 30s; to the Fort Davis National Historic Site, a frontier military post during the Indian Wars; and to the Chihuahua Desert Nature Center and Botanical Gardens, the headquarters of the Chihuahua Desert Research Institute. Susan and Jerry are quite active supporters of the Institute, as well as of the library and the food bank. In this town of 1,201, they are well known.
This slideshow requires JavaScript.
Our visit concluded with a Tex-Mex dinner at Cueva de Leon, a BYOB place with a liquor store across the street. Susan and Jerry are Thursday night regulars. As we drank our Shiner Bocks, we watched a woman ride her horse down Main Street with her young daughter in the saddle in front of her. While the Last Call Band played, Susan and Jerry danced to "Waltz Across Texas."' Steve and I danced to a country-western ballad, "She's a good-hearted woman in love with a good-timin' man."
This slideshow requires JavaScript.
THANK YOU, Susan and Jerry. The only way we can show our appreciation is to invite you to visit us again, so that we can show you more of the treasures we have found in South Florida. To see 131 photos of our West Texas Odyssey, call up this album and click on Info for captions.