If I had resisted talking with a stranger, the woman on the subway wouldn't have told me about the Museum of Math, which our grandkids loved. And my family and I wouldn't have been walking through Madison Square in New York City on Labor Day to get there. And if we hadn't gone through the Square, we wouldn't have stumbled on this amazing art installation Red, Yellow and Blue by New York sculptor Orly Genger. And if Lilli hadn't said she liked my photos of the art, I wouldn't have discovered that Orly is not just a Paris airport, but also a delightful young sculptress!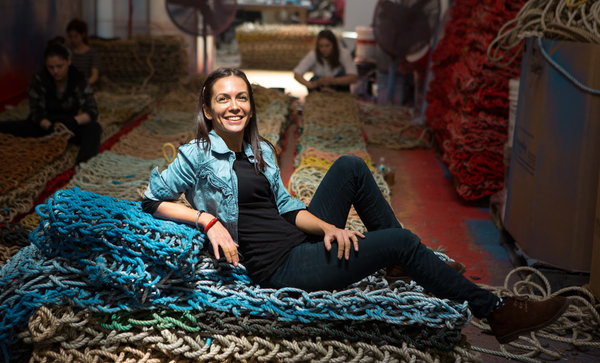 For this huge installation in three different areas of Madison Square, Genger recycled fishing rope from Maine lobstermen, painstakingly removed shell fragments, crocheted it into beautiful forms and spray-painted them primary colors. The New York Times review quoted Genger: "I wanted to create spaces where people felt held." Today, September 8, 2013, is the last day for this work in Madison Square, but in October she will reinstall it at the deCordova Sculpture Park in Lincoln MA. I hope to see it again.
Trying as ever to live con brio, I was disappointed that in the two days we were in the city, we never made it to the Guggenheim to see James Turrell's exhibit.  Steve and I were  so enthralled with his Skyspace at Rice last October. Instead, we stumbled on this wonderful art in Madison Square and got roped in.