Kew Gardens, River Thames, Hampton Court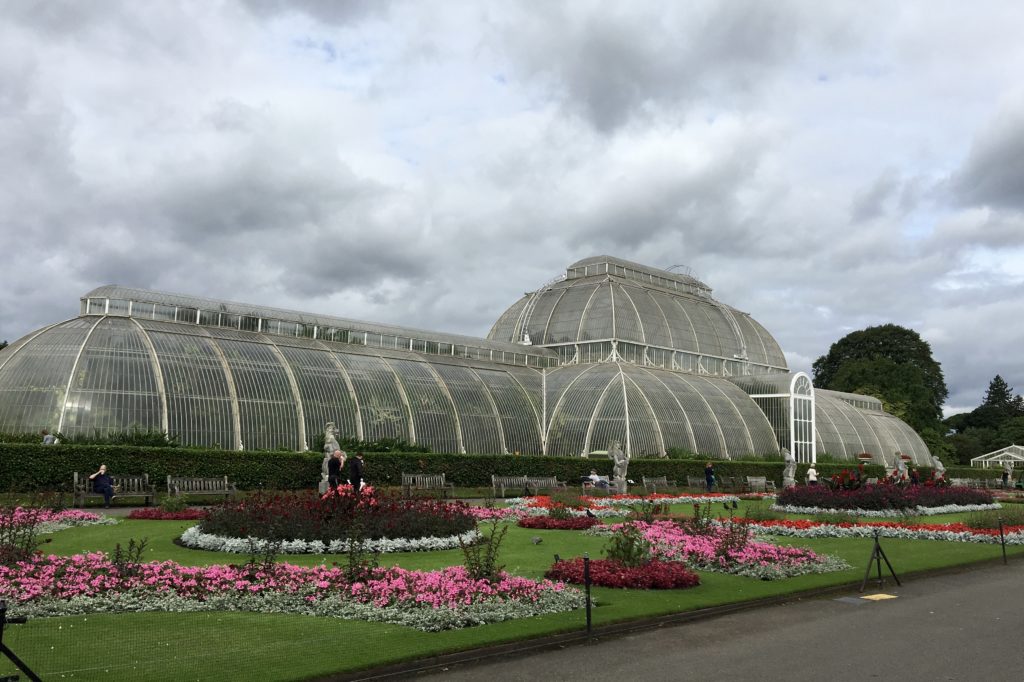 What a delightful day Anne, Stewart and I had exploring western London on August 3. I had visited Kew Gardens in 2000 with Louise and Leon Chester. In 2003 it became a United Nations World Heritage Site and in 2009 celebrated its 250th anniversary. Its gardens spread over 300 acres, the same size as the Rice University campus, and a hundred times larger than the Chelsea Physic Garden. An internationally respected research institution, it employs a staff of 750.
We walked along the floral borders of the Broad Walk from the Palm House to the Orangery, the longest double herbaceous border in the world. Even on a cloudy day, the flowers, singly and together, were glorious.
This slideshow requires JavaScript.
Architect friends had urged me to see a temporary exhibit there, The Hive, a structure designed by UK artist Wolfgang Buttress and inspired by research into the health of bees. Here is a verbal description of what was supposed to happen:
The Hive stands as a visual symbol of the pollinators' role in feeding humanity and the challenges facing bees today. The installation, made from thousands of pieces of aluminum creating a lattice effect, is fitted with hundreds of LED lights that glow and fade as a unique soundtrack hums and buzzes around you. These multi-sensory elements of the Hive are in fact responding to the real-time activity of bees in a beehive behind the scenes at Kew. The sound and light intensity within the space changes as the energy levels in the real beehive surge, giving visitors an insight into life inside a bee colony.
The reality on August 3 was that the LED lights and the soundtrack weren't working. We would have loved to have heard the bees hum in the key of C, as they are reported to do, and to have distinguished the messages of virgin queen bees! It was disappointing, but grumpies can't last long in a beautiful place with good friends. Besides the many young children reminded me of my granddaughters, Margot Bee and Nina Linden, whose names reflect sweet attraction.
This slideshow requires JavaScript.
Next Stewart had a surprise! He guided us to the Kew Gardens dock and we boarded a boat to cruise up the River Thames. I loved the relaxing two-hour ride through ancient locks, below cloud-painted skies, past cyclists and boaters. Our destination:  Hampton Court, a palace originally built for Cardinal Thomas Wolsey in 1514, it became one of Henry VIII's many residences. It was also one of the settings for a favorite book of mine, Wolf Hall by Hilary Mantel. Thanks, Stewart and Anne.
This slideshow requires JavaScript.