Five days in London on my own? Which museums should I see? The Tate Modern, of course, especially since I could now walk there from St.Paul's over the Millennial Bridge. When I was there in 2000, that pedestrian bridge was closed because on its opening day, it had experienced unexpected swaying due to the large number of people crossing it. (Later the engineers were absolved and the fault was attributed to human behavior.)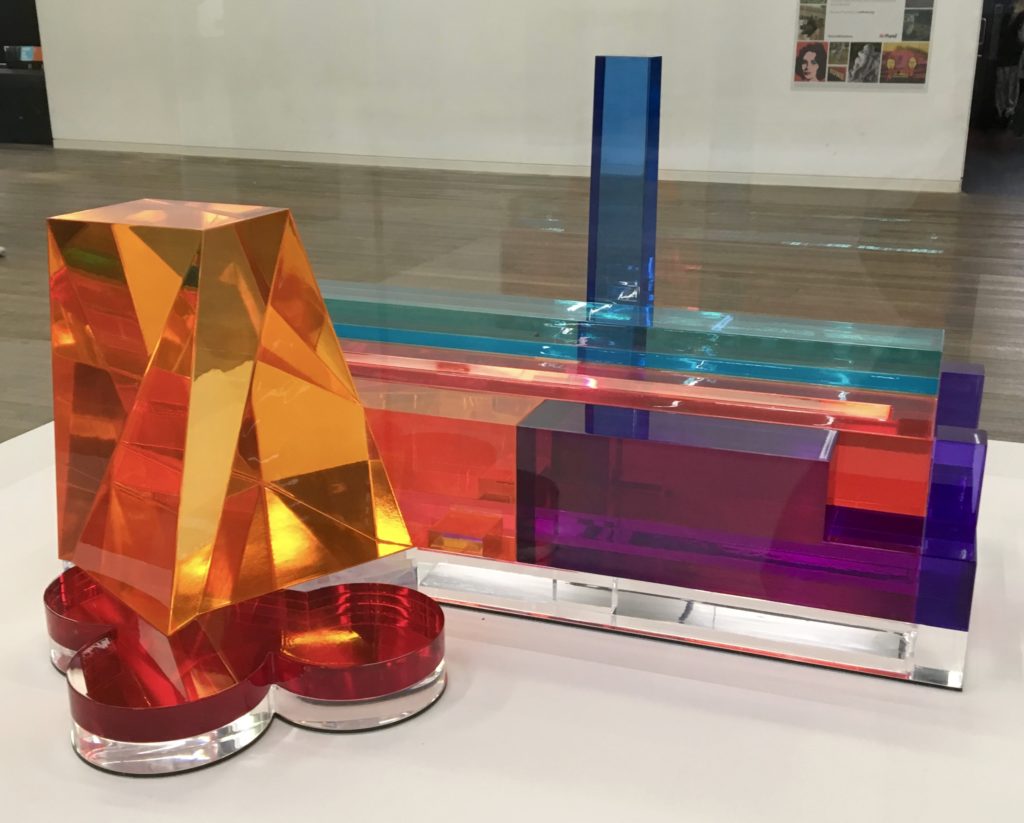 The Tate Modern, part of a large system of Tate museums, is itself a work of art. It occupies the former Bankside Power Station. Swiss architects Herzog & de Meuron converted it into a museum by removing the huge machinery and stripping the building back to its original steel structure and brickwork. It first opened in May 2000 and I got to see it that July. Since then Tate Modern has attracted more than 40 million people. The Turbine Hall (blue/green parts of model) has space for large-scale sculptural projects. Running parallel to the Turbine Hall is the Boiler House (red/purple) with its many galleries. In June 2016 the new Switch House (orange) and the old Boiler Rooms (red cylinders), repurposed for video displays, opened to the public. Here are some of the eye-opening, thought-provoking works of art I discovered in three hours.
Ai Weiwei – I first saw his works at the Perez Museum in Miami. His work, Tree 2010, is the first sculpture one encounters in the Turbine Hall. A nearby placard explained why it has this place of honor.
Tree 2010 celebrates the traditional Chinese custom of collecting distinctive tree trunks, branches and curiously-shaped roots as objects to display in homes. It highlights issues affecting contemporary China. Bringing together different individual branches to create a whole, Tree has been likened to China, where ethnically diverse people have been brought together to form one nation. The dead wood also draws attention to the country's rapid urbanization and economic growth, which have resulted in damage to the natural environment and suppression of traditional culture.
This slideshow requires JavaScript.

Louise Bourgeois – Her huge black spider, "Maman," filled the Turbine Hall's place of honor back in 2000. Now there is a room devoted to many aspects of Bourgeois oeuvre, not just spiders. I still like the spiders because she said they represent weaving and motherly love.

Bourgeois, Spider

Bourgeois, Spider

Marwan Rechmaoui – His large floor map of Beirut recalled April 2001, when Lilli and I had dinner in Beirut with architect friends of hers who were rebuilding the war-ravaged city.

Rechmaoui, Beirut Caoutchouc, 2004-08

Standing on Beirut map

Mona Hatoum – Like Rechmanaoui, Hatoum was born in Beirut. She is new to me and so intriguing. Her special exhibit at the Tate Modern filled 14 rooms, with no photos allowed. Excuse me, but I couldn't resist snapping these two photos. Undercurrent is woven of electrical cables. At the end of each cable is a light bulb that brightens and dims at a "breathing pace," suggesting a "malevolent presence underfoot," though walking on it was not allowed. In the room-size Hot Spot, the entire globe is a danger zone, a "world continually caught up in conflict and unrest."

This slideshow requires JavaScript.

A feisty collective of women artists known as the Guerrilla Girls began protesting discrimination against female artists in the late 1980s. The Calendar on their website shows they are still active in the US and Europe. The Tate Modern displayed a wall of their posters. So radically do they contrast with the female artists of the 1920s and 30s, that I had to revise my post on Art by Women.

This slideshow requires JavaScript.

Rudolf Stingel was born in Italy in 1956 and works in the US. His 1993 interactive wall of thick carpet appealed to me. I think all my grandchildren would enjoy making their marks on this work. I did.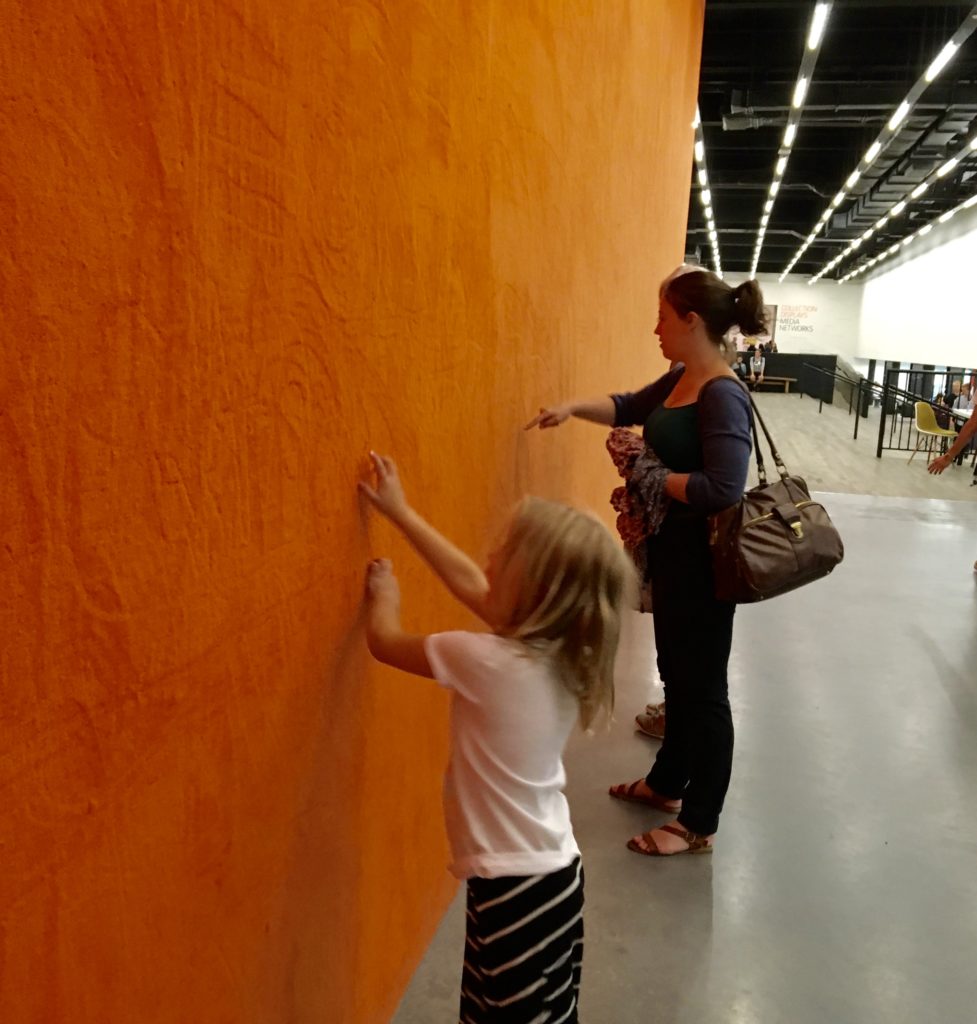 The new Clore Learning Center was a place to just sit and get my breath after viewing so many breath-taking works of art. Lunch at the new cafe included a beet salad with chia seeds–yum! After a nap at Bailey's Hotel, I was ready to hear the Proms Concert that night.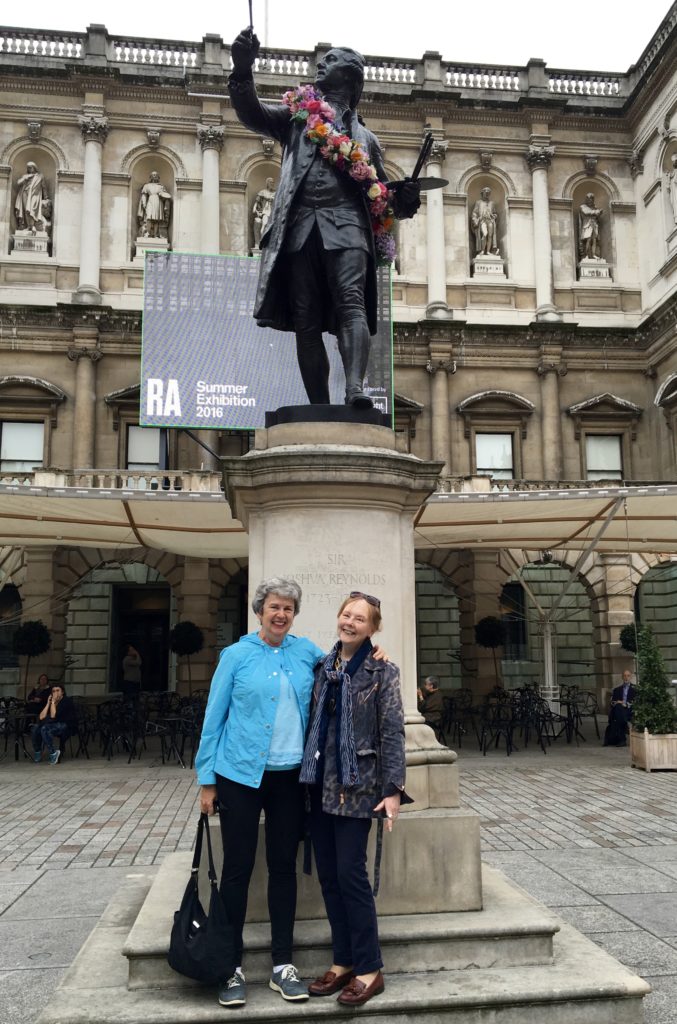 On August 2 my friends Anne and Stewart Rennie came to London from their home in Nuneaton and met me at the Royal Academy of Arts. The prolific 18th-century painter Sir Joshua Reynolds (1723-92) was new to me, but here we are standing under his flower-draped statue. Anne showed me the lovely garden where members dine and introduced me to the wide-ranging and innovative Summer Exhibition. It was an overwhelming feast for the eyes. I could feel the kind of intense interest that I often observed at the National Gallery in Washington DC. Many viewers seemed to be considering purchases.
Held without interruption since 1769, the Summer Exhibition displays works in a variety of mediums and genres by emerging and established contemporary artists. The works are selected and hung by Royal Academicians, and entry is open to all artists. In previous years, nearly two thirds of the exhibits were by non-Academicians, £50,000 worth of prizes was awarded and over 5,000 works were sold. Now in its 248th year, the Summer Exhibition continues showcasing a variety of work in all media, including painting, sculpture, photography, printmaking, architecture and film.
My visit to the National Gallery of Art was brief because of Sunday crowds and a rare sunny day awaiting me outside. I was reassured to find it as magnificent as it had been in 2005, when I was there with other students in my week-long art history class at Oxford. Even the floor tiles were fascinating.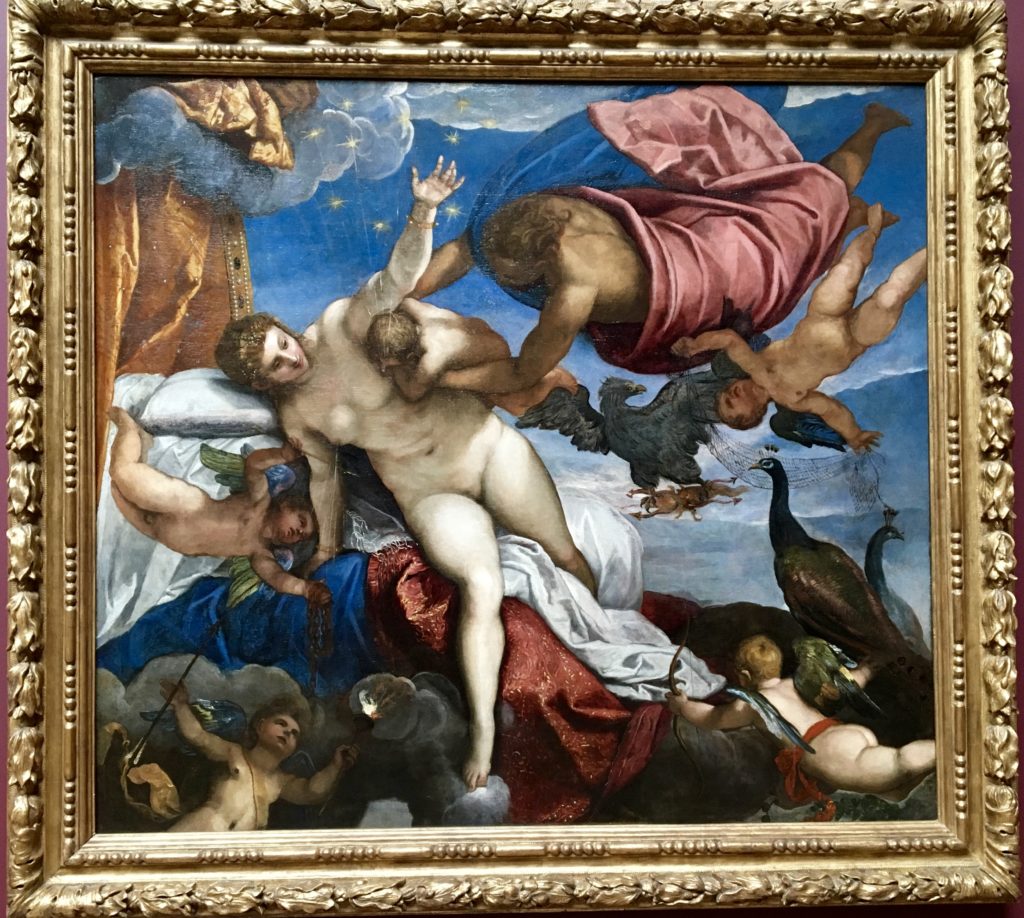 After contemplating the cosmos at Chautauqua in July, I was particularly struck by a painting by Jacopo Tintoretto entitled "The Origin of the Milky Way." It portrayed a myth I'd missed:   Jupiter, seeking immorality for his illegitimate son Hercules, carries him to the breast of his sleeping wife Juno. But she awoke and her milk spurted out to create the Milky Way in the heavens and lilies on earth, rather than making Hercules divine. Charming!