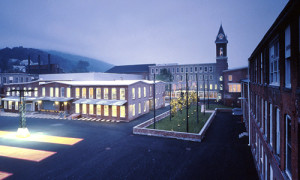 The Massachusetts Museum of Contemporary Art is housed on the campus of a 19th century factory in North Adams MA. On 13 acres, there are 25 buildings, about half of which have been restored. Marjo and I met Carol and Jim there on May 18 for an afternoon of art discoveries. Standing in line at the cafe, I met the artist Clifford Ross, who was installing his amazing, enormous photograph of Mount Sopris in the largest gallery, just one part of his "Landscape Seen and Imagined" exhibit, that opened a few days later and will run all summer.
After a warm welcome at the front desk, we enjoyed several artists' conceptions of "Bibliothecaphilia," or love of libraries. We walked around and through Lee Boroson's "Plastic Fantastic." We were puzzled, but amused by Jim Shaw's "Entertaining Doubts" and Mark Dion's "The Octagon Room," which was nothing at all like Thomas Jefferson's Octagon Room at Monticello.
Best of all, we saw a great film about Sol LeWitt and were dazzled by 105 of his Wall Drawings installed in a Retrospective on three floors of a huge mill building, which will be up for the next 25 years. I had seen his work in the East Building of the National Gallery of Art, but learning more about his concepts made his work much more exciting. Even with the 32 Sol LeWitt photos included in these Mass MoCA photos, I'm eager to return and see more. Here is a very short trailer to the excellent film about Sol LeWitt by Chris Teerink, that I bought at the museum shop:
In the film we saw there was a reference to LeWitt honoring the memory of his artist friend Eva Hesse, who died at the age of 34. A few days later at the Whitney in New York, I saw a piece by Hesse made of latex, rope, string and wire, that reminded me of Janet Echelman, whose polystyrene rope sculpture we had just seen in Boston and of Orly Genger, whose rope sculptures I saw at Madison Square in New York City and at the DeCordova in Lincoln MA. LeWitt didn't do rope sculptures, but he helped me draw connections among these favorites of mine.