Mohawk Trail, Massachusetts
On two beautiful fall days, Lilli, Violet, and I traveled on the Mohawk Trail and discovered five places to treasure. The Mohawk Trail, which opened in 1914, was one of the first scenic highways designed to attract people in automobiles. Through parks and forests, it follows the path that originally connected the eastern Iroquois with hunting grounds and tribes in Upstate New York. Massachusetts Route 2,  just two blocks from Lilli's house in North Cambridge, connects with the Mohawk Trail in Orange, then continues westward to Williamstown.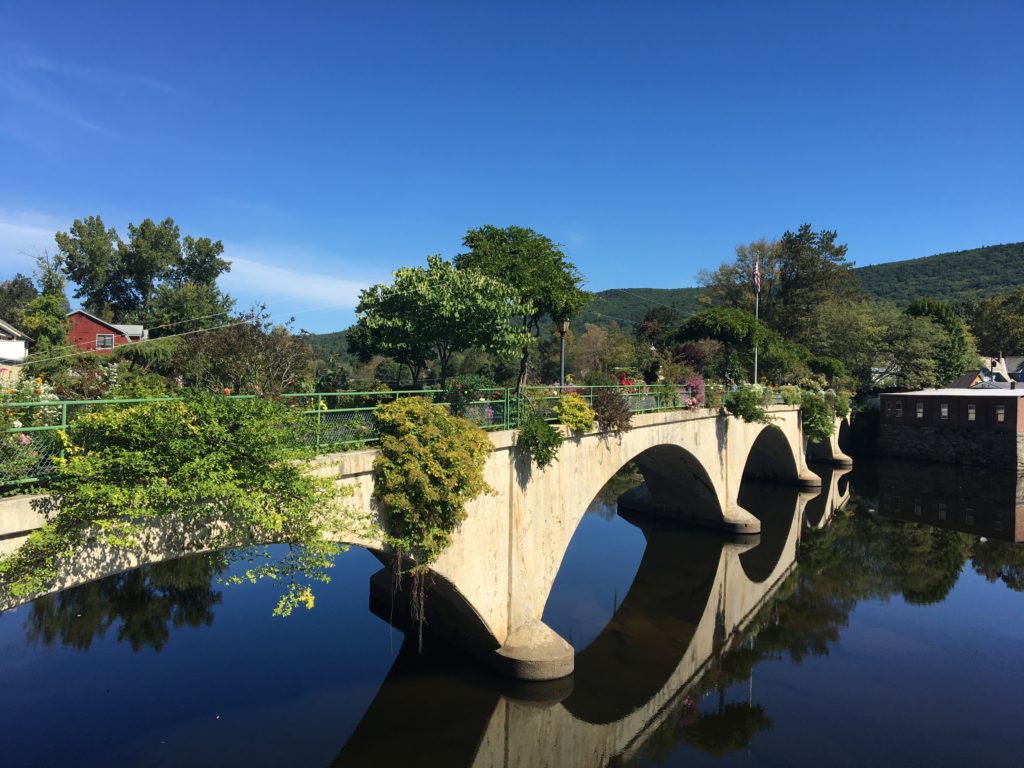 Discovery One:  Bridge of Flowers, one of the most glorious gardens I have ever seen. Just thinking about it takes my breath away. One enters through an archway of morning glories, then follows a pedestrian path lined with flowers that crosses the Deerfield River. Thanks to the women of Shelburne Falls, an abandoned concrete trolley bridge was converted into a floral masterpiece.
In the spring of 1929, eighty loads of loam were carried onto the bridge to fill cavities that ranged from 2.5 to 9 feet deep. Blueprints were used as guides in planting an annual bed on the south side of the bridge and a perennial bed on the north side. The Women's Club continues to plan and maintain the flowerbeds to this day, assisted by a team of volunteer men and women known as the Blossom Brigade. ~ "Shelburne Falls, Massachusetts," a book by Nancy Dole & Pamela Sand
The bridge is free and open to the public from April 1 through October 30.  See more colorful flower photos in this album.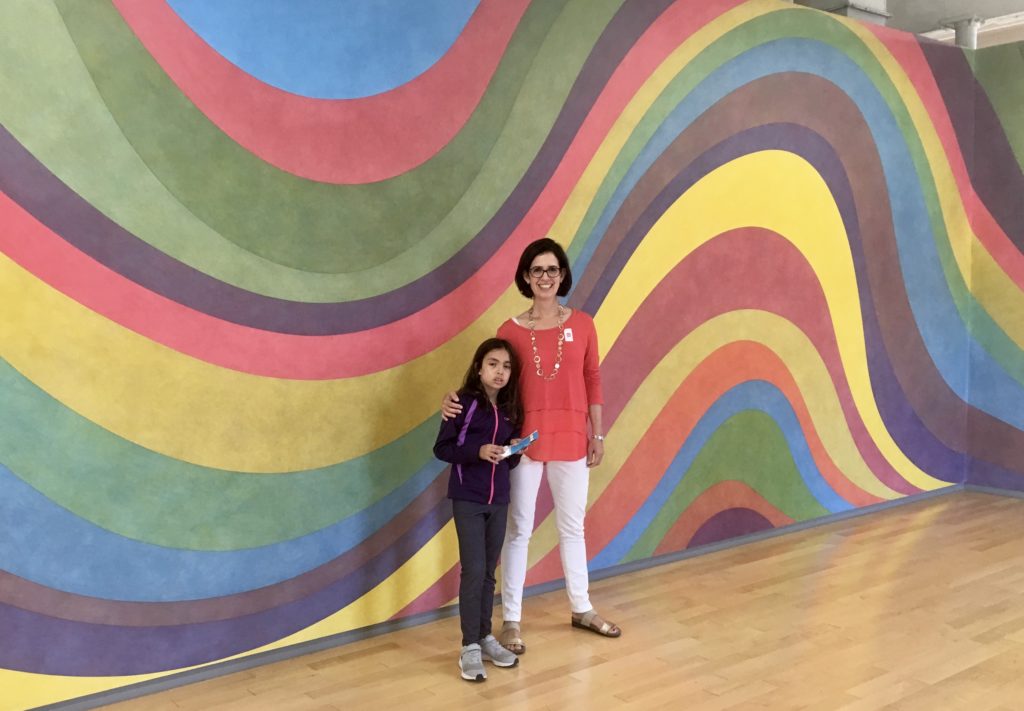 Discovery Two:  Massachusetts Museum of Contemporary Art, or Mass MoCA, is in a converted factory building complex in North Adams. It is one of the largest centers for contemporary visual art in the United States and has just opened a new building for James Turrell's "Into the Light" and sculptures by Louise Bourgeois. Lilli visited the museum shortly after it opened in 1999. I was there just two years ago with friends, but was eager to return for more of Sol LeWitt's huge paintings. This time we saw art through Violet's eyes. At first she seemed somewhat oblivious, but later we realized she was paying close attention. Waiting for dinner, she used scratch paper to set up grids and try different combinations of lines, following the example of Sol LeWitt. Her mother and I exchanged pleased expressions. Here are photos of some of the wonderful works we saw and of the Kids' Place where we all had fun experimenting.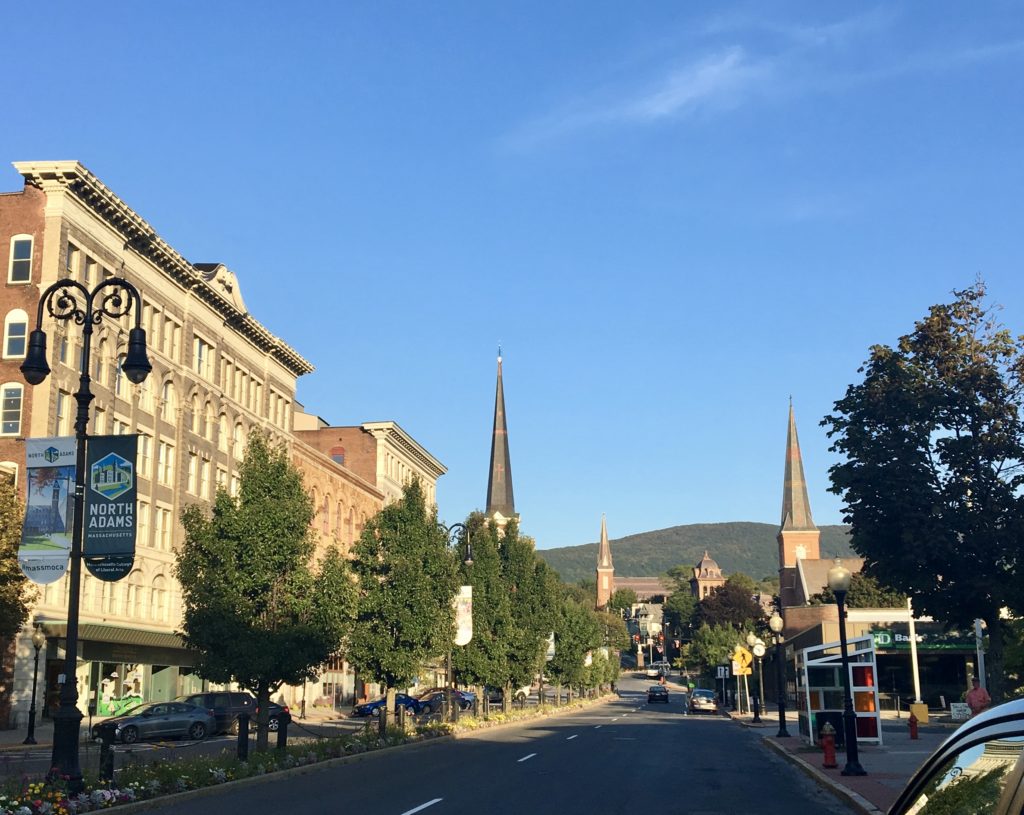 Discovery Three:  North Adams proved to be a good choice for an overnight. Our Air BnB had a ukulele to inspire Violet's musicianship and we could walk to the classic New England Main Street in the photo. There we found a delightful outdoor restaurant and a free place to play games after dinner.
Discovery Four:  Mount Greylock, at 3,719 feet, is the highest peak in Massachusetts. There were lots of hairpin turns on our drive to the top. We climbed 89 steps for great views from the top of the War Memorial. Violet and Lilli repeated that feat, while I chatted with other eclipse chasers who noticed my "Carolina Eclipse" tee shirt. An hour-long hike with five stream crossings completed our exploration of Mount Greylock.
Discovery Five:  Returning to Cambridge on Sunday afternoon we stopped at the Hicks Family Farm Corn Maze in Charlemont. Violet loves mazes and this one was truly amazing. While she and her mother counted hidden pumpkins amid the tall corn stalks, I chatted with Mr. and Mrs. Hicks, long-time residents of the area. They told me how their farm had evolved over several generations. Father Hicks was a logger, but told his son Ryan to try something else. He added oxen, hay, and pumpkins. The maze was their son's idea fifteen years ago and it has proved very popular. On a Sunday afternoon they were at ease with their extended family, taking turns selling tickets and drinks. Their young grandsons help with a special niche of ranching, breeding teams of oxen. Last year they took their teams to thirty county fairs! Tammy Hicks is about to retire after 30 years as Postmaster for Charlemont; at 53, she told me she's ready for new challenges.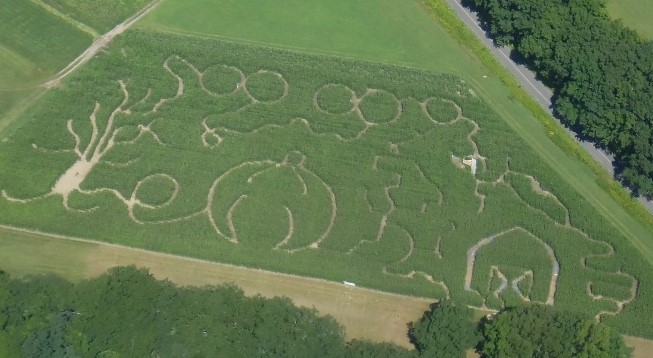 Our last stop was to pick a peck of McIntosh apples, a pound of peaches, and a pot of mums for our porch–all for $17. This album has more photos of our Discoveries Three, Four and Five on the Mohawk Trail. And more discoveries await in the future.