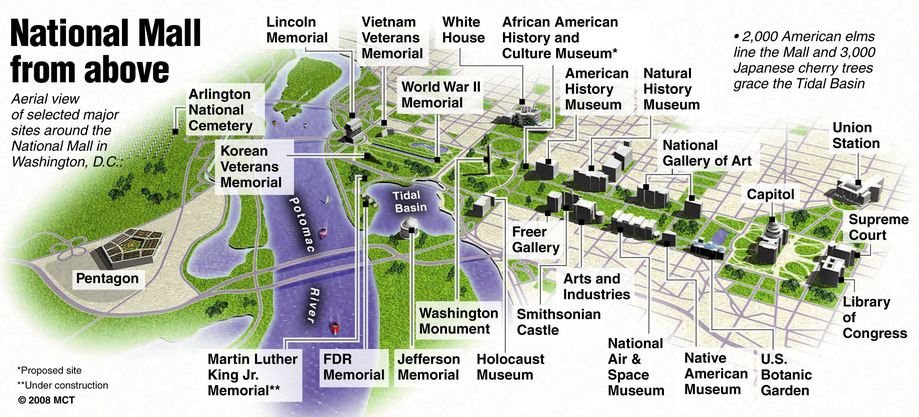 Having lived in the Washington DC area from 1968 – 2015, I have prepared this guide for forty 5th-grade safety patrols from Crosspointe Elementary School in Boynton Beach, who will visit their nation's capital next week.
Dear Safety Patrols:  What an adventure you have before you! As you approach Ronald Reagan National Airport, you will fly over the Potomac River. Look for the Pentagon and Arlington National Cemetery on the ground below. When you get to The Mall (not just any old mall) think Three, as in three branches of our Federal government. The Legislative branch on Capitol Hill includes the Capitol, the Senate and House Office Buildings, and the Library of Congress. Nearby is the Supreme Court, the Judicial branch's highest court. The Executive branch includes the White House and many government agencies in scores of office buildings on the Mall and beyond. Here is a really cool way to explore the Mall before and after you go.
Four U.S. Presidents are commemorated on the Mall. Jefferson, Lincoln and Roosevelt have Memorials; Washington is the only one with a Monument. It is 555 feet tall, has its own Reflecting Pool, and survived a 5.8 degree earthquake in 2011. The 50 American flags surrounding it, one for each state, show that we are truly a United States. These same four Presidents are on our coins. Match them to their statues. Washington's statue is not on the Washington Monument, so look carefully when you visit the Capitol.
1 cent
penny
President Abraham Lincoln
5 cent
nickel
President Thomas Jefferson
10 cent
dime
President Franklin D. Roosevelt
25 cent
quarter
President George Washington
Near the Lincoln Memorial are Memorials to the Korean War and the Vietnam War. The huge World War II Memorial is between the Reflecting Pool and the Washington Monument. There each state has its own pillar, a good place for photographs. Before you go, ask your families if they know anyone who fought or died in any of these wars. All soldiers who died in Vietnam are listed on that memorial. As you explore DC, look for more heroes:
This slideshow requires JavaScript.
Look for surprises, too:  the paddle boats in the Tidal Basin, the Tulip Library nearby, and the Sculpture Garden near the National Gallery of Art, where you can look at art in new ways.
Finally, there are the Smithsonian Museums–all 19 of them. I hope you will have time to see the Museum of Natural History, the Air & Space Museum, or the new Museum of African American History and Culture. There is so much to see and to learn. Thousands of people visit Washington every day. Stay with your group at all times. Learn all you can. Have a wonderful time and bring back photos to share. You are welcome to post photos and memories in the comments below.  Best wishes from your neighbor Martha Smith.