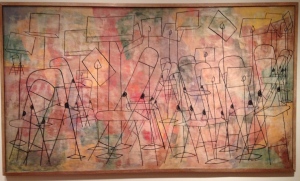 Some museums, like the Barnes Foundation in Philadelphia, where Joel took me in July, contain many treasures, but allow no photography. Others, like Crystal Bridges in Arkansas and the Phillips Collection in DC, allow virtually unlimited non-flash photography. I know that some loan agreements among museums restrict photography, but I really appreciate the liberal approach, because it allows me to capture both images  and captions of artworks. By putting the two together in my photo albums, I seek to learn and remember more, like a good Picture Lady should. I try to be considerate of other viewers and take my photos quickly. I find that most museum-goers can be trusted to do the same.
Philip Kennicott, a critic I admire, disagrees in this thoughtful article, saying that cameras are just memory crutches. He advises writing a verbal description instead. Maybe I'll go back to the Barnes and try that. Meanwhile, here's another Post article by Nora Krug about a Zen approach to viewing art at the Phillips Collection. On October 26 the Sunday New York Times weighed in on this issue in an article by Steve Lohr titled "Museums Morph Digitally," :
For the Metropolitan Museum of Art, a turning point came in 2011. Down went the signs imploring visitors to stow their cellphones. The Met revamped its website, tailoring it for viewing on smartphone screens. The museum was not only allowing visitors to use their mobile phones while browsing the artworks, but encouraging it. The digital experience was embraced and meant to enhance the physical experience of exploring the museum. The trend has only accelerated since, at the Met and across the museum world.
The article also recounts the success of Google's Art Project:
Art Project began with 17 museums in 2010, including the Met, and today has 500 institutions in 60 countries, and 7.2 million artworks. Google's high-definition image technology captures the image of a painting like Bruegel's 16th-century classic, "The Harvesters," which is at the Met, in roughly 10 billion pixels, well beyond the power of the human eye. The technology allows online viewers and researchers to zoom in to see details, down to brush strokes and scratches, in a way they could not in person. Art Project proved to be a reassuring lesson for the museums. "Only good came from something we worried would backfire," Ms. Barratt said.
Still Music by Ben Shahn, above, is a painting in the Phillips Collection that I have loved since I first saw it 45 years ago (no photography allowed then). It's just chairs and stands, but to me it pulses with rhythm and evokes the anticipation of musical collaborations. Here is the album I assembled from the exhibition, Made in America, which I saw at the Phillips in July with Carol. Here is my album from The William S. Paley Collection: a Taste for Modernism, that I saw at Crystal Bridges last April with Marjo. Here are yet more works of art from Crystal Bridges. From Scottish museums I saw with Allene in August, I offer the Burrell Collection and Kelvingrove. Come with me and enjoy these captioned visual pleasures!