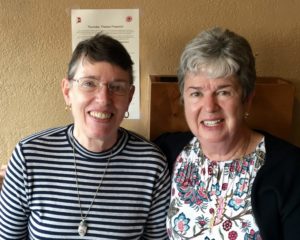 Thanks to my good friend Marjo, I have now become acquainted with many wonderful people and places in Ohio and Michigan. A dozen years ago, when my first grade friends were discussing where we should next meet, Marjo invited us to come see her in Dayton. East Coast snob that I was then, I quickly countered, "but what is there to do in Dayton?"
"Ouch!" Marjo thought. "I'll show her!" She swallowed her pride and journeyed to Texas, Arkansas, Massachusetts, New York, DC, and Florida to see me. Now it was my turn to visit her home town. It was only my fourth visit to Dayton in the 40 years she has lived there, so she planned a wide range of activities she knew I would like for September 7 – 12, which happened to be the same period as Hurricane Irma was visiting Florida.
From Chicago, where our family had a grand Labor Day Reunion, I took a bus through Indiana to reach Dayton. I was tired of flying over the middle of America and wanted my  boots on the ground. A bus trip was relaxing after a hectic city stay, but sharing a 50-person bus with only a handful of other passengers resulted in zero conversations. Instead I kept up with Steve and David by text messages as they prepared for Irma. Marjo took me to her lovely, right-sized house in Kettering, to which she moved from a five-acre farm after her dear husband Van died in 2011.
This slideshow requires JavaScript.
Day One: What an agenda Marjo had for us! The first morning we drove an hour to Cincinnati to visit the Contemporary Arts Center in a handsome 2009 building designed by Zaha Hadid. Even the parking garage was spectacular. The "Metrobot" in front of the museum (click to enlarge) is by Nam June Park, whose "Electronic SuperHighway" is a favorite of mine at the Smithsonian American Art Museum in Washington.
The first exhibit we saw were works by Njideka Akunyili Crosby, a young Nigerian-American artist whose work I first admired at the Norton Museum in West Palm Beach two years ago. She came to the US at age 16, got a MFA at Yale, and married Justin Crosby from Texas. She employs an array of photographic images and Nigerian textile patterns in her large, imaginative paintings.
This slideshow requires JavaScript.
Next were works by British-born, New York-based Jane Benson. Her series, "The Splits," features string instruments cut down the center so they could be reconnected in a more collaborative manner by performers near and far. A film showed one performer in Iraq  on a split instrument harmonizing with a player in a different country on the other half. Her art is an attempt to create bridges for those displaced by war. At first I was horrified to see such lovely instruments cut in two, but then I listened to the music and realized that she was expressing how deeply war affects artists. It reminded me of hearing the Iraqi Symphony in Washington.
This slideshow requires JavaScript.
Cincinnati has another, very different museum of contemporary art, the American Sign Museum, where we found the familiar logo of Phillips 66, the company that employed both our fathers. It was interesting to see neon artisans at work, but all the flashing lights made me a little nervous. Some people actually have weddings there–yikes!
This slideshow requires JavaScript.
Marjo's next treat was lunch at Camp Washington Chili. Cincinnati's original name was Camp Washington. We had "five way" chili with pasta, beans, cheese, and raw onions. Not at all like Texas Chili, but tasty and filling. I especially liked the campy billboard mash-up of George and Martha Washington in the parking lot.
On the way home Marjo took me by her favorite place to buy groceries, the amazing 200,000 square foot Jungle Jim's, which seemed to have enough food for all the world.
To conclude this head-spinning day, we picked up barbecue in Dayton and entertained four of her friends for dinner. They were a lively group. Jane, on the left, inspired me to join her in singing Broadway tunes. Sharon, second from right, later brought me a book about Frank Phillips. Marjo's cat, Polly, respected my allergy and very kindly stayed out of my bedroom.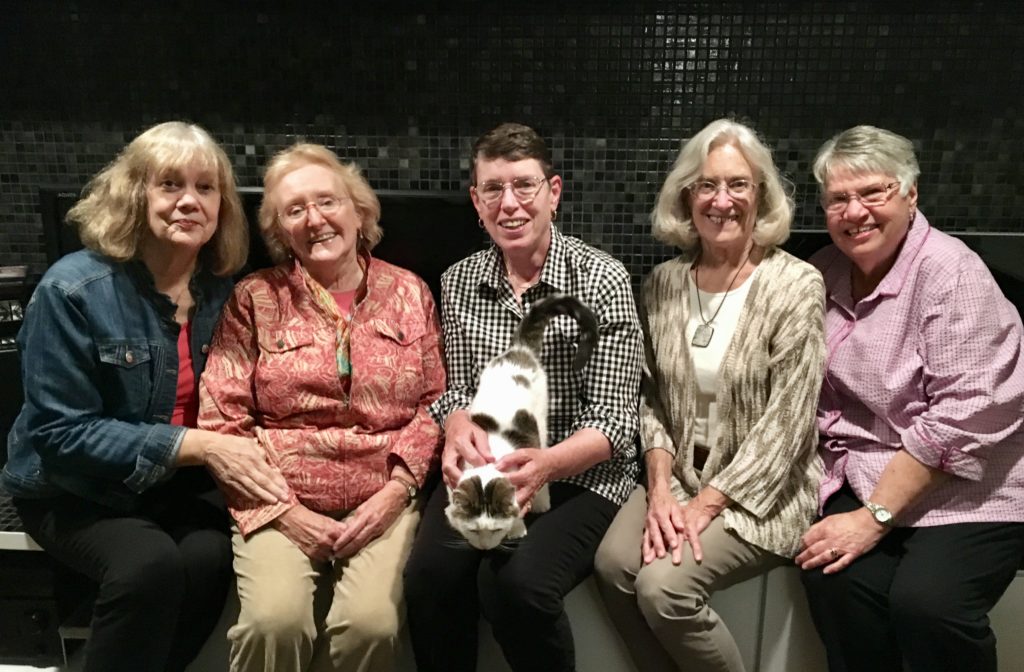 Day Two:  Friday morning we had breakfast with Marjo's weekly "share group." Like her friends the night before, this group took me in and made me feel very welcome. And all of them would feel quite at home with any of my women's groups in South Florida.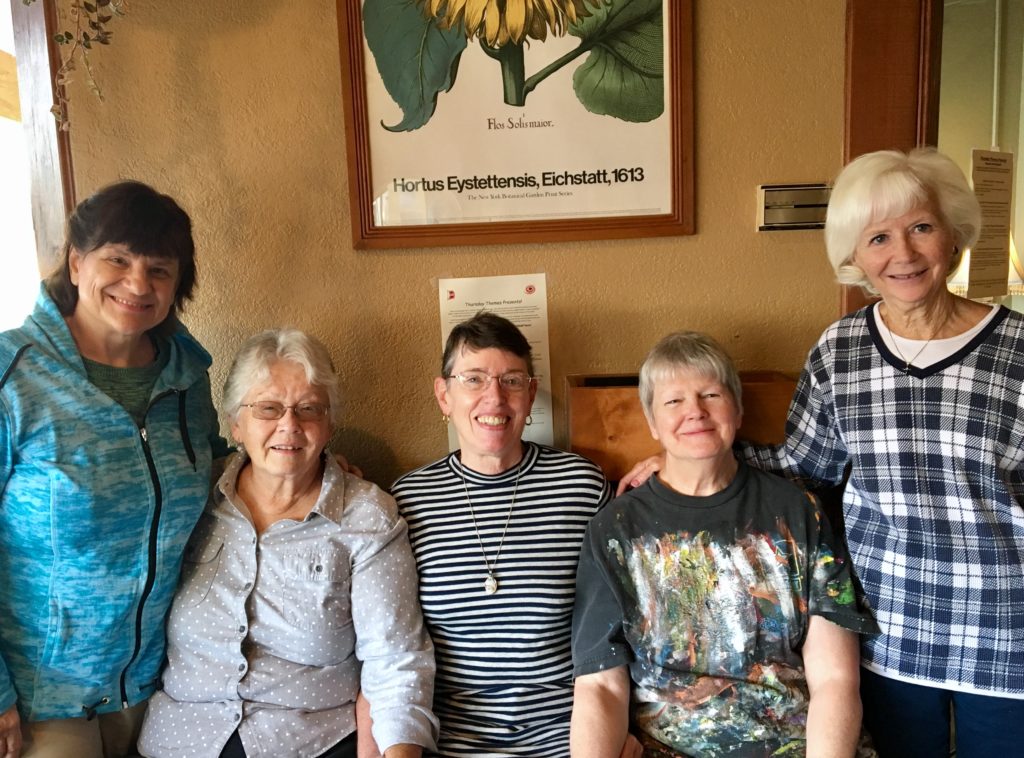 By 10 o'clock we were headed for Pyramid Hill Sculpture Park and Museum, where I took so many photos that I've put them in this separate album. It reminded us of Storm King, the sculpture park in New York that we saw in 2105. Here is Marjo's new red car entering the park.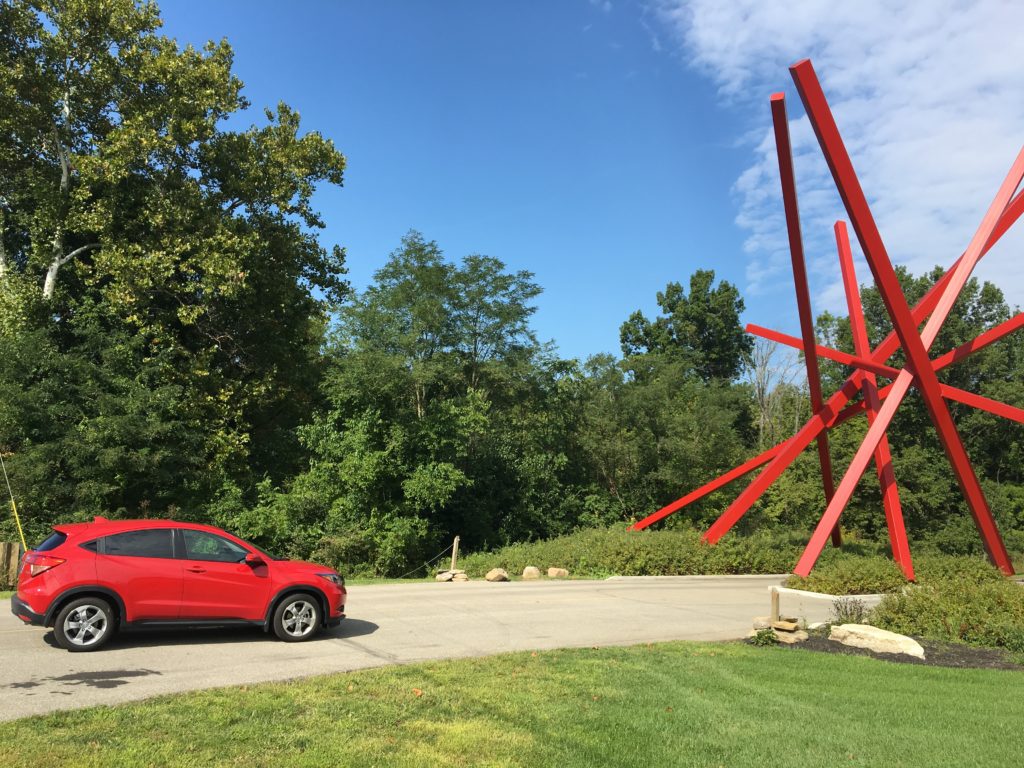 At the Pyramid Hill Museum I noticed that designer Nicole Timble had plans to transform an old image of Hamilton into a new mural. Having just seen the musical Hamilton in Chicago, I was keen to see the results in a nearby town named for Alexander Hamilton. Marjo agreed to make an unscheduled stop. We viewed the wonderful statue of Hamilton on Hight Street* (see Comment below) and the mural we had just read about. Surely, this town is making the most of Hamilton's trendiness.
This slideshow requires JavaScript.
After a delicious lunch at a Greek Festival adjacent to the Dayton Art Institute, we saw the fabulous beaded art work of the Ubuhle Women exhibit at DAI. More of these lovely beaded works and the stories behind them are in this album.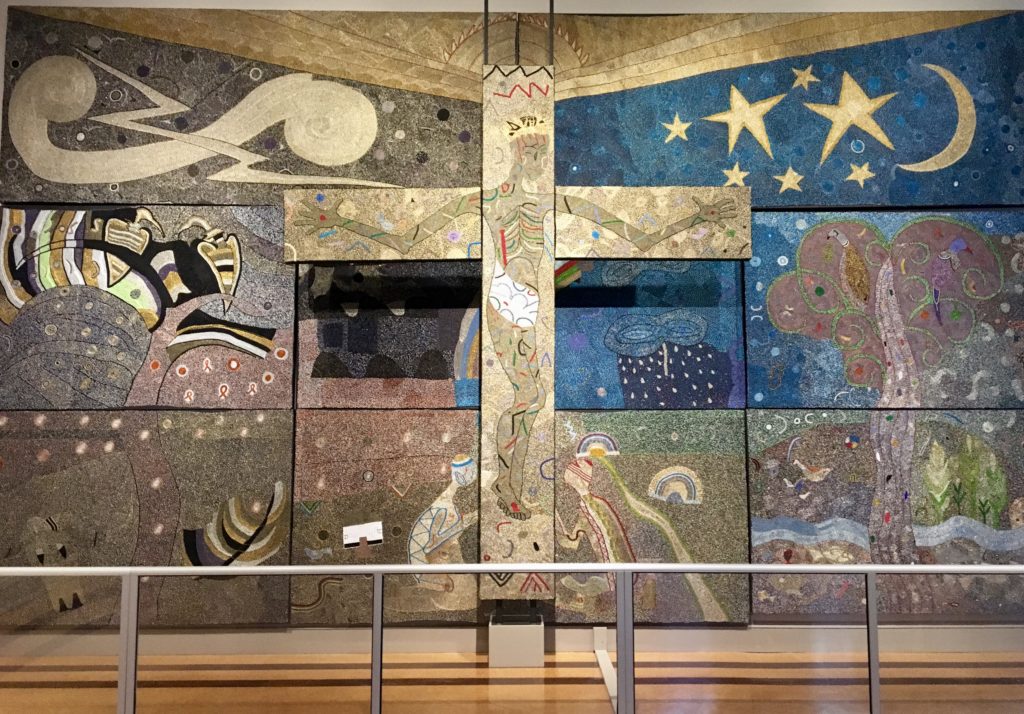 All I knew about Dayton's history before this trip was Wright Brothers, National Cash Registers, and the Dayton Peace Accords. Marjo fixed that. Now I have an album of over fifty photos documenting what I saw at Riverscape and its Inventor's Walk, and on Day Three, Carillon Park, a 65-acre history park containing historic buildings and exhibits about the history of technology and the history of Dayton from 1796 to the present. And I recently learned that Dayton is a welcoming place for immigrants.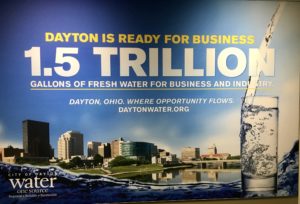 A century ago, Dayton was a place of great creativity and invention, comparable to today's Silicon Valley. John Henry Patterson's National Cash Register spawned the Dayton Engineering Laboratory, where Charles Kettering invented self-starters for cars. That lab later became Delco Electronics, the huge automotive electronics design and manufacturing subsidiary of General Motors. Tom Watson left NCR to found International Business Machines, now IBM. After a terrible flood in 1913, Patterson led the relief effort and helped create a model system of water management, which endures as a distinct marketing advantage.
Day Four:  After worshiping at Marjo's church, we headed for Michigan. By then, eleven people in our Boynton Beach house were experiencing the worst of Irma, so I appreciated text messages assuring me that they were fine. In Ann Arbor, we met my former piano student, Anne Rebull, a post-doc in Chinese Literature at the University of Michigan. Marjo remembered hearing her play Rhapsody in Blue back in 2000, when she was a senior in high school and our Phillips friends were gathered at my house in Arlington. Anne also played violin; her musical training came in handy learning Chinese. Now, seventeen years later, the three of us had a lovely dinner at the Gandy Dancer in an old train station. An Amtrak train whizzed by during the first course.
Day Five: In Grand Rapids, we visited the Presidential Library of Gerald Ford, the eighth presidential library Marjo and I have seen together. It was 9/11 and Scouts were out saluting the flag, proud of Ford having been an Eagle Scout. Ford's term was short, but we were reminded of the character traits by which he restored the integrity of the Presidency. Here is an album of what we saw.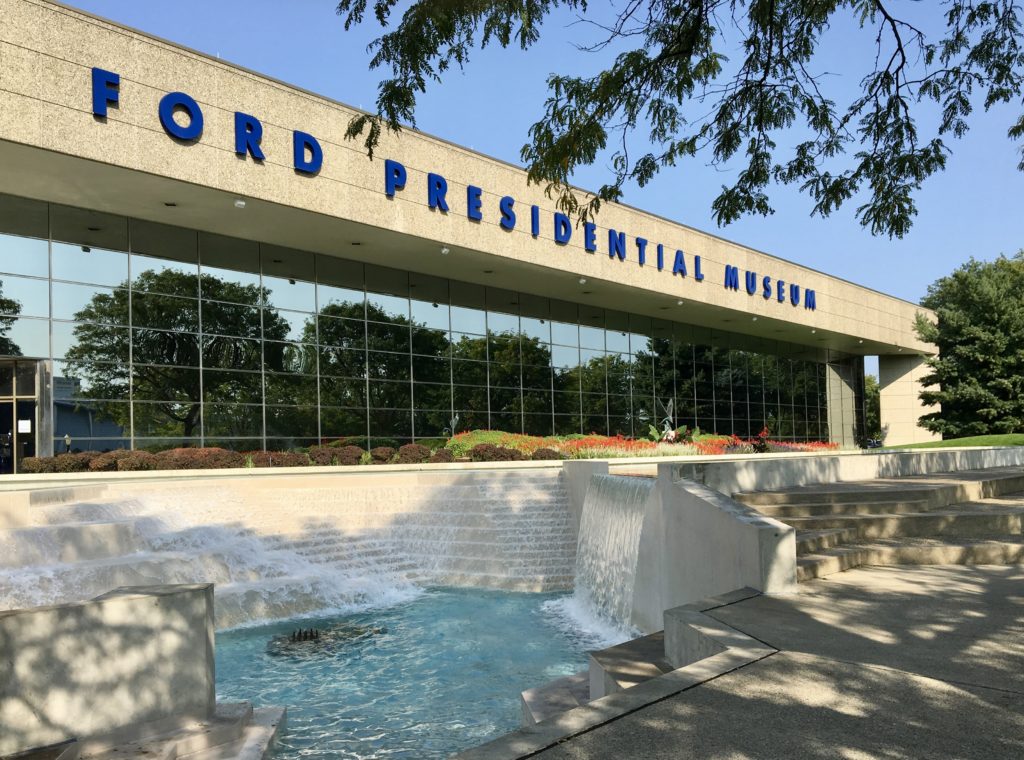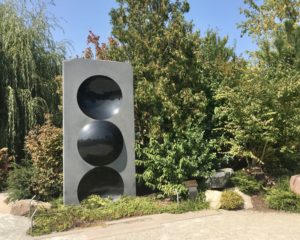 Grand Rapids is also home to the world-class Frederik Meijer Gardens, where we had lunch under Chihuly's colorful glass creations. After visiting the conservatories, we took a tram tour of the sculpture garden, where I recognized works by artists I love:  Jaume Plensa, Roxy Paine, Anish Kapoor. Again,we were reminded of Storm King. And it was a little like Jupiter Artland, which Anne Rennie took me to in Scotland. Click here for more photos of the wonders of this Garden.
Surely by now Marjo had proved her point about cultural showcases in Ohio and Michigan. No! Day Six: We drove north to Manistee for lunch and a riverwalk, then stopped at Point Betsie Lighthouse and Sleeping Bear Dunes National Lakeshore. I climbed and climbed on the Dunes, but never reached the top. Still, it was fun to remember surfing on the Monahans Sand Hills with Marjo.
This slideshow requires JavaScript.
Now, having enjoyed many of the wonders of Ohio and Michigan, we were ready at last to embark on the tall ship Manitou in Traverse City,  and learn the stories of the stars. But one final word from Marjo:  "Next time we'll plan to go to the National Museum of the US Air Force, visit Cox Arboretum, and reserve tickets early to visit Hawthorn Hill, home of the Wright Brothers." She is indefatigable!