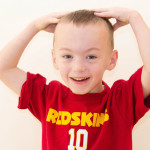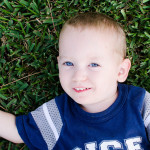 "What's it like having your mother-in-law with you?" Sean's associate asked him, knowing that extra help had been called in response to Shelby dislocating her hip on New Year's Day. "Great!" he replied. Best compliment I've had in ages. All I had to do to earn it was fly to chilly Dallas from warm Boynton Beach, do countless loads of laundry, play with my adorable grandsons, Stephen 5 and Thomas 2, shop for groceries (Sean and Shelby are great cooks!) and serve as a live-in sitter now that Shelby feels well enough to go out with Sean in the evening. It's nice to feel needed and thrilling to see Shelby improving every day.
Other family members have been supportive. Sean's sister Kaitlyn is living here while she finishes her degree at SMU and helps out whenever and however she can. My brother Joel and his wife Elisabeth, who live in Waxahachie about 30 miles south of Dallas, have provided airport transportation, pecans and a night at the symphony. Shelby's cousin Patti, who lives in Dallas, brought over a delicious lasagna before I arrived and brought her daughter Vivian to dinner with us last night. Cousin Susan, who also lives in Waxahachie, invited us to her son Ben's 11th birthday party last Saturday.
Shelby's hip dysplasia was diagnosed when she was three weeks old. At age two, she had reconstructions on both hips and spent 3-1/2 months in a body cast. Premature arthritis was predicted and sure enough carrying her first son aggravated the right hip so much that she had it replaced four years ago when she was 30.  it's quite rare for a hip to dislocate so long after a replacement, but it can happen if one carries a child on one side, stands with feet firmly planted and twists in the opposite direction–which Shelby says is exactly what happened. The orthopedist who did her hip replacement saw her last week and advised that her knees should be like headlights aimed straight ahead as she turns, letting her feet pivot.
Shelby's hip was reset under anesthesia in the emergency room two weeks ago, but the strained muscles and tendons will likely take three months to heal fully. No special therapy is required, just plenty of rest and careful movements. She can resume driving next week and is eligible for handicapped parking.  We're all hoping that this hip will serve her well for at least thirty more years.
I'm so glad to be retired and able to help out with my grandsons. When I arrived on January 6, they were well aware that their mother was far from her usual energetic self and weren't sure how to interact with the grandmother they see for only a few days every few months. Thankfully,  tears and tantrums have given way to more reading and playing together, more tickling and peek-a-boo, and better eating and sleeping. They probably won't remember much, but I will always treasure this time with them. Bonus: with all the exercise these boys entail I've lost 5 pounds!