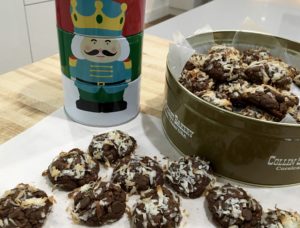 While listening to Tchaikovsky's Nutcracker Ballet this morning, I baked my favorite cookies to pack into my Nutcracker tin and take to our family reunion in Charlotte. They are trouble to make, but delicious to eat. They'll be dessert for the dinner we will host on Friday night for all our kids and grandkids and three of Steve's cousins and their kids and grandkids–29 of us in all. Steve and his cousins have been getting together at least every other Christmas for all their lives, in Texas, Connecticut and now, North Carolina. Plans this year include bowling on Christmas Eve morning, the traditional family talent show that evening, a feast on Christmas Day, and lots of singing and visiting. I love the family I grew up in, but I feel lucky to have married into the Collins-Smith family.
Triple Chocolate Coconut Cookies The Washington Post, December 7, 2011
Ingredients
1 cup sweetened flaked coconut, plus 2 cups for rolling the cookies
1 cup flour
1/4 cup unsweetened cocoa powder
1 teaspoon baking powder
1/4 teaspoon salt
5 tablespoons unsalted butter, at room temperature
1/4 coup sugar
3/4 cup light brown sugar, packed
2 large eggs, at room temperature
1 teaspoon vanilla extract
8 ounces semisweet chocolate, melted (do not use chips)
6 ounces semisweet chocolate chips
Steps
Preheat oven to 350 degrees. Line two baking sheets with parchment paper
Spread 1 cup of the coconut on one of the baking sheets. Toast for 8 – 10 minutes, until fragrant an slightly browned on edges. Cool completely. Place remaining 2 cups of untoasted coconut in a bowl.
Whisk together the flour, cocoa powder, baking powder, and salt in a medium bowl, then whisk in the cooled, toasted coconut.
Combine the butter and sugars in the bowl of a stand mixer or hand-held electric mixer; beat on low speed until fluffy, scraping the sides of the bowl. Add eggs one at a time, beating on low to incorporate after each addition; then add the vanilla extract and beat again.
Stir in the melted chocolate (break bars into pieces and microwave about 1-1/2 minutes); then add the flour-coconut mixture, stirring until just combined.
Stir in the chocolate chips until evenly distributed.
Scoop generous tablespoons of the dough, a few at a time, into the bowl of coconut. Shape into balls and roll each one until evenly coated.
Arrange the balls 2 inches apart on the baking sheets. Bake one sheet at a time for 12 – 14 minutes, until the edges are just set, but the centers seem raw. Cool completely on the baking sheet before storing. Repeat to use all of the dough. Makes 32 – 48 cookies. Good for a week in an airtight container at room temperature, but they won't last that long.