How fortunate we were this Thanksgiving to have quality time with David, Leslie and our twin granddaughters, while Lilli, Shelby, Sean and their kids got together in Dallas. These are the moments I want to remember: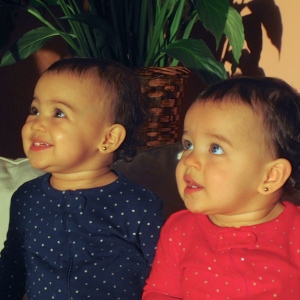 Twins Shine at "Sip and See." Last Friday, 4:00 to 5:30 pm, Steve and I proudly hosted ten friends here at Quail Ridge to meet and greet Margot and Nina and their parents. The girls turned on the charm, toddling to the front door to greet each visitor with a smile. When it was their turn to eat, David fed them in adjoining high chairs, to the amazement of men who raised daughters in the 60s. "Did you ever do that?" one man asked another. "No way," he replied. For David feeding the girls is more art form than duty. He sings encouraging ditties that get them to finish the veggies Leslie purees. Their teamwork also facilitates bath time and bedtime–a joy to observe.
Going All Out for Company. To make room for their ten Thanksgiving houseguests,  Shelby and Sean slept in a tent in the backyard of their new house in Dallas. Good weather prevailed–60s in the day, 40s at night. Stephen and Thomas loved camping out!  Just before dinner, a panful of dressing was somehow dropped and ruined, but Lilli reported that the feast was "awesome."
Cousins Convene at the Arboretum. On the Friday after Thanksgiving, Lilli and Shelby met their cousins Patti and Susan at the Dallas Arboretum with all of their children and Shelby's in-laws, too. How I would have loved to have seen them all racing around, but I was just thrilled that they got together in such a beautiful place. My mother and father were surely smiling down on their grandchildren and great grandchildren.
Lilli and Violet Exploring Dallas. In addition to visiting with Shelby and cousins, Lilli and Violet visited some of my favorite places in Dallas with their friend Michelle and her daughters: Nasher Sculpture Garden, Perot Science Museum, and Klyde Warren Park, as well as the Arboretum. I'm thrilled to know that my grandchildren are well-exposed to art, science and beauty.
Shelby Responds to the Ferguson Demonstrations. Her Facebook post of November 25: "Choosing to respond to Ferguson by acts of kindness today. Paying for the person behind me at coffee store and donating food to those who can't afford to have thanksgiving. I am also in the process of finding a color conversation about race in Dallas where people can come together and speak." A couple of days later, she added "Found one, or at least one. A conversation group about race here at our Church, First Unitarian Church of Dallas."