Introducing Margot & Nina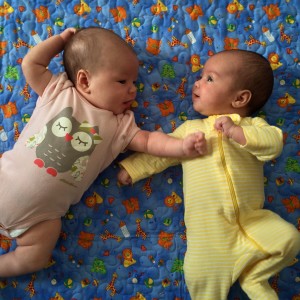 Our newest granddaughters, Margot Bee and Nina Linden Smith, were born on December 4 at South Miami Hospital.  Proud parents are David and Leslie Smith of Coral Gables. All came home after three days in the hospital and are doing splendidly. It has been my joy to be with the young family for a day or two each week, as they settle into their new nursery. Leslie and David's careful preparations have served us well. Leslie's mother, Mabell, and nurse Jennie, are also part of the team that feeds them every three hours. Margot's name honors both Mabell and me, as well as David's grandmother Marie. Bee honors the nickname of Leslie's sister, Cindy. Nina and Margot are pronounceable in the many languages of cosmopolitan Miami. Linden refers to a tree that produces flowers that bees like. Linden honey is renowned for its flavor. Their parents hope that the girls will always be sweetly supportive of each other like bees and flowers.
Despite some sleepless nights, I feel honored to be on this team. Leslie is recovering well and is a talented, devoted mother. David is on cloud nine, having sent a message to friends that he is "Totally in love, Bursting with joy, Luckiest man alive." He feeds, burps, changes and walks his daughters often and joyfully. A side benefit for me has been thoughtful conversations with both Leslie and David, including an interesting discussion of rock and roll music. Here are a few more photos.
This slideshow requires JavaScript.