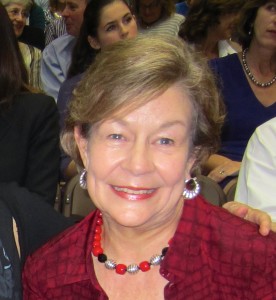 What a joy it was for me to write a letter in support of my dear friend Elizabeth Lodal's nomination for 2015 Virginia "Mother of Achievement." American Mothers, Inc., was started in 1935 by Sara Delano Roosevelt, who certainly knew how to mother an achiever, and J.C. Penney, who knew a marketing opportunity when he saw one. The official sponsor of Mother's Day, this group is now dedicated to reducing rates of violence and improving the lives of mothers and families in the US and around the world. With Elizabeth's permission, here is the letter I wrote.
My friend Elizabeth has been a woman of achievement ever since she and I met as freshmen at Rice University in 1962. She excelled as a history major, student government leader, and cheerleader. Always alert to talent, Elizabeth secured the most intriguing guests for our residential college speakers series. Soon after graduation, she married Jan Lodal and headed east. In Arlington, Virginia, where we both settled in the late 1960s, she quickly made her mark as an outstanding secondary teacher, earned her Masters in Secondary School Administration, chaired our church's education ministry, and gave birth to two children.

In 1980 Elizabeth and her family moved from Arlington just across the county line to McLean, where Elizabeth served as Principal of McLean High School for ten years, helped found the McLean Chamber of Commerce, and became involved with local institutions, including the Claude Moore Colonial Farm and Vinson Hall, where she recently chaired its campus redevelopment. As her husband started new businesses and served in posts at the White House and the Pentagon, she also became a renowned hostess.

Elizabeth's career in education reached its pinnacle during her six years as Principal of Thomas Jefferson High School for Science and Technology, where among many innovations, she frequently tapped government and business leaders as inspirational speakers. The experiences she had at TJHSST have made her a valuable member of the university boards and national forums on which she serves, all consonant with her passion for improving education in America and beyond.

Simultaneous with their demanding careers, Elizabeth and Jan raised two outstanding children. Eric, born January 1976, is executive producer and co-creator of the TNT drama, "Murder in the First," now slated for a second season this coming June. Kirsten, born October 1979, co-founded National Student Partnerships in her sophomore year at Yale and continues as CEO of its successor, LIFT http://www.liftcommunities.org/, a non-profit creating new solutions for combating poverty.

Elizabeth with two of the opera singers she has mentored

Sixteen years ago the Lodals added a large music room to their home in McLean. There they have hosted countless fund-raisers for musical groups, such as The Washington Chorus, the Virginia Chamber Orchestra, Washington National Opera fellows, and Time for Three, a unique string ensemble. Elizabeth, especially, has been a mentor and encourager—really, a mother-figure—for several young musicians in these groups.

Award-winning educator, community and national leader, arts supporter, mother, grandmother—Elizabeth truly deserves the honor, Mother of Achievement.
Beyond all these achievements and the many Nights to Remember we have had together, Elizabeth excels as a friend. If there's a death or serious illness in our family, she just drops whatever she's doing and responds. I'm so lucky to have her as my Friend. Update on April 23: Elizabeth has indeed been named Virginia Mother of Achievement for 2015, as well as a new member of the Virginia Board of Education.