Editor's Note: My son David is guest-blogging with another post about the history of the Smith family.
There once was a man from Nantucket…and his name was Thomas Mayhew. Actually, he was from England, but he bought the deed to Nantucket–as well as Martha's Vineyard the Elizabeth Islands–in 1641 from the Earl of Sterling for 40 pounds and two beaverskin hats.
In 1659, Mayhew sold his interest in the island of Nantucket to a group of nine investors: Tristram Coffin, Peter Coffin, Thomas Macy, Christopher Hussey, Richard Swain, Stephen Greenleafe, John Swain, William Pike, and Thomas Barnard. Mayhew received 30 pounds and two more beaverskin hats (to replace the other two, which had worn out). Some of those investors' names may look familiar. Thomas Macy's progeny would later go on to establish a famous department store and Thanksgiving Day parade in New York City. The prominent Coffin family were among the original Boston Brahmins, and one of their own would later co-found and lead the General Electric Corporation.
And there's one more name in there that I've heard all my life: Barnard. It's my father's middle name and Grandmother Marie's maiden name. And indeed it's the name of my 9th-great-grandfather Thomas, English immigrant and co-investor in Nantucket. Thomas's brother Robert is also my 9th-great-grandfather. Huh? Well, Thomas's son Nathaniel married Robert's daughter Mary. They were first cousins! The Ancestry.com family tree diagram looks a little funny at this point; it's not designed for inbreeding.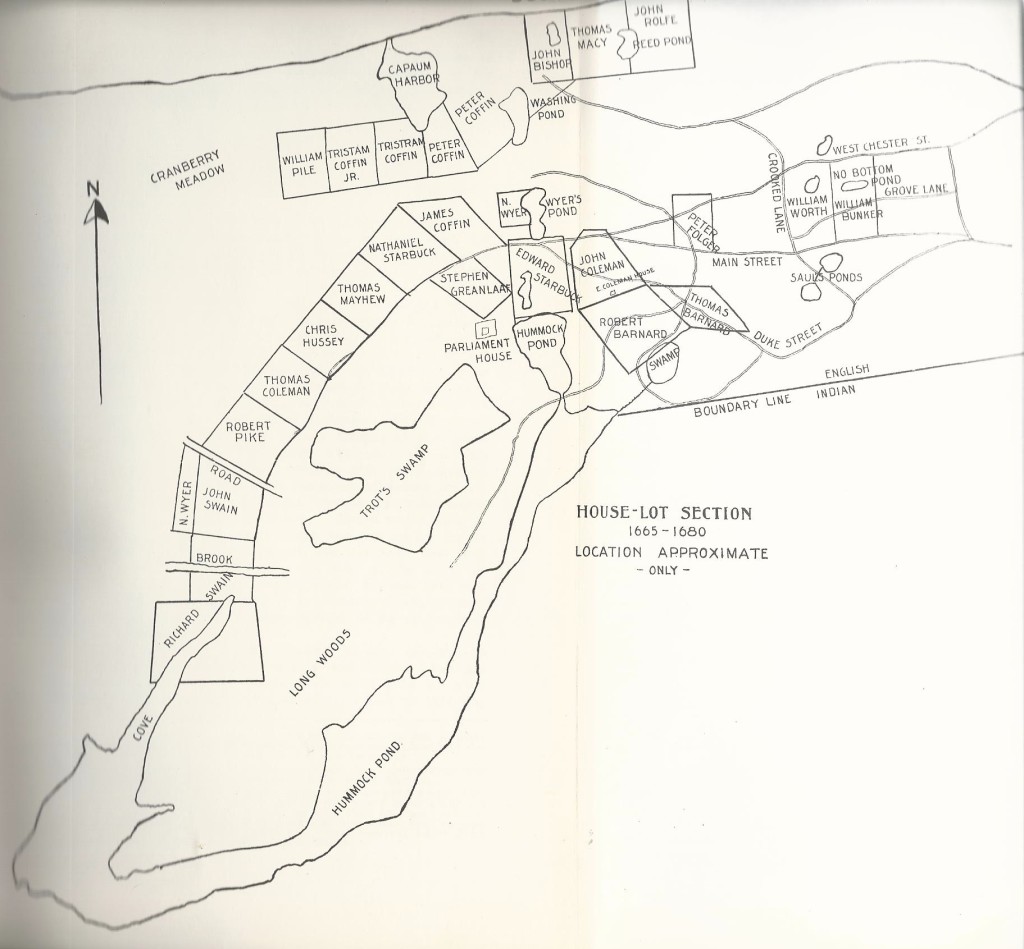 The Barnards in my lineage stayed on Nantucket for another 120 years or so. I found no more cases of inbreeding, but there was definitely a limited number of families for young men and women to pick from. Tristram Coffin and Thomas Macy are also direct ancestors of mine. Nantucket was home to another 10th-great-grandfather, one of the early whalers. Edward Starbuck inspired the name of Captain Ahab's the first mate in Herman Melville's Moby-Dick and, by extension, the ubiquitous coffee shop chain.
Finally, Francis Bernard, Jr. (1747-1805) moved to Surry County, in the mountains of western North Carolina. It's not clear why he made the move, but the Revolutionary War may have had something to do with it. Perhaps after serving as a Private in the Massachusetts army, he was ready for a big change.
The family stayed in the N.C. mountains for another 80 years or so, perhaps until they were displaced by another war, the Civil War. Nathan Barnard (1818-1902) married his first wife, Sarah Bennett, in her northeastern Mississippi home of Itawamba County. His son Charles Berkley Barnard (my great-great-grandfather) was born there in 1865. The Barnards move to Clark, Arkansas, where Sarah died at the age of 43 in 1873. Five years later, at the age of 59, Nathan married his second wife, Elizabeth Arron, in Clark. They would later move to tiny Brandon, Texas, between Dallas and Waco. Barnards in our family have been in Texas ever since.
Charles Barnard's son Thomas would marry Lillian Williams, my sister's namesake and a woman of an incredible American lineage (to be detailed at a later time). "Mama," as I knew her, raised five girls–my Grandmother Marie among them–and a baby boy named Robert but known by his middle name, Berkley. Mama died in 1995 at the age of 101. The Barnard name lives in our family to this day through Berkley's son Brad Barnard.