Editor's Note: My son David is guest-blogging with another post about the history of the Smith family.
I took another peek at Aunt Karen's fascinating ancestry notebook. When I noticed that her paternal grandmother's maiden name was Bessie Alline Boynton, I began to wonder if she was any relation to the founder of Boynton Beach, Florida, where my parents spend the winter.
The short answer is "yes." The long answer takes us through many important events in American and even European history. And I discovered that, with a free trial to Ancestry.com and a little Googling, you can pull strings on your family tree that just don't want to quit. The Internet is an incredible tool in this area. I just wish Karen's dear friend Mira had use of it when diligently compiling her notebook 30+ years ago.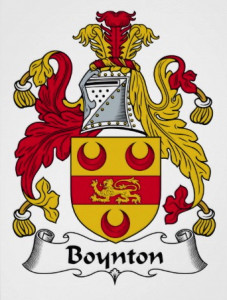 The Boyntons' story starts in a small village named Boynton in East Riding of Yorkshire, England. It has always been rural; even today its population is just 229. The name Boynton derives from the Old English personal name Bofa + connective particle "ing," denoting "association" + "tun" for "settlement." Twenty years into his rule of Britain, William's administration conducted a comprehensive accounting of all feudal lands for the purpose of taxing them. It is known as the "Domesday Book," compiled in 1086. The Domesday Book contains the first recording of someone named Boynton, a Bartholomew de Boynton who was born before 1067. The Norman "de" eventually dropped off the name in the late 1300's, after 11 generations or so. For five or six centuries, members of the Boynton clan amassed land ownership and political power. It all seems like the prequel to Downton Abbey. Perhaps it was a little darker; after all, it was The Dark Ages. They apparently never ventured far from Yorkshire.
Finally, in the summer of 1638–375 years ago–three brave Boyntons, brothers John (24) and William (32) and William's wife Elizabeth, set sail from Hull, England aboard the John of London bound for Salem, Mass. The brothers were trained as tailors, and both had side jobs in the colonies: William became one of the first school teachers while John "tilled an acre and a half of land." John and William traveled "under the auspices" (financing?) of Sir Matthew Boynton (family relation to the settlers unknown–uncle?) to settle New England. Sir Matthew was kind of a big deal. After he was educated at St. John's College, Cambridge, he served in the House of Commons from Hedon in two parliaments between 1621-47. He also served as the Sheriff of Yorkshire in 1628 and 1643-44. Along the way, Sir Matthew was knighted by the Crown of England for being the first to ship sheep and goats to America He was a follower of Oliver Cromwell, and sided with the parliamentarians during the English Civil War, a group who ultimately beheaded King Charles I for high treason. Tumultuous times!
Both the founder of Boynton Beach and my family descend from the younger of the two immigrant brothers, John Boynton. One branch of his ancestors stayed in what is now the northern United States, while others went south. Boyntons would end up serving on both sides in the Civil War.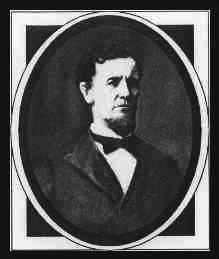 Boynton Beach, Florida was founded by a descendent of the Boyntons who stayed to the north. Nathan Smith Boynton (1837-1911) was an early Michigander, business whiz, and renaissance man. In 1827, Nathan's father Granville Boynton moved from upstate New York to Michigan, where he settled in Port Huron and started a family. To this day, Boynton is a common name in Michigan and is even the name of a section of Detroit. As a teenager, Nathan made a decent amount of money from a grocery store business. He reinvested his earnings into Michigan pine lands and was promptly wiped out by the Panic of 1857. After that, he left home, working in various jobs in Cincinnati, New Orleans, and St. Louis. When the Civil War broke out, he joined the 8th Michigan Calvary. A star soldier, he rose through the ranks to First Lieutenant and later Major. Among other things, his was one of the first units that marched into Atlanta under General Sherman.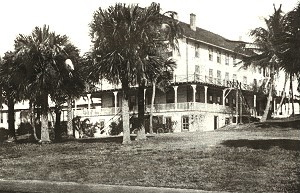 Back in Port Huron after the war, he ran the local newspaper; served as mayor three times; and founded the Order of the Maccabees, a sort of early insurance company. Nathan also held patents for a fire escape, a hook-and-ladder truck, and a fire ladder trussing system. By the 1880's, his health started to fail him, and so he looked for warmer climes and traveled to Florida. He soon bought much of the land in present-day Boynton Beach and Delray Beach and in 1896 opened a beachfront hotel that took advantage of Henry Flagler's brand-new railroad.
While they may not have founded any Florida vacation spots, the Boyntons in my family's direct lineage left their own imprint on American History while making their way south from New England to Texas. John's son, Captain Joseph Boynton, served in the Port Royal expedition of 1706-7, a failed English/Colonial naval attempt during Queen Anne's War to unseat the French from Acadia by taking its capital on the west coast of Nova Scotia. When he wasn't fighting, the Captain served as the town clerk and representative to the general court in Rowley, MA. Later on, his family moved to Groton, MA, where his first wife, Sarah Swan Boynton, died. In 1720, at the age of 66, he returned to Rowley and married Elizabeth Wood. Captain Joseph would go on to live ten more years before passing in 1730.
Joseph's grandson Amos Boynton, a tailor and farmer by trade, served as a sergeant in the 2nd New Hampshire Regiment of the colonial army during the American Revolution. At times, he was under the command of Colonel Nathan Hale and General Benedict Arnold. He was captured during an attack on Quebec, but later released. Amos also participated in both the Battle of Concord and the Battle of Bunker Hill. After the war, Amos moved the family south to Talbot County, GA, between Columbus and Macon, where they apparently ran a plantation for 100 years or so until the Civil War.
Click here to learn more about the historic lineage of Amos Boynton's wife, Sarah Snow
Amos Boynton's great-grandson, Gaines Moses Boynton, was born in Talbot County in 1837, the same fateful year as his distant cousin Nathan Smith Boynton. Young Gaines left home to attend medical school at the University of Pennsylvania from 1857 to 1859 (143 years before his great-great-great grandson studied business there for two years). After medical school in 1859, he moved to Carthage, Texas (near Longview and Marshall) and married Frances Morris in 1860. In 1861, he enlisted as a private in the Confederate Army's 11th Texas Infantry, E Company. He later joined the 13th Cavalry as an assistant surgeon. (Source.) After all of that, Dr. and Mrs. Boynton started their family with the birth of their first child, Gus Wirt Boynton, my great-great grandfather, on December 18, 1868 (exactly 105 years before my birth). They may have had another child, a daughter, in 1871. After Frances died in the 1870's, he married Elizabeth Sartwell, with whom he had two more kids.