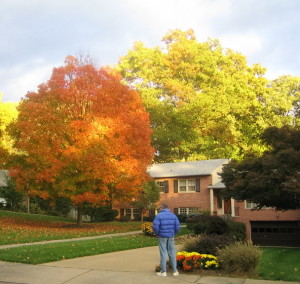 After 47 years in the DC area, Steve and I are moving to Florida on October 29. We will make our new head-quarters 1000 miles south in Boynton Beach, but hope to visit Virginia often. Though it's bittersweet to say good-bye to dear friends, we are eager to begin this new stage of our lives in a place where family can easily gather. Let us know when you can come visit.
The trees in our front yard blazed autumn glory as we sorted through decades of stuff. Now I must bid farewell to places I've loved: Arlington Library, Giant, Harris Teeter, Cherrydale Hardware, the Italian Store, Lebanese Taverna, Crisp & Juicy Pollo, Company Flowers, Pastries by Randolph, Gulf Branch, Potomac Overlook, Donaldson Run, Windy Run, Bluemont Park and the C & O Canal. I carry in my heart many special people: my housekeeper Imelda Mendez, my Tuesday walking partner Kathalina Stein, my neighbors Iris and Ed Beckwith, my hairdresser May Lavorata at Eli's Salon, my role model Nellie Grant, my Morning Book Group (25 years), my Evening Book Group (17 years), and three friends whom I first met at Rice (50+ years ago):
Then there's Cherrydale United Methodist, our church home since 1977. On October 13 Miriam Circle hosted a dinner and made a donation to Crop Walk in my honor. On October 25 the choir sang my favorite anthem, The First Song of Isaiah (Isaiah 12:3-6) by Jack Noble White. I've sung the refrain through many ups and a few downs.
Surely, it is God who saves me;

I will trust in Him and not be afraid.

For the Lord is my stronghold and my sure defense,

and He will be my Savior.
Here are just a few of the people I will miss at Cherrydale.
This slideshow requires JavaScript.