Editor's Note: My son David is serving as my first guest blogger with a post about the history of the Smith family.
During a recent trip to Novato, CA to visit my Aunt Karen (née Smith), she gave me a large, fascinating treasure-trove of a notebook containing an ancestral history of our family that she received over 30 years ago. The chart put together by Karen's VERY nice friend Mira who had a passion for digging through microfiche and other analog archives contains all eight of Karen's and Dad's great-grandparents and 13 of 16 great-great grandparents. My sister Shelby's namesake, Robert Pendall Shelby, is in there. In one part of the tree, Mira was able to dive much more deeply due to the availability of good records. It goes all the way back to John Grigsby, who was born in 1621. He is my great-great-great-great-great-great-great-great-great-great-great-grandfather (11 greats).
Some interesting facts about Grigsby:
He was born in England and immigrated to America, perhaps around 1665, when he received a grant of land in Stafford County, VA
He died in 1729 at the age of 107! People called him "Old John" (duh)
He owned slaves
There is a long lineage of Grigsbys from Virginia to East Texas, of which we are part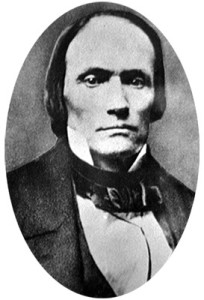 In 1834, Old John's great-great-great-great-great-granddaughter (5 greats), Frances Mitchell Grigsby, married George Washington Smyth, perhaps the most illustrious known person in our ancestry. The grandson of a German immigrant and born in North Carolina in 1803, George moved with his family through Tennessee to Alabama. In 1830, against his family's wishes, he set off from Alabama to become a surveyor in East Texas, around Nacogdoches and Jasper. It was there that he met Miss Grigsby. Note the timing of all this: just six years after he arrived in Texas, George Smyth helped lead Texas towards independence from Mexico. Indeed, he signed the Texas Declaration of Independence on March 2, 1836 with 57 others. He later served as the Texas Land Commissioner; was a delegate to the Convention of 1845 (when Texas joined the US); and served a single term in the US House of Representatives 1853-1855 (he declined to run for re-election).
Here is the text of the Texas Declaration of Independence and all of its signers.
You might be thinking that "Smyth" was later changed to "Smith" to result in our modern-day name. However, that's not what happened. In 1866 or so, George's daughter Emily Smyth married a man named William Hanceford Smith, who was from Georgia. (I wonder if she then went by Emily Smyth Smith.) Their great-grandson was William Wayne Smith, Jr., also known as Karen and Dad's dad and my paternal grandfather.