My Father, William Davis Kirkpatrick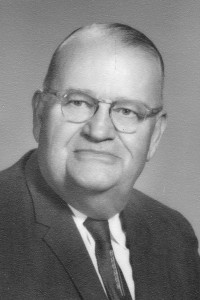 My father was born June 12, 1902 in Lewisville, Texas to David Forrest and Martha Woodrum Kirkpatrick. Davis was the maiden name of Martha's mother. His brother Thomas was five years older. Will attended Lewisville schools, then after his mother died when he was 16, a private academy in Terrell, Texas. His mother was a graduate of Trinity College, when it was located in Waxahachie. She had taught school and was active in the Lewisville Presbyterian Church. His father served as a country doctor in Denton County from 1889 until his death in 1939.
Brother Joel: Dr. Kirk died in late August, 1939.  I was 3-1/2 and distinctly remember listening to the old boys gathered around the gravesite talking about the Nazi invasion of Poland and saying "Wull, we'll just hafta whup their butts agin!'"
Will attended Oklahoma A & M at Stillwater, where his older brother Tom had graduated in 1918. After two years he transferred to Texas A & M and graduated in 1923. He majored in Animal Husbandry and was a company leader in the Corps. After graduation he taught school and coached football in Mason and Brady, Texas. In 1926 he moved to the oil boomtown of Borger, Texas, and found a job with the Phillips Petroleum Company.
Will married Patti Jeanette Raiza on August 21, 1933 in Frederick, Oklahoma. Mom always said they eloped, but never explained why, only that she wished she had had a church wedding with family present. They lived first in Borger, then in West Texas towns of Penwell, Judkins, and Crane. Their sons were born in Odessa:  Joel Brian, was born February 18, 1936, and Harry David on August 7, 1937. During World War II the family moved back to the Panhandle and lived on a Phillips lease at Texroy. I was born in Phillips on March 19, 1944 and named Martha after my father's mother.  In 1949 the family moved from Panhandle Camp, south of Borger, to 312 Riney Drive in Phillips.
Joel: We moved from Crane to Texroy in Feb 1941 during a bitter snow storm. We stopped at a motel in Amarillo well after dark, and warmed ourselves around the space heater. In Texroy, we had the only phone in a camp of about 20 houses.  It was a party line and our ring was one long and three shorts.  You could tell when others were "lissnen-in" because the volume would be degraded. It had an ear piece that he could cradle on his shoulder while he took notes. This assignment to Texroy probably represented a demotion or at least no more that a lateral transfer for him, because at Crane he had been second to A.W. Paris, who later became head of the plants in Phillips TX. Mom told me many years later, that there had been a mixup in loading a train of tank cars at the plant in Crane, which Paw apparently took the blame for, although the mistake was made by one of his men, not him.  The trainload was shipped to a Phillips plant on the coast, where the mistake was detected before major damage could be done.  It may have been that black mark on his record that stultified any further progress by him through the PPCO management bureaucracy.  I'm just speculating here from what I saw as "stultification," his serving under men of less knowledge and character.  I don't think Mom knew many of details. 
One of the by-products of the gas-gathering network he supervised in the sandy land of Hutchinson and Carson counties was gasoline, further refined at the plants in Phillips and used for aviation (high octane) gasoline in the war effort.  The plant in Phillips was then and still is one of the major sites for production of that type of gasoline, still used in civil aviation.  His job there kept him in a privileged draft exempt status during the war, while other men his age were going to war.  We also got ration books and a gas sticker for our windshield, which were a notch above those our neighbors received.  Pappy used to have trouble with the older kids "siphering" drip gas from the condensation vats on the gas collection lines, which they would use in their jalopy cars.  He would go out in the middle of the night and chase them off.  It was a dangerous practice.
And here's more that Joel wrote in 2003:
WD "Kirk" Kirkpatrick was a supervisor for the Phillips Petroleum Company (now Conoco-Phillips).  In all he worked about 37 years for "th' compny." He was a loyal and reliable employee, respected by his superiors and by those who worked under him.  I could see and hear this for myself when I worked for Phillips, in the oil field during the summers of my college years, with several men who knew him.  He never reached the upper management level and later in his life didn't even aspire to, but he did not bad mouth the bosses.  Sometimes he cussed about the stupidity and laziness of the men, but generally he did not discuss their problems.  He was not a gossip.  He never stole tools or other property from the company, as most of the men did. 

At Texroy (1941-1947) we had the only phone among the 30 or so neighbors.  We would be called upon to "please get Miz Matheny" to the phone, which sent Harry or me out in all kinds of weather.  It was a party line and once in a while Paw would demand that "Miz Reynolds" or somebody else get off the line so he could make an emergency call. When you made a call you had to pick up the receiver first and listen to find out whether the line was in use.  I still do that.  Then you had to turn the crank to get "Central."  Our ring was a long and three shorts, and not infrequently after picking up the ear piece, you could hear clicks as other party line members would "lissen-in" to find out what was going on.  Pappy would occasionally call them by name and demand that they hang up so he could hear better.  It was not allowed for us to listen in to others' calls. 

As a member of the supervisory staff he did not belong to the union (American Federation of Labor Brotherhood of Operating Engineers, Local #387).  And he did not like many of the fellows who became stewards and officers in the union.  He considered them arrogant, greedy, and not very bright.  I met one of these fellows during my brief career with Phillips.  He was a truck driver and a good one, and also a shop steward.  The steward was charged to hold meetings from time to time, to deal with problems with management at the local level if possible, and to keep the men in line for elections and special issues.  This guy, "Red," had a hot temper and a loud mouth.  He was also lazy, always sitting on his butt in the truck despite any work there was to do.  This was according to the union contract, he told us.  But I liked him because he could tell good stories during the lunch hour and he sure could handle that large truck with it's winch and other power tools.  Mud, sand, tight places, it didn't matter to Red.  Red got into a lot of trouble with the company later I heard, when he tried to destroy some equipment during a strike.  But that's how it went between labor and management.  At the twilight of Pappy's career there were numerous strikes, and at those times the supervisors would have to go into the plants themselves, to keep them operating safely.  The supervisors had to work any extra hours when they were called upon, and they did not get overtime pay for it.  Pappy always did that on weekends and nights, without complaining.  Probably that attitude of his was helpful to me in my medical career.  Doctors don't have regular hours either.  So our father was a reliable, long term company employee, which was the goal of many people in those post-depression years.  In later years of his career the company began to use more aggressive personnel policies and "company loyalty" became a thing of the past.  Paw was always loyal though.  And for it he received a small pension, which did not transfer to his wife after his death.

 And Red.  Red was killed, decapitated, on the job when a load of pipe got away from him and hurtled through the "headache" protective grill behind him.  The oil fields and the refineries and the roads between them are dangerous places, even if you know what you're doing.
Martha: When I was in high school, Dad's job with the PPC had to do with maintaining a system that pumped natural gas from Texas to Chicago through pipelines. His job title was "Superintendent," a salaried member of management. When the Union went on strike in 1959, he worked lots of overtime to keep his system operating.
Dad's character traits:  complete unconditional love for his children; honesty, frugality, strong work ethic, tolerance & acceptance (similarly, lack of ambition or pretense); loyalty (ie. to his brother Tom); pride in offspring (liked to brag on us!); good memory—could recite train routes and schedules, knew the "old roads;" laid-back—avoided conflicts; sometimes irritable and uncommunicative; suffered insomnia, obesity, diabetes; not gregarious, but loved to talk.
Political views:  a "Texas Democrat," not fond of FDR, loved Truman, voted for Eisenhower in 1952. Deplored, but was amused by scandals, such as LBJ's shenanigans in Uvalde County. Often remarked "a good nigger halfback would do more for integration than any law."
Dad loved all spectator sports. I remember him talking about Sammy Baugh (whose son Todd Baugh was a classmate of ours at Rice), Johnny Unitas, Roger Staubach, and in the summer of 1967, when Mom and Dad sublet our place in Cambridge, the Boston Red Sox.
Joel:  Paw also admired Doak Walker, whose SMU games we used to listen to on the radio.  He took us to see him play at the Cotton Bowl in an exhibition game during his pro days with Detroit.  He loved baseball and took us to see the Ft Worth Cats and the Dallas Eagles in the old Class AA Texas League and of course to many games of the Borger Gassers in the Class C West Texas-New Mexico League.  He was a great analyst of the game and explained that the faster men batting early in the lineup were expected to be on base when the heavy hitters came to bat "clean up" and fifth, to bring them in. A clean up man of some fame at the time (late 40's) was Gordon Nell. 
Shortly after we moved to 312 Riney Dr, Paw took Harry and me to see a high school football bi-district game between the Phillips Blackhawks and Lefors in Pampa.  It was Nov 1948, I think.  The game was played in such a snow storm that most of the spectators stayed under the stands around blazing trash barrels. The Lefors punter, kicking into the north wind, had his kick blown back over his head and out of the end zone for a safety.  Phillips went on to win and later faced Monahans in the regional final, as far as class A teams went at the time.  Phillips lost 13 to 6 or 7, and Pappy surprised me after we listened to the game that left me grieving, by observing that the sun would rise as usual the next day. 
And it did.  That's still a good attitude toward the vicissitudes of sports, politics, and some of the other great issues.  Anyway, driving home from the Lefors game in Pampa in that same 1940 Chevrolet, we became mired in drifted snow and returned with a passing oil field truck to a hotel in Pampa for the night.  Next day we were able to dig out the car and return to Mom and Martha, waiting comfortably, but very worried in Phillips.
Dad did most of the cooking in our household and he loved all kinds of dishes. Often he brought home brick chili and homemade tamales he procured from a secret (to me) source in Borger. The Polish sausage festival in White Deer, Texas was an autumn must. So was trying recipes from the annual Pillsbury Bake-Off Cookbook. He rhapsodized about his cousin's homemade jam.  He read magazines incessantly: Collier's, Saturday Evening Post, Harper's. Some books I remember that he prized were Richard Dana's TWO YEARS BEFORE THE MAST, Willa Cather's O PIONEER and John Steinbeck's TRAVELS WITH CHARLEY.