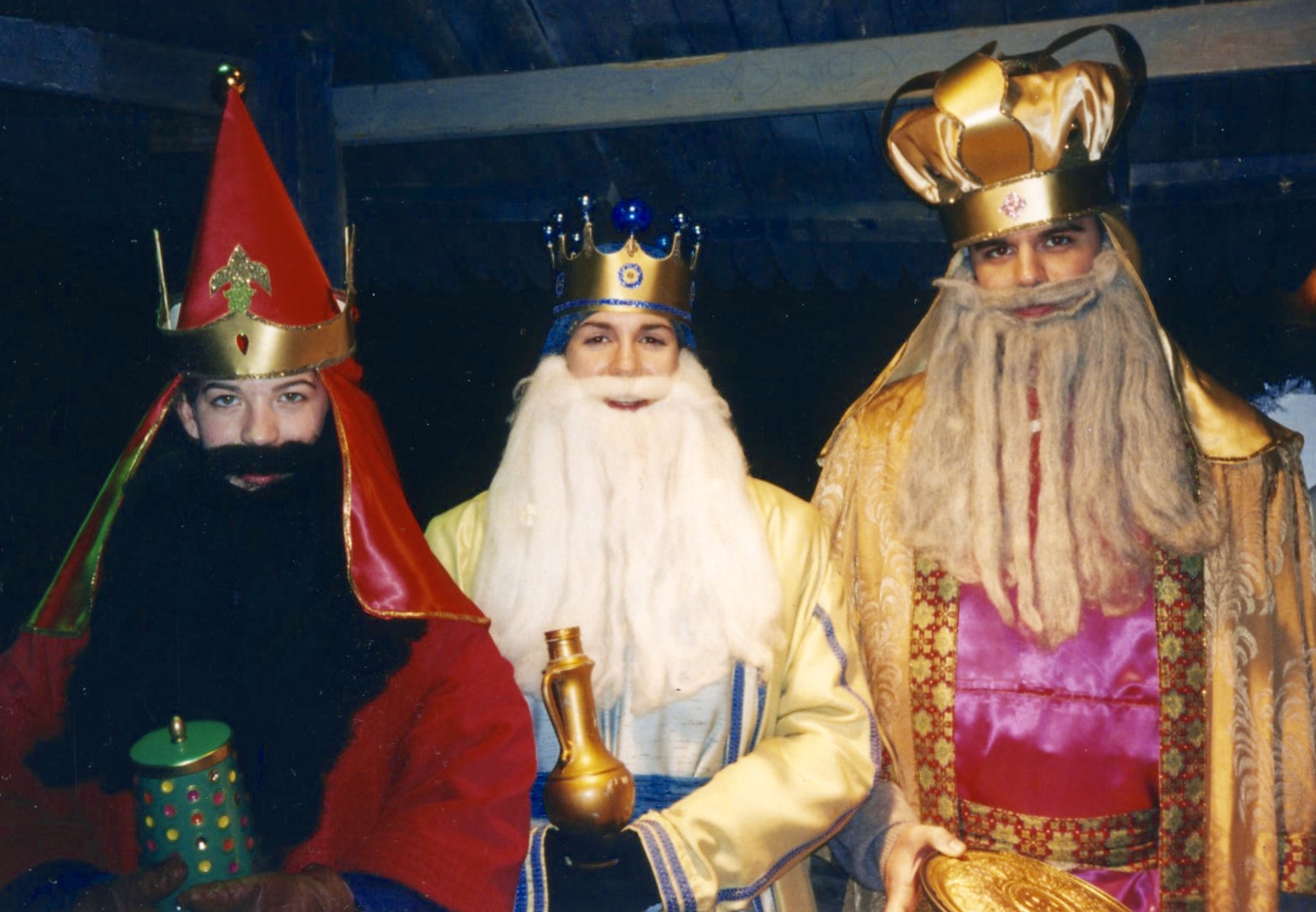 As the Advent season begins, my mind is whirling with images and melodies accumulated over the last forty years since we joined Cherrydale United Methodist Church in Arlington, Virginia. In 1985 I was on a committee that staged the Church's first Living Nativity, with members playing the roles set forth in the Gospel of Luke. Outdoors on the church lawn, the Methodist Men built a stable. The Methodist Women took charge of collecting and fitting costumes and recruiting cookie bakers. My friend Elizabeth suggested renting animals from a local petting zoo, which turned out to be a key element of appeal. Volunteers began signing up in November to enact the Christmas pageant in thirty minute shifts. A narrated soundtrack repeated four times in two hours.
Indoors in the church parlor, Charleene Frazier and others served cider and hot chocolate. Virginia Dodge accompanied Christmas carols on the piano; students brought other instruments, too. Donna Sponaugle, Janet Davis and many others kept a bountiful supply of cookies on display. Visitors lingered by the fireside; warm fellowship filled the church. Last night, while Steve and I set up our Christmas tree here in Florida, Cherrydale staged its 33rd annual presentation. The last one I got to see was in December 2012, when a blind visitor found that petting the animals helped her feel the Christmas story as she never had before. Click here for her heartwarming letter to the church.
This slideshow requires JavaScript.
In addition to these pictures I recall sounds of choristers singing. In 2000, when I directed Cherrydale's Children's Choir, I wrote a song about the Living Nativity, using questions I had heard the children ask. I set it to a tune known as Stuttgart, often used for the Advent hymn Come, Thou Long-Expected Jesus. Yesterday morning at the First Presbyterian of Delray Beach, we sang Come, Thou Long-Expected Jesus to a different tune, Hyfrydol. "Hymn Tunes are envelopes that can contain different messages," Cherrydale's pastor (1962-71) and hymnologist Ernest Emurian explained to me. "And messages can fit into more than one envelope." He helped me understand the power that words and music, united by rhythm, have to make messages memorable, a phenomenon well-known to advertisers.
It fascinates me to discover how our brains capture songs. Hymnals offer clues. Their metrical indexes list a wide variety of musical envelopes to fit just about any form of poem. In both Methodist and Presbyterian hymnals you can find the tune name for each hymn printed alongside the music and followed by a series of numbers identifying the metrical scheme. The numbers for Stuttgart and Hyfrydol are 87.87. That simply means that there are eight syllables in the first two-measure phrase and seven in the next two measures and that that scheme is immediately repeated. There's something about the regularity of rhythmic patterns and rhyming words that facilitates memory.
When singing Come, Thou Long-Expected Jesus to the tune of Stuttgart, one sings four short verses, each with the same melody. Hyfrydol is marked 87.87 D. "D" is for Double: the metrical pattern repeats with a different melody, so one sings two long verses, rather than two short ones. I like Hyfrydol a little better, but the simpler rhythm of Stuttgart worked well for my choir. With repetition, our brains begin to store the regular patterns of melody and rhythm. Children who hear clear patterns of words and music retain them readily. I can only hope that the hymns I taught and their meaning lodged in their brains as much as they did in mine.
Here is Come, Thou Long-Expected Jesus sung to Hyfrydol by the St. Olaf College Choir, a  contemplative way to begin the Advent season.