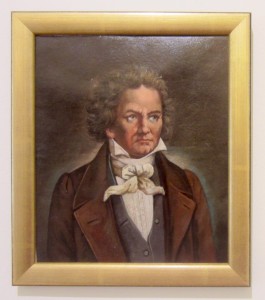 Baden bei Wien has the double honor of having hosted Mozart in 1791 when he wrote his most famous choral anthem, Ave Verum, and Beethoven, in the summers of 1821-23, when he wrote his Ninth Symphony.  It is also the summer home of my brother Joel and his wife Elisabeth, who is Austrian. They split their time between Baden, 26 km south of Vienna, and Waxahachie TX, 30 miles south of Dallas. Lilli, Violet and I concluded our Austrian adventure in Baden on August 11. Since I was last there several years ago, the town has restored the house where Beethoven lived and made it into a charming, insightful museum. The best feature is a room where we could hear the fourth movement of Beethoven's 9th (Ode to Joy) by the West-Eastern Divan Orchestra conducted by Daniel Barenboim, and see four separate screens showing the musicians, the score, commentary, and a unique synchronized graphic representation of which instruments were playing when. Fascinating!
This slideshow requires JavaScript.
I brought home a DVD set of Barenboim and this orchestra playing all nine symphonies, recorded live from the 2012 BBC Proms. The set includes an hour-long video, "Nine Symphonies That Changed the World," which is a great overview of Beethoven's genius. The West-Eastern Divan Orchestra is made up of young Arab and Israeli musicians. Barenboim's son Michael is the concertmaster. In 2011, this orchestra made a tour to Shanghai, Beijing, and Seoul, ending with a performance of the Ninth Symphony with the South Korean National Chorus at Music Hill near the Demilitarized Zone between North and South Korea. Their aim was to promote peace through Beethoven's setting of Schiller's poem, "All Men Are Brothers." Very moving!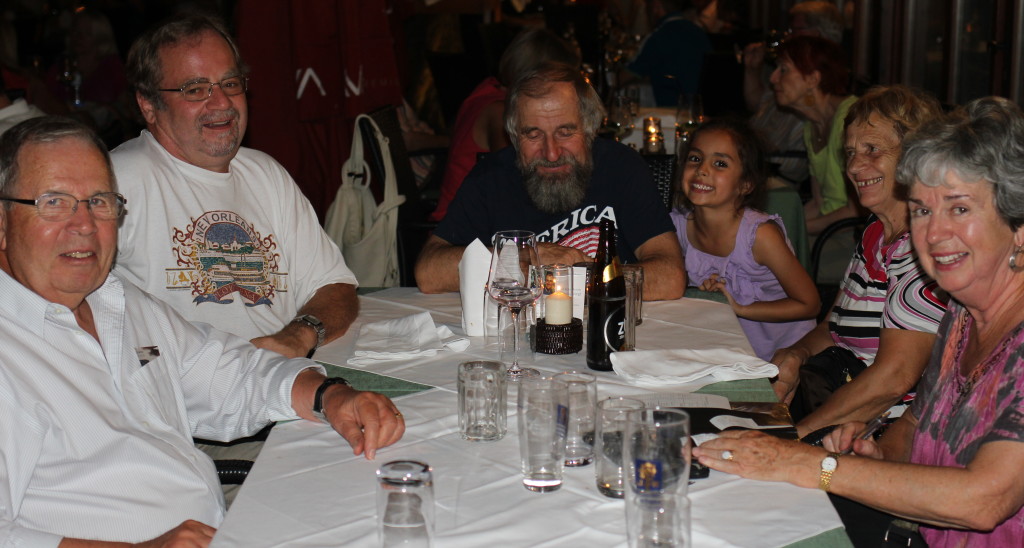 Our last dinner in Austria was in the lovely garden of Klostergasthaus in Thallern with Elisabeth, Joel, Peter, Hermine, Joel's friend Hermann, Lilli, Violet and me. The next morning Lilli and Violet flew home and I journeyed to Scotland to meet Steve. In nine days the three of us had wonderful visits with Joel and Elisabeth, several Austrian friends from 50 years ago, and new ones, too. We learned a lot about Austria's rich heritage from Roman times through the Hapsburgs to the modern era. We saw many beautiful places, including six UNESCO World Heritage sites:
Best of all, I re-visited a period of my life when my world was greatly expanded and shared that experience with my daughter and granddaughter. I was thrilled when Lilli told me that the trip exceeded her expectations.