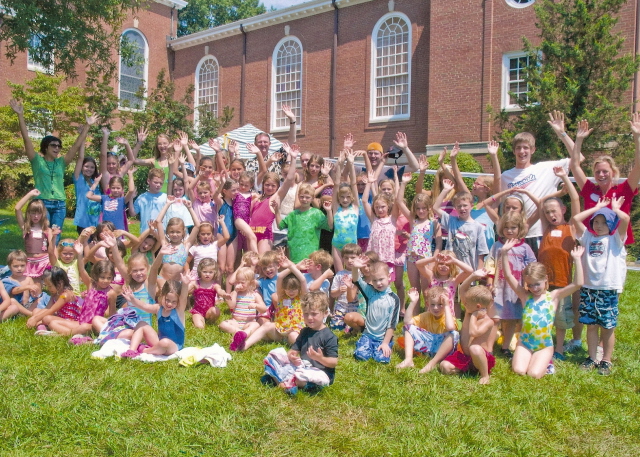 Vacation Bible Schools were the glories of my childhood summers–Presbyterian, Methodist, Baptist. I remember at least ten in all, not only in my hometown, but on vacation, too. I had fun crafting little towns of Bethlehem with homemade "stucco," memorizing Bible verses, learning hymns and fun songs, and playing with kids from outside my neighborhood. My parents surely appreciated the free child care. For the last 40 summers, I have volunteered at Bible Schools almost every year, so I estimate that this year's VBS was number 48.
As soon as we joined Cherrydale United Methodist Church in Arlington VA in 1977, Reverend Ernest Emurian and Charleene Frazier assigned me to the Bible School piano. I remember being excited to be asked. By 1983 I was the director and designed a curriculum that featured Methodist missions in the Pacific Islands. What fun Lilli and her friends had singing and dancing in grass skirts, while David played Pacific Island games outdoors, and Shelby built "cannonball" (her interpretation of "cannibal") islands out of clay. Wonder how many of those kids can still locate Kirabati or Vanuatu on a map?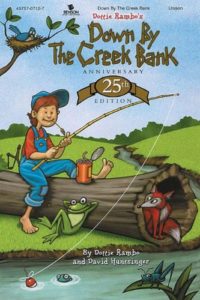 In 1985 Bunny Lancaster, Nadine Pinkham, Fran Simms and I collaborated on Creek Week, a drama camp, that included a hike to a nearby stream and a 25-minute musical production on Friday evening. This music out of Nashville was new to me, but the kids' response taught me to love it. It helped to add guitar and drums to my piano. Bunny also led us in old favorites like "Deep and Wide," "Allelu, Alleluia" and "I've Got the Joy, Joy, Joy, Joy Down in My Heart."
Sheep Week in 1992 attracted over 80 children. One family became active church members, and two kids later came to my piano studio. The musical that year was "We Like Sheep!" a clever re-phrasing of Isaiah 53:6 (we, like sheep, have gone astray…"). Costumes were white sweatshirts worn inside out to look woolly and headbands with perky ears. My friend Marjo van Patten still remembers the pre-teen girls singing "No matter how baaaad we are, our Saviour loves us!" We had visits from Woodmont Weavers, a sheltered workshop for disabled adults, who brought woolen weavings, and from a Petting  Zoo who brought real sheep.
To connect with the 1996 Summer Olympics in Atlanta, Bible School became Fitness Week. Jody Corbet played the role of a He-Man body builder, who also dedicated himself to Scriptural Fitness. The kids loved it, and so did Jody, then a college student, now, an FBI agent. The next year we incorporated nine visiting Russian kids into our Bible School, a first for them. Click here to see my album of Bible Schools from 1982 – 2017. Click on Info for identifications and please let me know of any people I missed. If you have photos from before 2004, I would love to see them.
This year I played the role of Bible Storyteller at First Presbyterian Church of Delray Beach FL, June 12 – 16. The theme was Super Heroes. My job was to make classic Bible stories vivid to three different age levels, emphasizing Bible hero qualities for children to emulate. Day by day, we moved from the Old Testament to the New.
Monday – Heart:  Eli anoints David to be the future King of Israel, when he was just a shepherd boy, because he can see that David has the heart to be a leader.  [1Samuel 16:1-12] We pretended to "annoint" each other's heads with "oil" from my real shofar and discussed what set David apart from his seven brothers.
Tuesday – Courage:  Abigail realizes that her husband has refused David support and targeted her family for the wrath of David's band of followers. She takes David the supplies he needs and prevents a killing spree. [1 Samuel 25]. The older class began to discuss when to act in opposition to a relative for the greater good.
Wednesday – Wisdom:  Jesus goes to the Temple in Jerusalem to learn with the priests, but fails to let his parents know where he is, worrying them. [Luke 2:41-52] The kids recounted lots of stories about being lost in stores.
Thursday – Hope:   Jesus preaches the Beatitudes beside the Sea of Galilee, setting forth the highest ideals and providing hope for his followers [Matthew 4:23-5:12] The kids copied out such verses as "Blessed are the peacemakers, for they will be called children of God."
Friday – Power:  Pentecost, 50 days after Jesus' Resurrection, demonstrated the power of the Holy Spirit. [Acts 2:1-41] We learned to say "peace," in many languages: shalom, paix, paz, Friede.
A large staff of volunteers led music sessions, recreation, crafts, science experiments, and of course, snacks, all related to the Hero theme. Director Grace Hood invited local leaders to come demonstrate their hero qualities. The kids loved the canine companion the police brought; they listened to a Delray Beach city planner with multi-page diagrams of the church's ongoing renovation explain why approvals matter; they watched two firemen and Director Grace Hood don firefighting garb to show the kids they could trust firefighters, if they ever should wake up in a burning house. I remembered that the 2004 Cherrydale Bible School also featured heroes and firetrucks.
Not everyone believes that Bible Schools are good for kids. While preparing my lesson one morning, I had a call from an old friend who grew up in a fundamentalist church that she has thoroughly repudiated. When I remarked that some of the kids at VBS didn't know that our calendar dates from the birth of Christ, she countered that Jesus' birth was not a proven fact and followed up with an email:
Martha, in trying to clarify for myself what I object to about the Bible School teaching of specifics like Christ's birth 2017 years ago, I think what I believe is that teaching history is very important, and that teaching children the history of religion would be a good thing — so they learn about all the world's major religions and their development, and the faiths are presented as historical subjects of analysis about which there is some disagreement but lots of agreement. Their parents can tell them that "our family believes in Christianity" and the kid can put it in historical perspective, that he may have friends in school whose families believe in other religions, and he understands that the popular ones were all founded in a period long ago and that there are many legends associated with each religion, and texts that go with the legends, but not that it is a fact that a baby born 2017 years ago was Jesus.

Children who grow up believing in a divine Jesus or Mohammed have a lot of unlearning they must do as they mature, and of course many of them never accept what i think of as scientific, historical facts.  but how much better it would be if children could learn a bigger picture from the beginning, to which they can add nuance and analysis and faith if they want to as they mature. My daughter said as she grew up that she regretted not knowing much about the bible, but i don't regret not having her taught that the bible is sacred truth when she was a child.

I think children should learn about science and history from an early age, and a good grounding in those two disciplines would, I think, help defuse the faith-based hatred and violence and bigotry in the world. I have faith that we exist by flukes of physics and biology and that we live on a rock in a big universe that we should take care of if we want to see the human species continue to live on this rock into the unknown and unknowable futhure.  I also have faith that humans, if they continue to thrive as they have, will come to accept their responsibility toward other animal species, and then plants, and so on.  i would be very upset if someone taught children that factory farming was good, not to mention holy.  ok, that's enuf for my faith. See you Wednesday.
I replied:
Dear friend, I want to address some of the issues you raised before we visit in person next Wednesday. For my statement of faith, please see

my credo on this site

. The Vacation Bible School I was teaching in was not intended to misinform innocent children, only to inculcate moral values that richly detailed Biblical stories bring to life. David, Abigail, Jesus and Peter were the "superheroes" in this week's theme, because they embodied caring, courage, wisdom, and hope. We talked about how they could use those qualities in everyday situations. My mention of 2017 relating to Christ's birth was an aside meant to illustrate that Christianity is so widespread that it has determined our calendar.  Knowing that seems to me basic to cultural literacy.

I agree that teaching science is important and that the historical evidence for Jesus is murky, as this

Washington Post article

asserts. I have just finished listening to Neil DeGrasse Tyson's "Astrophysics for People in a Hurry" twice and he says that faith belongs to a different realm. When a little boy asked me this week, "When was God born?" I answered that the Big Bang was 14.5 billion years ago and left it at that. Hopefully, he and his parents will discuss that topic more fully.

I love singing the old songs and learning new ones. I love teaching the old stories in new ways. I asked David last night if he felt we had crammed religion down his throat. "No," he laughed, "knowing the books of the Bible comes in handy in crossword puzzles." He's thankful for the way our church reinforced basic moral values. Shelby is the only one of our kids who attends church regularly and her Unitarian congregation in Dallas is a positive force.

It's wonderful to have my beliefs challenged and to spar with a long-time, highly respected friend. I look forward to more next Wednesday.
She replied:
We don't have a disagreement over basics, but I am more in favor of less bible emphasis for all Americans and especially young ones.  But we don't have to work on this any further. My own childhood/family/church experience makes my reactions sharper plus the anti-science drift of the country is making me really sad and worried for my children and grandchildren.  
We met the following week and found that we agreed to agree on most of the important things in life, but I doubt if she'll ever understand the joy I find in teaching Bible School. Cherrydale is once again preparing for Bible School next week. I send my best wishes to all the kids, teens, and adults.