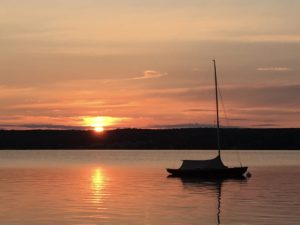 Early on the morning of June 28, I walked down to Lake Chautauqua and watched the sun rise. The peace there was a marked contrast to the theme for Week One, Inventions. Each morning a different speaker presented his or her take on new innovations and their likely effects:  Artificial Intelligence, autonomous cars, and delivery drones, among others. With our hosts, Peg and Jack, we discussed how the invention of roller boards had made our travels easier, but put Skycaps out of work, and how iPhones have changed everyone's lives during the last ten years. For perspective, I occasionally stopped at Hurlbut United Methodist Church and practiced Bach's second two-part Invention  (early 1700s, but new to me). Here are my highlights.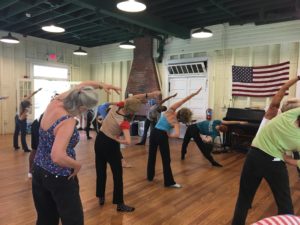 Alvin Ailey II Dance Company, a troupe of twelve energetic, young dancers with amazing agility and polish. We saw them one night performing Ailey's signature "Revelations," including my favorite "Wade in the Water," that I had seen in Washington 40 years ago. Another night they did very exciting New Works. Peg and I got to work out with them one afternoon.
Andre Gavrylyuk, pianist, who played Tchaikovsky's First Piano Concerto with the Chautauqua Symphony Orchestra and conducted a Master Class for the 22 graduate pianists studying at CHQ this summer. The Orchestra also gave a rousing rendition of Tchaikovsky's Fourth Symphony. I especially liked the third movement's pizzicato and the fourth movement's variations on a Russian folk tune. The CSO got a standing ovation from several thousand in the beautifully rebuilt amphitheater.
Friends: Seeing old friends Michael and Jan Yauch. Jan and I took Peg's water aerobics class one afternoon. The six of us went out for Buffalo wings one evening. The Yauchs spend six months of every year at their place in DeWittville across the lake, and the rest of the year near Rice in Houston. Jan serves lunch at Hurlbut Church on Tuesdays.
Art and Reading:  At Chautauqua's two museums. I especially liked an exhibition by seven Latin American artists that honored the return to Chautauqua of Sandra Cisneros, who many years earlier had spoken about her 1991 book of short stories set in Chicago, The House on Mango Street.  I bought it and read it. Another book I bought at Chautauqua was Daniel Bergner's Sing for Your Life, which I reviewed here.
This slideshow requires JavaScript.
Lectures on Inventions
Three of the five morning speakers on Inventions were women. Obi Felten of X Moonshots led off, extolling the benefits of team work and of failure. I was thrilled that she showed a clip of President Kennedy's Moonshot speech at Rice University during my Freshman Week, September 1962. Steve and I were there!  Felten said that we are now in the Fourth Industrial Revolution, a fusion of virtual, physical and biological. Yet one half of the world lacks access. That is why X is working on a 'Loon Project, using balloons to provide basic connectivity in remote parts of the world. For more details, see this article in the Chautauqua Daily.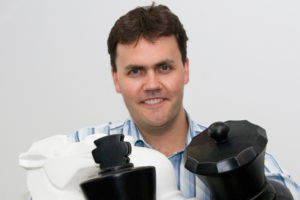 Jesse Schell, video game designer, CEO of Schell Games and Distinguished Professor of the Practice of Entertainment Technology at Carnegie Mellon University, gave a talk entitled "How Virtual Reality Will Change the World." Schell worked with the late Randy Pausch at Carnegie Mellon. Pausch's Last Lecture, was my video-of-the-year in 2007. He explained that Virtual Reality (VR) blocks out the world; Augmented Reality (AR) paints over the world. The uses of VR include enterprise development, surgery rehearsals, architecture, military, entertainment, and education. All grandparents were noting his endorsement of Happy Atoms, a magnetic, molecular modeling set and his prediction that by 2025, VR home movies will become our most treasured possessions.
Think you're a multi-tasker? Watch this video about Lisa Seacat DeLuca, tech strategist for IBM Commerce, who spoke on Wednesday. She grew up in Montana and contends that inventing is like fly fishing: quiet space, alone time, preparation, small teams, patience, snags, letting go, loving what you do.
Her twin boys will be five in November and her twin girls will be two in September! She and her husband were alone together at CHQ for a few days. I bought an advance copy of her book, The Mysterious Creatures of the Internet, for Margot and Nina. Many of the pages have NFC tags that connect with a smart phone to create animations.
George Kembel, global director and co-founder, Stanford d.school, brought his wife and three sons to Chautauqua and spoke about a "world of radical complexity and exponential change. The generation gap is now every two years," he proclaimed, "every person is a pioneer." Kembel illustrated his talk with videos of schools of fish and swarms of birds, drawing on the field of emergent behavior, as reported by the Chautauqua Daily:
Complex, self-organizing behavior in which individual members act without top-down planning exists everywhere in nature: schools of fish, beehives, ant colonies, bird murmurations. But it's all too absent from today's industrial organization strategies. A few basic rules can allow a team to reach positive outcomes even without centralized leadership. Imagining a school of fish, he pointed out basic rules a single fish could follow that would allow the whole school to succeed — things like swimming toward food, swimming away from sharks, and staying close to neighbors."Pretty soon decision-making cascades through the whole collective … and you haven't had to say anything about a strategy," Kembel said. And just as it works with fish, so too can it work with humans. At least that's the idea underlying Kembel's d.school system.
With "Designful Parenting" Kembel showed ideas for getting kids to put away their clothes and their backpacks, and practice the piano! Basically, he advised parents to open up the capacity to contribute. Share what you notice (take photos), invite ideas, try something, keep it going. Let me know if you want to discuss these ideas!
Darn it, I missed Friday's lecture by Pagan Kennedy, author of Inventology: How We Dream Up Things That Change the World. I'll have to get that book. How lucky we were to have a week at Chautauqua for the sixth year in a row. Search this site for Chautauqua and you'll see other good times.
Electrifying effects:  those lectures on Inventions have inspired me to read more about the history of electric power development. Joe gave me a long novel, City of Light by Lauren Belfer, set in Buffalo NY at the turn of the 20th century and featuring the building of the Niagara Falls Power Station. With a strong female protagonist challenging the norms of the day, its 679 pages went by fast. Last Saturday at the Flagler Museum I picked up Tesla vs Edison: the Life-Long Feud that Electrified the World by Nigel Cawthorne; now I can't put it down.