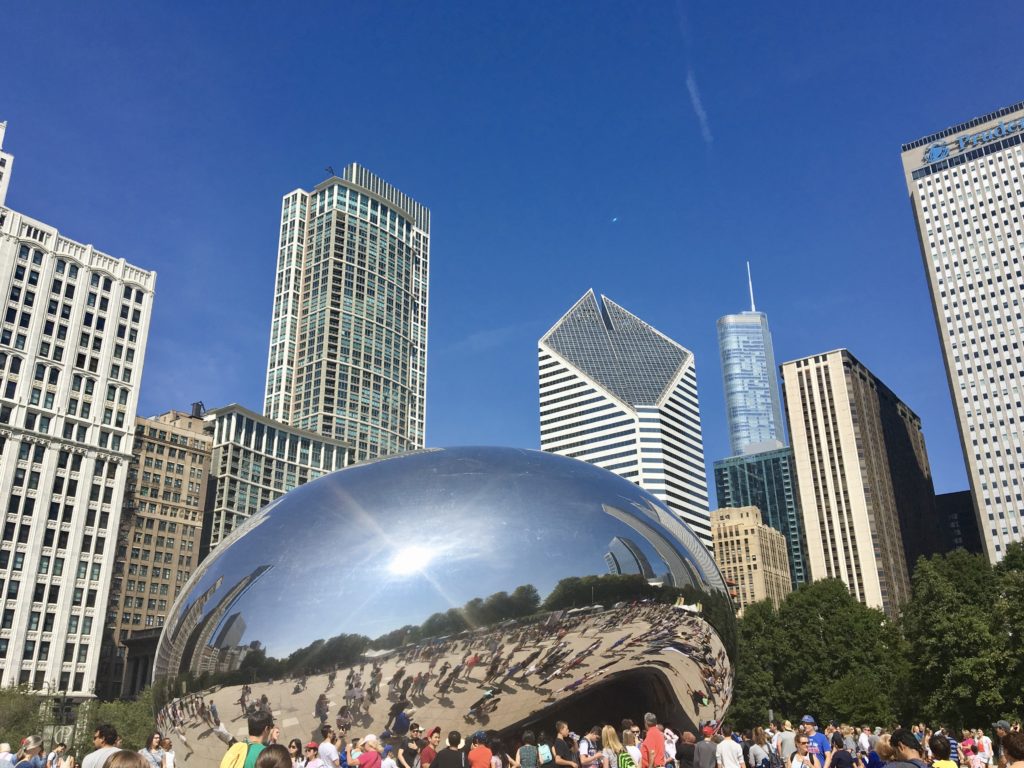 Five days in Chicago gave me two ways to experience this great city, first with my family and then, on my own. Our family gathered in a house in Lincoln Park. What a great time we had seeing the Cubs play at Wrigley Field, visiting Millennial Park, seeing the musical Hamilton, and enjoying informal meals and wide-ranging discussions. I loved every minute our family  spent together, but I wanted more time in this spectacular place. When all the rest departed on Labor Day, I checked into a downtown hotel for two more days. I discovered the Riverwalk nearby and lavished hours on the Art Institute (the morning hours with Shelby, the afternoon, alone; see this album) and the Museum of Science and Industry (see this album). On September 5, when the moon was full, I took an evening architecture cruise on the Chicago River. Click here to see my album, Chicago by Day and by Night.
It was only my third visit to the city I heard about as a girl. Exactly at noon every Saturday, my father tuned the radio to The National Farm and Home Hour (1928-58). We listened for Everett Mitchell to announce "It's a beautiful day in Chicago!" Then he stated the temperature, which was sometimes below zero, and the windspeed, which varied from 10 to 40 mph, before  broadcasting agricultural news. I realize now that not only did Dad have a degree in animal husbandry from Texas A&M, but also that the family farm in Lewisville was not far from his mind. Dad would have loved the Museum of Science and Industry's agricultural displays. Maybe Mitchell's weekly exclamation, "It's a beautiful day…" contributed to my lifelong optimism. I also remember Frank Sinatra singing about Chicago.
What I loved about exploring the city was seeing its many gardens, large and small, and its exuberant choices of architecture, art, and sculpture. The volunteer docent on Chicago's First Lady sunset cruise pointed out Aqua, an 82-story apartment complex, completed in 2009 by Jeanne Gang's firm, Studio Gang. It has wave-like balconies that provide views in a variety of directions. The overall effect is as though water is cascading down the entire building.
At street level, I found intriguing, colorful art, like these door panels on Randolph Street:
Both traditional and modern sculptures occupied prominent spaces.
Brother Joel had cautioned me that Chicago was a dangerous place, but I felt safe on public transit and walking alone, both morning and evening. So, who wants to go back to Chicago? I'm ready!