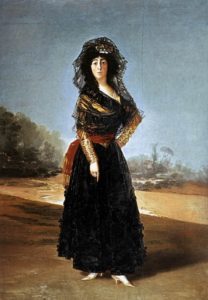 The music of Enrique Granados, a Spanish composer, has fascinated me since my teens, when my piano teacher assigned his "Intermezzo" from the opera, Goyescas. Six paintings by Francisco de Goya inspired this opera. Goya, in turn, was inspired by the stereotypical young men and women of the 18th-century majismo movement. "Majos" and "majas" were known for their bohemian attitude and spirited nature. Writing in 1911, Granados professed himself "enamored with the psychology of Goya, with his palette, with him, with his muse the Duchess of Alba, with his quarrels with his models, his loves and flatteries. That whitish pink of the cheeks, contrasting with the blend of black velvet; those subterranean creatures, hands of mother-of-pearl and jasmine resting on jet trinkets, have possessed me." [For an appropriate soundtrack, start the video of Alicia de Larrocha playing Granados, below.]
This slideshow requires JavaScript.
Granados wrote the piano suite Goyescas in 1911, then expanded it into a one-act opera that included a love triangle and a fatal duel. He added the "Intermezzo" to cover a scene change. Because the onset of World War I made a planned Paris Opera premiere impossible, Goyescas debuted in January 1916 at the Metropolitan Opera in New York, the first time a work in Spanish, or by a Spanish composer, had ever been performed there. Granados sailed to New York to attend the premiere, even though he had a lifelong fear of sea travel.
President Woodrow Wilson invited him to perform a piano recital at the White House, causing him to postpone his return to Spain. Granados and his wife took a boat to England, but lost their lives on March 24, 1916 when their ferry to France was torpedoed by a German U-boat in the English Channel. My teacher told me that she had heard that Granados was in a life boat when he saw his wife struggling in the sea and dove to help her. They left six children.
Granados' inspiration, Francisco de Goya, 1746-1828, became profoundly deaf in his forties and learned Spanish sign language. Many years ago at Arlington County Library I heard Deborah Sonnenstrahl, a deaf art history professor at Gallaudet University, give a slide- illustrated lecture on Goya's works. She gave the lecture in American sign language with an interpreter there to speak English for those who could hear–unforgettable. Sonnenstrahl published a book in 2002, Deaf Artists in America: Colonial to Contemporary.
Another book I discovered in writing this post is Framing Majismo: Art and Royal Identity in Eighteenth Century Spain by Tara Zanardi, 2016, which appears to relate directly to the characters in Granados' opera. I asked my friend Carol Starr, who knows her Spanish history, to explain how Majismo is related to Machismo. She replied "Machismo seems to have originated long before majismo with a connection to chivalry," then quoted Wikipedia:
The word 

macho

 has a long history in both Spain and Portugal as well as in Spanish and Portuguese languages. It was originally associated with the ideal societal role men were expected to play in their communities. 

Macho

 in Portuguese and Spanish is a strictly 

masculine

 term, derived from the Latin 

mascŭlus

 meaning male. Machos in Iberian-descended cultures are expected to possess and display bravery, courage and strength as well as wisdom and leadership, and 

ser macho

 (literally, "to be a macho") was an aspiration for all boys.
Now I have to decide whether to render Granados' music with Medieval Machismo, 18th-century Majismo or 20th-century Machismo. Playing it with passion is a must!
Many of the streets in Coral Gables where David's family lives are named after Spanish cities–Granada, Sevilla, Valencia. These haunting names inspired me to get out my old Spanish music. I have been playing Granados' "Intermezzo" and "Danza de la Rosa" and Isaac Albeniz' "Granada" and "Tango in D" for friends and family this month. Here's Alicia de Larrocha, whom I met at American University in 1976, playing two Spanish Dances by Granados.
Interested in other music inspired by paintings? When René Johnson inquired, I found this wonderful Top Ten List of Great Paintings That Inspired Music, from Houston Public Media.