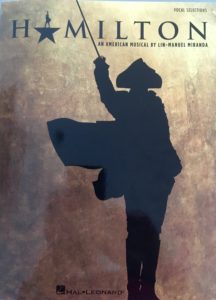 Reading Chernow's biography of Alexander Hamilton led me to Hamilton: the Revolution by Lin-Manuel Miranda and Jeremy McCarter, a book that supplies an annotated score and tells how Miranda and McCarter brought Hamilton to Broadway. It took them six years. Early in the process, Lin-Manuel Miranda enlisted biographer Ron Chernow as a collaborator who okayed various adaptations of Hamilton's story for the stage. This book introduces key personnel behind this complex musical: Director Tommy Kail (a fellow Wesleyan alumnus), Orchestrator Alex Lacamoire, Costume Designer Paul Tazewell, Props Guru Andy Blankenbuehler, and actors Chris Jackson (George Washington), Renée Elise Goldsberry (Angelica Schuyler), Phillipa Soo (Eliza Schuyler Hamilton), and Leslie Odom, Jr. (Aaron Burr). Miranda took to heart advice from his hero Stephen Sondheim, who listened to some early demos and told him to go beyond hip-hop with more variety of rhythm and lyrics. "Like republics, musicals need a multiplicity of voices to thrive."
In 2009 Miranda risked a preview of Hamilton and got an encouraging boost from a White House audience.
I enjoy hearing the soundtrack during my water aerobics routine. Then I play the Hamilton Piano/Vocal score on the piano to clarify the lyrics. Hip-hop is forty years old, but it's new to me. Now I've caught on to rapping! All day I'm a-snappin'. Thanks to Sheila Loftus, I found an article in Slate that traces the musical's hip-hop genealogy. Until I can snare a ticket to the show, I can learn from my new books and this preview on CBS Sunday Morning.
Hamilton is a complex character. The New York Times ran a contrasting view of the musical, by Cornell political theorists Jason Frank and Isaac Kramnick:
…the musical avoids an equally pronounced feature of Hamilton's beliefs: his deeply ingrained elitism, his disdain for the lower classes and his fear of democratic politics. The musical's misleading portrayal of Hamilton as a "scrappy and hungry" man of the people obscures his loathing of the egalitarian tendencies of the revolutionary era in which he lived.
Okay, but he's still my new hero. He is the lowly immigrant whose picture is on the $10 bill. My obsession with Hamilton, the musical, reminds me of when my brother Harry, in 1960, brought me the LP soundtrack of West Side Story to play on my brand-new stereo system. We sang the songs and danced to the music. To this day, I still remember Harry excitedly pointing out one of his favorite lines, Sondheim's clever couplet that leads into the song "America":
I love the isle of Manhattan, Smoke on your pipe and put that in!
Miranda gives a hip-hop tribute to the city where both he and Bernstein were born and where both musicals are set:
History is happenin' in Manhattan and we just happen to be in the greatest city in the world!
Bernstein's West Side Story is as dear to me as Beethoven's Sonatas. I can still sing all the songs by memory. Miranda's slow ballad, "That Would Be Enough" projects the same mood as Bernstein's "Somewhere," but is not nearly so melodic. Miranda's songs are easy to dance to, but hard to sing. I hope to see Hamilton on stage someday and retrace Hamilton's historic steps in New York City. In 1980, I heard an official from the Vienna Opera say that his company considers West Side Story a classic opera. I wonder if Hamilton will earn that status.
Postscript: I saw Miranda's previous musical, In the Heights, at the King's Cross Theater in London on August 1 and loved it. It is set in a Dominican-American neighborhood north of Harlem. I loved the generous grandmother who helped some strivers fulfill their dreams, but thought the smart young woman who accepted, then abandoned, a scholarship to Stanford should have had help from the Posse Foundation!