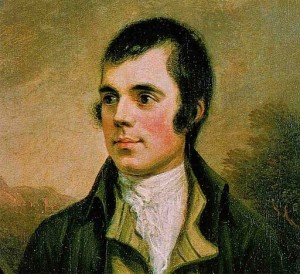 A weekend of activities January 23-25 at Secession Golf Club (of which Steve is President) in Beaufort SC honored the 256th birthday of Scottish poet Robert Burns, Forty-two Burns lovers from Scotland and the States enjoyed the magnificent revelry concocted by friends Jim and Allene Cooley and Lisa Craig. On Friday evening, the Cooleys hosted a Carolina barbecue. Saturday, the sun came out for golf and a historical tour of Beaufort. Then we all got dressed up for the gala dinner on Saturday night.
Following Burns' Selkirk Grace, we dined on delicious haggis-neeps-and-tatties, prime rib, veggies, and sticky toffee pudding. We sipped single-malt whisky and fine wine. We heard Burns' poetry and considered his remarkable short life. My role was to play the piano for the singing of several of Burns' songs–Flow Gently, Sweet Afton; Ye Banks and Braes of Bonnie Doon; My Love is Like a Red, Red Rose. Then we danced the Virginia Reel and sang "Auld Lang Syne." How wonderful when my interest in poetry and music intersects with Steve's passion for golf and single-malts. The Secession staff provided outstanding support; here's part of the report from Mike Harmon, Secession's Director of Golf:
From the outset I could see that this was going to be unlike any evening in Secession history, as all the gentlemen were either in Knickers with coat and tie, or in full Scottish regalia, kilts with all the trimmings; and the women dressed in Scottish attire as well. Bagpipes played as the early festivities moved to dinner, a sumptuous affair, then readings, songs and Scottish dancing ensued! The dinner started with several toasts of fine Scotch to Mr. Burns…
This slideshow requires JavaScript.
Our Burns weekend brought to mind our dear Scot friends, Anne and Stewart Rennie, and also Joe Cape, an exchange student who lived with us for 10 months, 2002-03. Joe's birthday is January 24; it was he who taught me about "Burns Day" twelve years ago when he turned 17. Since then I have learned more about Burns by visiting his birthplace in Alloway, and by hearing Jean Swinley present "The Immortal Memory." Lisa Craig, Co-Chair of this year's event, gave a lively multi-media presentation comparing Robbie Burns with Bob Marley. Burns (born 1759) and Marley (born 1945) were both poet/songwriters. Both died young, Burns at 37, Marley at 36. Burns had 9 children by four different women; Marley had 13 by nine. Marley lived in Jamaica; Burns aimed to go there, but got distracted. I will add details as they are shared by Jean and Lisa.
Here to demonstrate Robert Burns' lasting legacy and universal appeal, is a 2015 rendition of Auld Lang Syne by cellist Kevin Olusola.