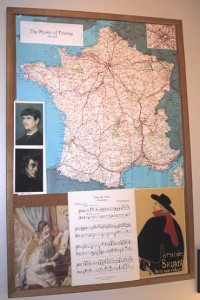 At age 30, home with young children, I found myself reformulating my personal identity. A time management test in Parade magazine directed me to choose three things I would want to accomplish if I had only 6 months to live. My answers: learn a Beethoven Sonata, visit a place I'd never seen, and write about my life experiences so far. The kicker was that I must devote at least 30 minutes a day to each activity. Practicing Beethoven Opus 10, No. 1 (con brio of course) was something I could do while the children napped. Traveling had to be local; the National Gallery of Art with its "acousti-guides" was my primary destination, though I also counted time spent planning wider trips. As for writing, I filled three large notebooks with reflections on the challenges of parenthood and cute things the kids said. Ever since that life-changing Parade article I have kept Music, Travel and Writing as guideposts for using discretionary time productively.
In 1975 I read about a free event National Symphony Conductor Antal Dorati was hosting at the Kennedy Center to introduce the Kodaly method, the exemplary way singing is taught in Dorati's native Hungary. Having led some music sessions at Lilli's preschool, I was curious. Another life-changing encounter! Intrigued by this method, I took a two-week Kodaly summer workshop at American University. That fall I enrolled for piano lessons with Alan Mandel and courses that would fulfill under-graduate requirements in music.
In February 1978 I presented a solo recital at AU and many dear friends came to cheer me on. In June, Shelby was born and I quickly realized that three kids are much more challenging than just two. I lay aside my personal pursuits and concentrated on Shelby's digestive and orthopedic needs for the next two years. What a good investment! Shelby feels great and brings us much joy.
With Lilli and David in school and Mrs. Kim a live-in housekeeper, I found time to practice and take pedagogy classes with Louise Kupelian. Under her guidance I felt better qualified to teach 10 or 12 students per week. While I recognized strong progress toward my musical ambitions, I still yearned to travel. When Steve called from London with an invitation to join him during a lengthy real estate negotiation, I flew there on the Concorde in February 1980, my first overseas trip since 1967. More music, more travel, less writing. Trying to make up for that now.
In the 1980s volunteer work at church, in schools, and in the Junior League of Northern Virginia claimed more of my time. Was this period a diversion from my goals or did it teach me better time management? Well, it was fun and made me feel more a part of the local community. Instead of allowing my interests to compete with each other, I sought ways to connect them. For example, I collected children's books on music and posted prints of music-related artworks to enrich my studio environment. The display shown above  combines a map of France, portraits of Debussy and Chopin and art by Renoir and Toulouse-Lautrec with the score of Clair de Lune. A recital that year featured works by French composers. I began to see more of a grand design to my life and less splatter. This blog is helping me to pull these links more tightly together.