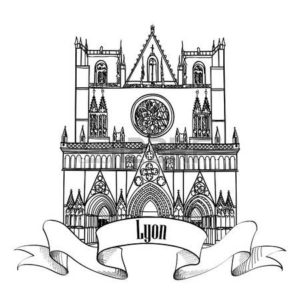 An International Piano Workshop attracted me to Lyon, France in 1994 for twelve intense days of learning new ways to teach music. With a dream team of outstanding piano teachers (Marvin Blickenstaff, Maurice Hinson, Thomas Mastroianni, Nelita True) I gained new insights into French music and heard marvelous renditions of Poulenc's "Babar" and St-Saëns' "Carnival of the Animals" at Lyon's Hotel de Ville (City Hall).  There were master classes on Debussy and Ravel and a memorable performance of Gershwin's "An American in Paris" at Lyon's ancient Roman amphitheater. It was an experience that inspired me to broaden the literature I taught and to feature a different country's music in my studio each year.
On my first night in Lyon I met Joan Kuhne, who grew up in Pampa, Texas, only 30 miles from my hometown, Phillips. Steve's great grandfather once served as County Judge in Pampa. Joan taught piano for many years in Richardson, Texas, not far from our family farm in Lewisville and near North Dallas, where Shelby and Sean have lived since 2004. She and other friends I made at this workshop enjoyed getting together at annual conferences of our Music Teachers National Association. Last week Joan and I met again for lunch and photo sharing. Here are glimpses of our visit to Lyon 22 years ago.
This slideshow requires JavaScript.
This fall, Lyon was the last stop for the Rhône River Cruise Steve and I took with old friends from Harvard Business School. Our two days there were crammed with history, public art and fabulous food. Fourvière Hill, site of a former Roman forum and yet another UNESCO World Heritage Site, was the place I remembered best from 1994. We music students had taken the funicular each day to our classes at the conservatory on the hill. This time a bus took us right to the top for a great view of the city's two rivers, the Rhône and the Saône, and a tour of the Basilica Notre-Dame de Fourvière. The symbol of the city, it was built from 1872 – 84 with private funds to thank God for surviving wars with the socialists and the Prussians. I had forgotten how beautiful this church is.
This slideshow requires JavaScript.
While others visited Les Halles de Lyon-Paul, a temple of French gastronomy, Steve and I enjoyed touring the historic Croix-Rousse district and seeing the mural paintings that are refreshed every ten years. We visited the shopping district on Presqu'ile, the peninsula between the two rivers. The flower tree on Antonin Poncet Square was installed after a 2003 Contemporary Art Festival. The fountains reminded me of those we saw in Montreal. Along the riverbank we encountered cyclists and dedicated exercisers.
This slideshow requires JavaScript.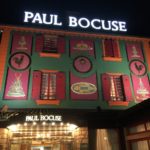 Paul Bocuse's restaurant in Lyon, "L'auberge du Pont de Collognes," has maintained its 3-star Michelin rating for 50 years. In 1994 dinner there was a dream that we music teachers could scarcely afford. In 2016 the dream became a reality. Our generous host, Tor Hagen, treated all thirty-three of us to a sumptuous seven-course dinner, each with a wine pairing. We shall always remember the artful presentations, the perfect service, the exquisite tastes, and the warm bonhomie that suffused the room.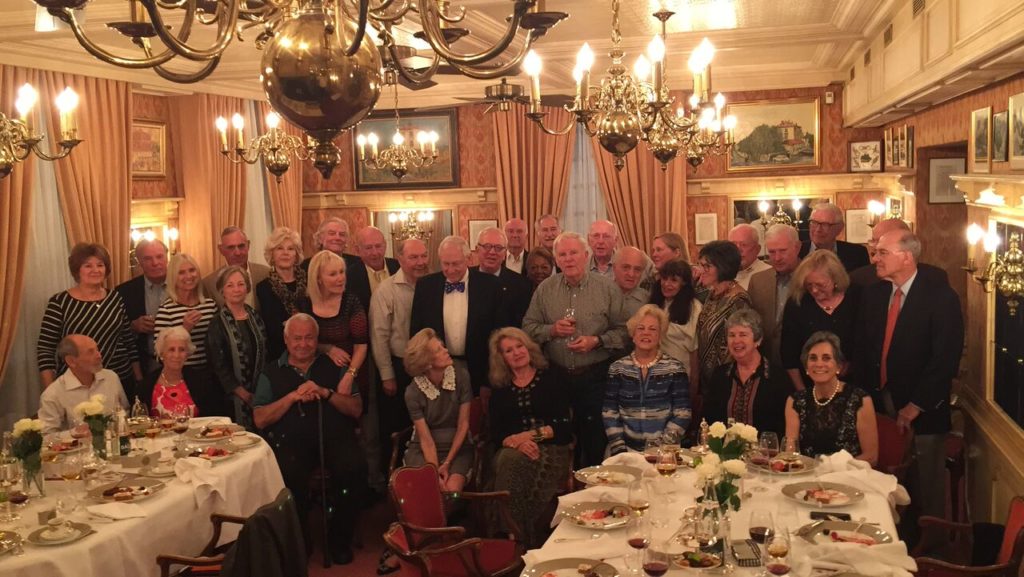 Each course was absolutely delicious!