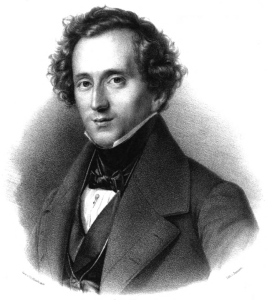 On Sunday 13 July I will play "Duetto" from Felix Mendelssohn Bartholdy's Songs Without Words, Op. 38, No. 6, as an offertory during worship at Cherrydale United Methodist Church. It's a work I love because two voices have a conversation amidst the flowing accompaniment. All musicians owe a debt of gratitude to this composer for reviving the works of Johann Sebastian Bach, that had fallen into disfavor during the Classical and Romantic periods. His spiritual history intrigues me, so I wrote the following note for the church bulletin:
Felix Mendelssohn Bartholdy was born in Hamburg in 1809. His name reflects a dual religious identity. Felix was the grandson of the 18th-century Jewish philosopher Moses Mendelssohn (1729–1786), but was not raised in the Jewish faith. Along with his parents and three siblings, he was baptized as a Lutheran. To acknowledge their new spiritual identity, the family adopted a second surname, so that 12-year old Felix Mendelssohn became Felix Mendelssohn Bartholdy. His works include Songs Without Words and many others for piano, Organ Preludes, operas, symphonies, and the great oratorio, Elijah. The tune of "Hark the Herald Angels Sing" is by Mendelssohn; the words are by Charles Wesley.

Though Christian by virtue of his baptism and practicing faith, Mendelssohn remained in the eyes of many a Jew. His family's wealth partially insulated him from anti-semitic sentiments of the time. He died in 1837 at age 39. In 1850 fellow-composer Richard Wagner attacked Felix's memory in a racist essay published anonymously. Wagner maintained that as a Jew, Mendelssohn could only imitate the profundities of Bach and Beethoven; that his music was derivative and ultimately superficial.

The rise of the Third Reich in the 20th century did further damage to Mendelssohn's reputation. The Nazis tore down his statue in Leipzig and banned his music, but left his grave unscathed in the Trinity Cemetery of Berlin. They also liquidated the family banking house. But they were unable to expunge Mendelssohn from German culture. When Richard Strauss was asked to write new music for A Midsummer Night's Dream, he replied that he could not improve on Mendelssohn's music.
Here is Daniel Barenboim playing this piece. My tempo is not so fast.