On January 17 my brother Joel and his wife Elisabeth treated me to an all-Mozart concert by the Dallas Symphony Orchestra, my first time to attend an event in Meyerson Hall. It is a beautiful place with superb acoustics. Conductor Jaap van Zweden chose four works that core-sampled Kochel's catalog of 626 compositions by Mozart.  In both the Overture to The Abduction from the Seraglio, K. 384 and Concerto No. 5 in A major for Violin and Orchestra, K. 219 Mozart included Turkish musical elements then fashionable in Vienna. It had been 90 years since the Ottomans had besieged the city. The locals had forgotten the inconveniences and gone crazy over coffee, cymbals, tambourines and triangles.  Mozart incorporated these exotic sounds into his compositions like a master chef seasoning spicy entrees. Violinist Augustin Hadelich was equally tasteful and assertive in projecting Mozart's lovely melodies, honoring the master with original cadenzas that riffed on the main themes. The audience spontaneously rose in ovation. He encored with a dazzling unaccompanied performance of Paganini's Caprice No. 9.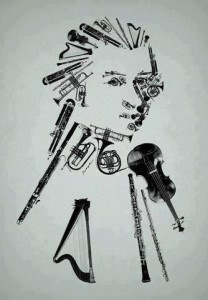 After intermission the orchestra played Mozart's Symphony No. 1, K. 16. With it's offbeat chords and tumbling scales it sounded impressive, especially for an eight year old.  Then it was fast forward to Mozart's last symphony, No. 41, K. 551. Nicknamed "Jupiter," it is truly music for highest heaven–ingenious, complex and utterly gorgeous. Interesting that Mozart again employed descending scales in the finale, 25 years after using them in his first symphony, but with new rhythms, contours and harmonies. I asked Elisabeth, who grew up in Austria, if the DSO had done Mozart justice. "World Class!" she replied.
Postscript: A week after the concert I discovered that the Concertmaster of the DSO is none other than Alexander Kerr, son of my colleague Rosita Mang. He also holds the position of Professor of Violin at the Indiana University Jacobs School of Music. In March 1990 my brothers and Steve and I heard Alexander play in a benefit concert that NVMTA sponsored to help him cover the expenses of taking part in the Tchaikovsky competition in Moscow that summer. He was just 20 at the time, but already studying at Curtis and making a name for himself. You can read more about the extraordinary career of a former NVMTA Achievement Award winner here. It was thrilling to hear him play professionally at last.