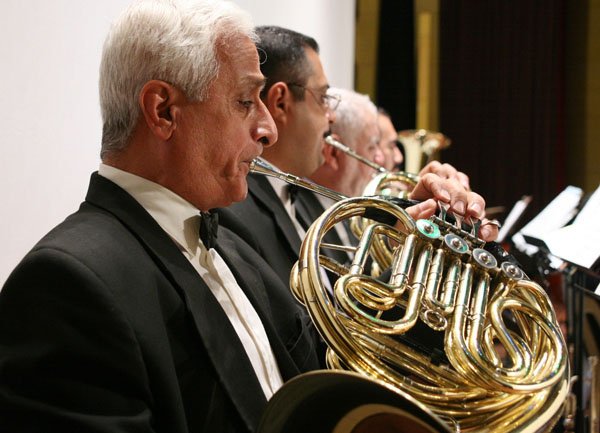 Sorting through a huge file of music programs collected during our 47 years in Washington, I found many happy memories and one that was very unusual:  a concert on December 9, 2003 by the combined Iraqi National Symphony Orchestra and our own National Symphony Orchestra at the Kennedy Center. Although their music hall was burned by looters during the April 2003 invasion of Baghdad, many US orchestras had sent them donated instruments and scores. The orchestra was able to perform a concert in Baghdad just two months later. For the December concert, the U.S. State Department flew about 45 orchestra members to Washington. President George W. Bush and his wife Laura attended; Secretary of State Colin Powell introduced the orchestra. It took longer to stand in line that morning to get free tickets and again that evening to get through security than the concert lasted, but it was well worth it.
Yo Yo Ma, who had assisted the Smithsonian in producing the Silk Road Festival in 2002, and with whom I collaborated in 2014, was the soloist in Elégie for Cello and Orchestra, Op. 24 by Fauré. He then, typically and modestly, returned to the last chair of the cello section and turned pages for his Iraqi stand mate. Along with the Fauré, Leonard Slatkin led the combined orchestras in Beethoven's Overture to Egmont, Op. 84 and a traditional piece, Over the Palm Trees. Mohammed Amin Ezzat conducted his own Three Fragments (a medley of folk songs from the Southern, Central and Northern portions of Iraq), Symphonic Poem No. 2 by Abdullah J. Sagirma, which employed Iraqi instruments, and Georges Bizet's "Farandole" from L'Arlésienne. It was a privilege to witness one of the best outcomes of that horrible war:  people of contrasting cultures making beautiful music together.
A week later Matthew Guildford, National Symphony trombonist and fellow blogger, published wonderful insider impressions of the Iraqi trombone section.
Now twelve years later, the war in Iraq continues and so does the Iraqi Symphony Orchestra. Its 90+ musicians now include Shi'a, Sunni, Kurds, Armenians, Assyrian Christians, and Turkomen, as well as six women. Due to rising sectarian divisions in Iraq some musicians sit away from each other at rehearsals. Conductor/cellist Karim Wasfi, takes his instrument to the streets to bring healing balm to bombed-out sites with his own composition, Baghdad Mourning Melancholy, echoing The Cellist of Sarajevo, a book by Steven Galloway that I read in 2013.