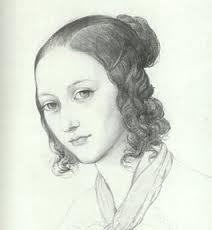 Clara Wieck was only nine years old when Robert Schumann came to study piano with her father. She was sixteen when they first kissed, and a few days shy of twenty-one when they married. I had always thought that Robert's Kinderszenen  (Scenes of Childhood) were written for their many children, but Robert wrote them for Clara before they married, because she had once told him that he sometimes seemed "like a child." Today I am playing one of those pieces on my Valentine's recital for friends: Glückes Genug, which can translate as "lucky enough" or "perfect contentment." Female and male voices overlap in this short piece, which is full of energy, enthusiasm, and passion.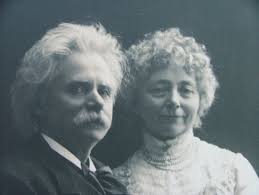 Another piece with overlapping voices is Wedding Day at Troldhaugen, Op. 65 No. 6, by Edvard Grieg. He wrote it for his wife Nina to celebrate their 25th wedding anniversary at their home near Bergen, Norway. Nina, his first cousin, was a singer and they often collaborated together. I'm playing an excerpt that conveys both the iciness of the waters off the coast of Norway and the warmth of their love for each other. You can hear the complete piece played beautifully by Sek Thongsuwan, a Thai student at the St. Petersburg Conservatory.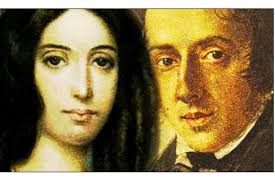 A third pair of lovers from the early 19th century are Frederic Chopin and George Sand. Sand was a novelist famous for wearing trousers and smoking cigars. She and Chopin never married, but lived together for ten years. His Nocturne in E-flat, Opus 9, No. 2, which I have chosen to play today, was written long before he met her, but seems to me a fitting tribute to their love. Chopin admired the bel canto style in Bellini's operas and endeavored to make the piano sing with the same intensity. The treble voice in this piece performs leaps and trills beyond any living soprano, supported by a strongly-pedaled bass line and constantly changing harmonies in the middle voices.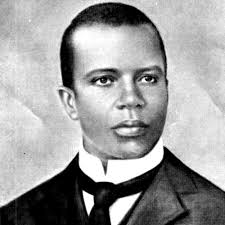 Solace by Scott Joplin may not seem to fit into a recital about romantic love, but lovers often need just that–solace. Though he was called the "King of Ragtime," Joplin's life was not easy. He was born in Texarkana, Texas in 1868, married three times, had no children who survived him, and died of syphilis in 1917. After studying with a German pianist, who taught him for free, Joplin took the even beats of Romantic compositions and made them "ragged" with anticipations and delays, inspiring the jazz artists who followed him. Solace retains the yearning melodies and harmonies of the Romantic age and infuses them with urgent rhythm, passion, and compassion.
My recital this afternoon will conclude with a sing-along of Rodgers and Hammerstein love songs:  "People Will Say We're in Love" from Oklahoma!, "If I Loved You" from Carousel, and "Hello, Young Lovers" from The King and I. Sing along with us!