My Morning with Diane Rehm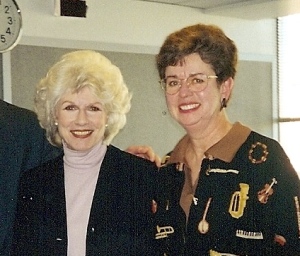 Diane Rehm is one of my heroes. Her show on National Public Radio is now celebrating its 35th year. On January 7, 2000, I was one of three panelists Diane invited to discuss the challenges and rewards of piano teaching. You can listen here. You'll hear her gift for getting to the heart of the matter and bringing out the best in her guests. For 52 minutes I encountered greatness.
Diane had just published her book, Finding My Voice, so I asked her if she would come speak to my book club in Arlington. By the time we had spread the word, a hundred people showed up to hear her in the social hall of my church. Diane didn't drive at night, so I got to pick her up and deliver her to her home in Bethesda. I still have my autographed copy of her book.