Opera and Ballet in SoFlo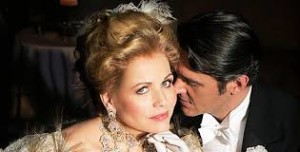 As the season ends in South Florida with gardenias scenting the air, it's pleasant to recall this year's Metropolitan Opera broadcasts and live performances by the Miami City Ballet. Rosemary Crow and I drove less than two miles to our local movie theater to see, "Live in HD," Rossini's The Barber of Seville (with Isabel Leonard as Rosina), Lehár's The Merry Widow (with Renée Fleming), and Mascagni's Cavalleria Rusticana double-billed with Leoncavallo's Pagliacci (Marcelo Álvarez sang the tenor role in both). Rosemary, a composer of choral works and former choral clinician, and I sing in the Quail Ridge Chorus together and love our Saturday afternoon excursions to the Met. Check out the 2015-16 season here.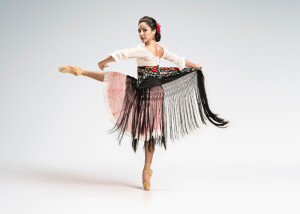 Performances by the Miami City Ballet have dazzled me. In November, Steve and I saw Romeo and Juliet, a full-length ballet with music by Prokofiev at the Kravis Center in West Palm Beach. At Christmas, Lilli, Violet, and I joined Jack, Peg, Alex and Katrina to see The Nutcracker. February found Peg, Jack and me at a 3-part program entitled "Passion and Grace": Allegro Brilliant by Balanchine to the music of Tchaikovsky, Sweet Fields by Twyla Tharp to Shaker Hymns, and Carmen, choreographed by Richard Alston to Bizet's music. The final program, "Points of Departure" attracted Peg, Jack, Steve and me to a program reviewed by the New York Times. We were all especially impressed by the young Justin Peck. The last sentence sums up my view of this wonderful troupe.
No ballet by the 27-year-old choreographer Justin Peck is much like another; with each assignment he sets himself new choreographic hurdles. But Mr. Peck has quickly become the most eminent choreographer of ballet in the United States — and two particular characteristics have propelled him to the top: the exciting formal architecture of his dances and the kinesthetic thrill of his movement.

Certainly his latest ballet, "Heatscape," which had its premiere with Miami City Ballet, shows his gift for memorably picturesque, changing group shapes… Meanwhile the dancers infectiously show the appeal of the ebullient movement he gives to them, with contrasting through-the-body ripples, pounces, bends, jumps and changes of direction…

"Heatscape" was sandwiched by excellent performances of Balanchine's ultraclassical "Raymonda Variations" (1962) and Jerome Robbins's classic comedy "The Concert" (1956). The level of dancing in the "Raymonda" was extraordinarily high at both performances, with virtuoso coloratura made musically acute and danced with full-out verve. Miami City Ballet, a jubilant and endearing company, refreshes the eyes and spirit."