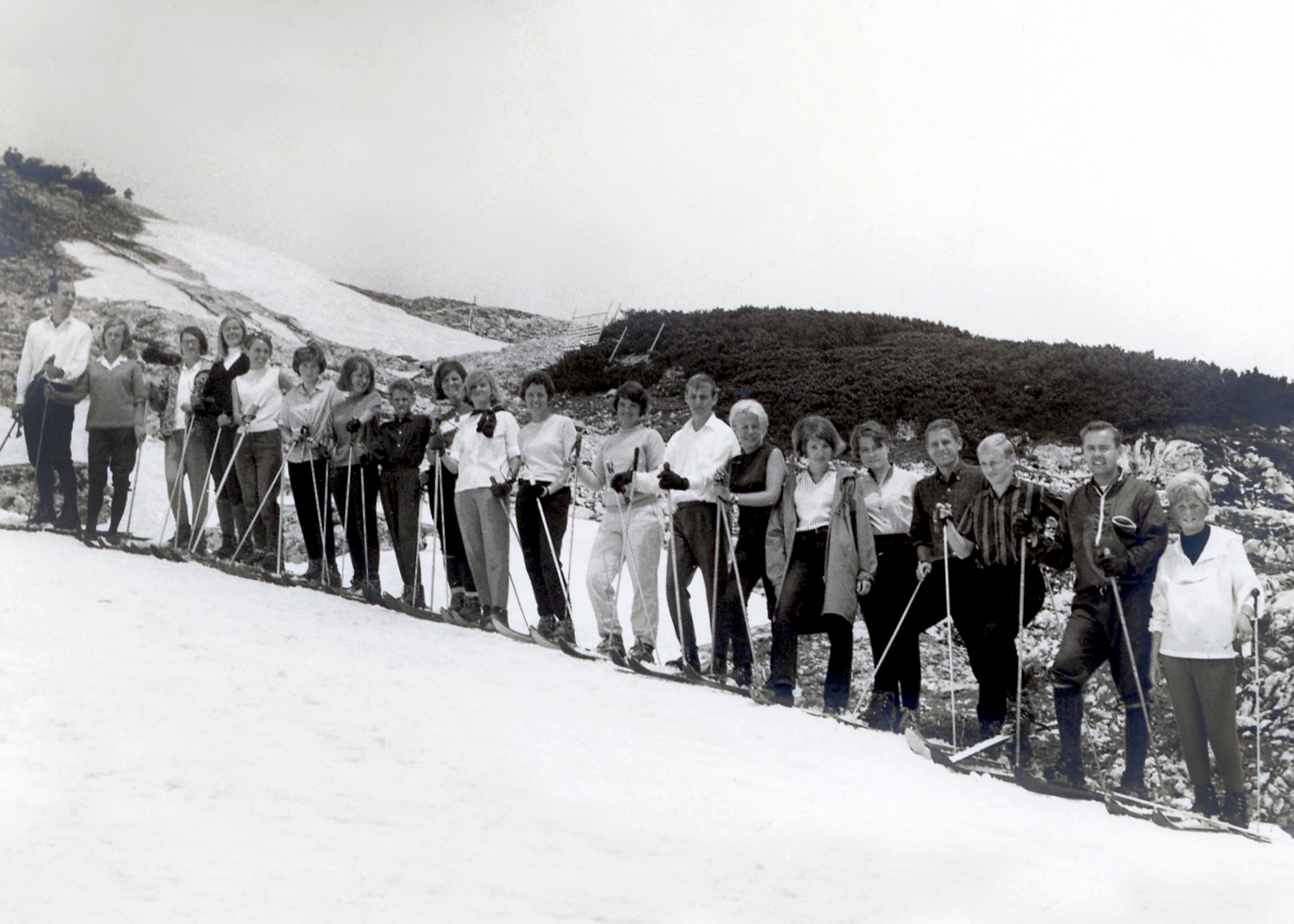 Here I am on my Experiment in International Living. In the summer of 1965 I traveled to Austria with nine other American college students. Each of us stayed a month with a family in Vöcklabruck, a small town near Salzburg. My family, the Schmids, ran a Gasthof, where Steve stayed when he came to see me from his summer job in Frankfurt. It was an idyllic summer–swimming in the local pool, learning German, playing piano duets with my sisters, listening to broadcasts from the Salzburg Music Festival, and taking excursions to Salzburg and Gmunden. As a group, we skied on a glacier, explored an underground salt mine (in German, Salz = salt), and took a weeklong bus trip all around Austria. Ever since then I have exchanged letters with my Austrian sisters, Edith and Christl. Edith married Guy LePechon and lives in Seaux, outside Paris, with a summer place in Dahouet in Brittany. We visited them in 1967 and 1986 and they visited us in Virginia in 1999. Edith's children, Francine and Marc, and our son David have exchanged homestay visits.
Christl married Joseph Matousek, an architect/city planner in Vienna, where she worked for Austrian Airlines. When I entered a Stagebill magazine contest and won a free trip for two to Vienna on Lufthansa in 1991, Steve and I enjoyed meeting with Christl and her family. Since then, I have seen her when visiting my brother Joel and his wife Elisabeth, who spend half the year in Baden bei Wien, about 30 minutes outside the city. In 1991, Steve and I visited Frau Schmid, my Austrian "mother," in Vöcklabruck and we saw the whole family at Marc LePechon's wedding in Brittany in 1994.
One evening in 1991 we visited Heinz Sturzlinger, our Austrian group leader with the Experiment. He had married Hannelore, had three sons, and had founded an accounting firm in Ried im Innkreis. He told us that the reason he took the summer job with the Experiment in 1963 – 1965– finding families and escorting teenagers around Austria–was that American soldiers had been kind to him during the US occupation of Upper Austria, 1945 – 56.
Fast forward to March 2015, the fiftieth anniversary of the movie, The Sound of Music. My Quail Ridge Chorus is practicing a medley of songs by Rogers and Hammerstein: Do-Re-Mi, My Favorite Things, The Lonely Goatherd, Climb Every Mountain, Edelweiss, and The Sound of Music, the songs our group sang the summer we hiked and traveled through Austria. When Violet comes to visit, she surprises me by knowing the words to all these songs.
Since I was already planning to visit Joel and Elisabeth in Baden bei Wien this summer, and since Lilli was due a sabbatical, I invited her and Violet to come with me. August 1 is Violet's 6th birthday. While Steve travels to Scotland for golf, Lilli, Violet and I depart Boston on August 2 for Munich, then take a train to Salzburg, where we still stay three days at the Villa Von Trapp. The original home of Baron von Trapp has been converted into an inn, filled with photos and mementos of the singing family. We're looking forward to seeing some of the sites where the movie was filmed and taking in a performance of, what else? "The Sound of Music" by the Salzburg Marionettes.
Heinz will pick us up on Thursday, take us to Vöcklabruck and host us for two nights at their condo on Attersee, the largest Alpine lake in Austria. There we will also see Christl's cousin Herbert, who spent many hours with us in 1965 and who has recently retired from a career in architecture. He and his wife Steffi will bring their daughter Renate, who visited us in Arlington in 1992, and her 14-year old son, Lukas.
On Saturday, August 8, we'll take a 2-hour train ride to Vienna. Joel and Elisabeth will meet us there and continue with us another couple of hours  to Brno, Czech Republic. There we will tour Vila Tugendhat, the house by Mies van der Rohe which inspired Simon Mawer's novel, The Glass Room, a favorite of my morning book group.
We'll have three days in Vienna to visit with Joel and Elisabeth and Christl and her family. Joseph has offered to take us on an architectural tour of the city he knows so well and we'll get to meet their daughters, Nina and Lisa. Hope we have lots of time to spend in Hundertwasser's KunstHausWien and the MAK, as well as the more traditional museums. Elisabeth has invited us to dinner at their place in Baden bei Wien.  I also look forward to a horse-drawn carriage ride around the gardens of Schönbrunn Palace and a ride on the Ferris Wheel in Prater Park. When Lilli and Violet return to Cambridge on August 12, I fly to Scotland to meet Steve. Stay tuned for lots of pictures!