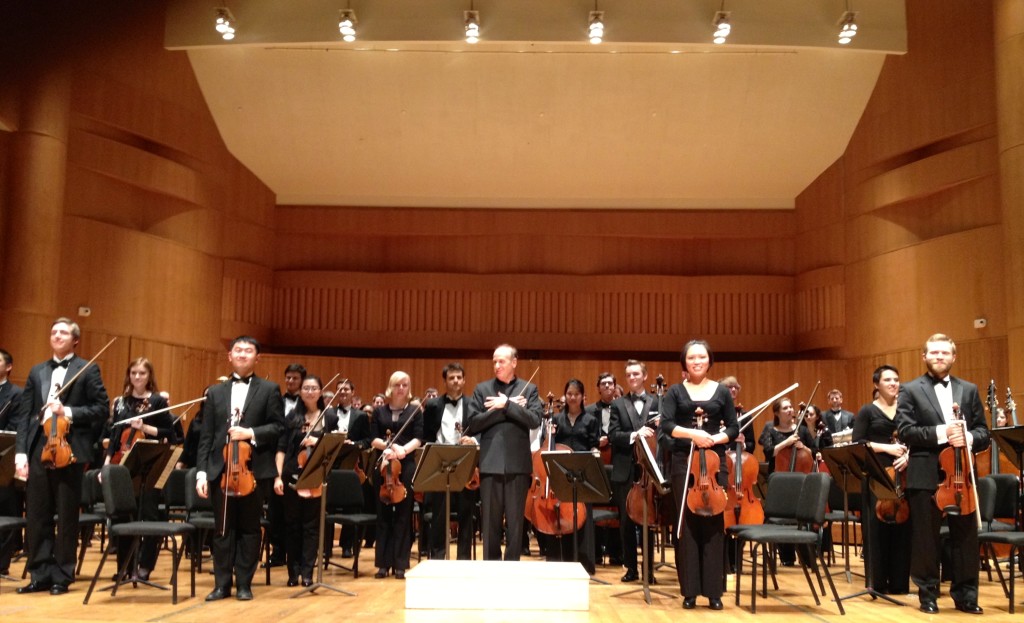 The Shepherd School Symphony Orchestra of Rice University performed at Meyerhoff Hall in Baltimore last Saturday evening, February 15. My friend Carol Starr (Rice '67) and I thoroughly enjoyed the concert. Steve and I have heard them perform at Rice many times, but this was their debut tour outside Houston. Last night (February 18) they played at Carnegie Hall and today they have a free day in New York City. True to the old joke about how to get to Carnegie Hall, these young musicians had practiced mightily and were at the top of their game. Rice Professor of Piano Jon Kimura Parker performed Rachmaninoff's Rhapsody on a Theme of Paganini with the orchestra. He, too, was in top form. The term "ravishingly beautiful" may be hackneyed, but it perfectly described the performance–energetic, colorful, dramatic. It was a thrill to congratulate him in person.
With usual Rice attention to detail, the program notes by Rebecca Hook were especially informative. I learned that "Rachmaninoff likely used the term rhapsody because he was influenced by the popularity of George Gershwin's Rhapsody in Blue." I had known that Rachmaninoff was present when Gershwin premiered his work in New York City ten years earlier, but I hadn't yet realized how much Rachmaninoff was inspired by his younger Russian-American fellow composer.
The opening and closing numbers on the program suited the superbly trained musicians, several of whom were graduate students, and their brilliant conductor, Larry Rachleff. We happened to sit beside Rachleff's wife, Susan Lorette Dunn, and her mother. Dunn, a soprano, is on the Opera Studies faculty at the Shepherd School. Le Corsaire, Op. 21 by Hector Berlioz, demonstrated the facile artistry of the strings and the precision of the brass. Again, Hook's program notes, provided a story line by linking the music to a poem of the same name by Lord Byron. While Berlioz never acknowledged Byron as his inspiration, Hook says "one cannot help but wonder if the composer secretly intended to evoke the swashbuckling exploits of a pirate at sea in this exhilarating work."
Introduced to Bela Bartok's Concerto for Orchestra as a teenager, I have always thought that it reflected the pain and anguish of World War II and of Bartok's health after he moved to the United States in 1940. The program notes, however, pointed out that "Bartok made one of the most remarkable medical recoveries of his day. He was one of the first civilians in the United States to receive penicillin, a privilege granted by the War Production Board in Washington DC, for which ASCAP paid an extravagant price. The extra effort on Bartok's behalf was well worth it, and he completed his Concerto in less than two months. After its premiere in Boston in 1944, it quickly became his most popular and successful work…" This piece was a perfect showcase for all the instruments in the orchestra to display their virtuosity. They rose to the challenge in every movement. The Finale substitutes exuberant Hungarian melodies for earlier dissonant clashes. Bartok is quoted in the program notes as saying it represents "the brotherhood of all nations, in spite of wars and conflicts…a whirling paroxysm of dance in which all the peoples of the world join hands." All in the audience gave this fabulous orchestra a standing ovation.
Update: Huffington Post review of the Shepherd School Orchestra at Carnegie Hall.