Solo Violin: Bach, Bartok & Berio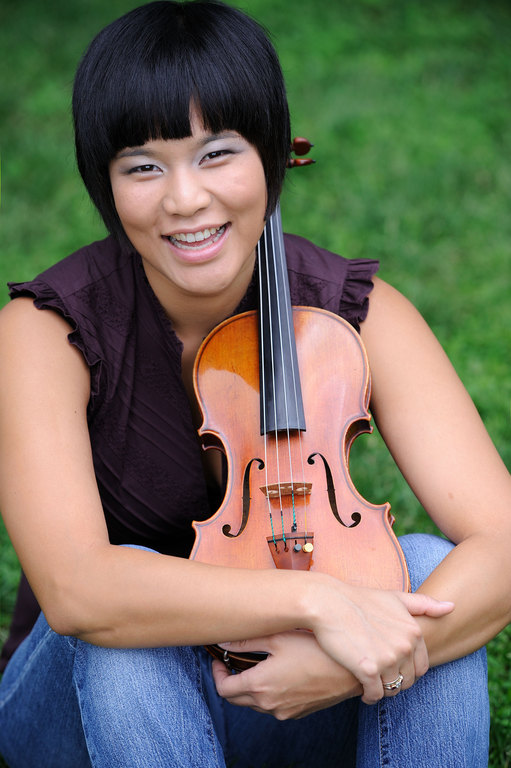 Yesterday afternoon I heard a concert at Palm Beach State College that illustrated the influence J.S. Bach's six Sonatas and Partitas for Solo Violin have had on subsequent solo violin works through the 20th Century. Yuki Numata Resnick first played Bach's Sonata in G Minor, then demonstrated how Béla Bartòk took that work as a departure point for his Sonata for Solo Violin composed in 1944. After intermission she played Luciano Berio's Sequenza VIII, a 1976 work that startled the audience with its assertive dissonances before exploring all the possible sounds the violin can produce and a wide range of the emotions music can express.
Her final number was my favorite, Bach's Chaconne from Partita in D Minor for Solo Violin. Jonathan Coopersmith of the Curtis Institute, who conducted the Coursera course I took online last fall, began "Classics of Western Music" with this piece. Though Brahms' transcription of the Chaconne for Left Hand Piano, had languished in my files for years, I had never fully appreciated it until Coopersmith explained it so well. On Curtis Performs you can hear the Chaconne come alive in the expert hands of violinist Bella Hristova. Violinist Joshua Bell has said the Chaconne is "not just one of the greatest pieces of music ever written, but one of the greatest achievements of any man in history. It's a spiritually powerful piece, emotionally powerful, structurally perfect."
To hear the Chaconne in person in a right-size theater was a special joy. After taking a bow for playing these four extremely demanding pieces so beautifully, Yuki surprised the audience by bringing her husband and their nine-week-old baby boy onstage. She is Assistant Professor of Violin and Viola at the University of Buffalo. A graduate of Eastman and Michigan, In 2009 she completed a three-year fellowship at the New World Symphony, my favorite venue in Miami Beach. New World is a unique post-graduate experience for orchestral musicians, directed by Michael Tilson Thomas. Besides solo violin Yuki also plays well in small groups. I especially enjoyed hearing "The Way of ideas" and other 21st century works by Alexandra Gardner, which can be found on the Gallery of Yuki's website.