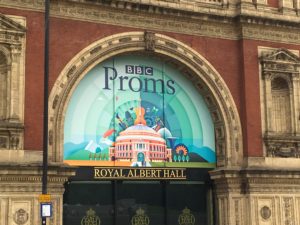 A piece for glass harmonica and accordion opened the Proms Concert at Royal Albert Hall in London on August 1, my first musical encounter in the United Kingdom this year. That unusual combination of solo instruments was accompanied by two vibraphones, xylophone, celeste, gongs, cymbals, harp, two muted trumpets, two French horns, and strings. It was the UK  premiere of Armonica (2006) by Finnish composer Jörn Widman, performed by Christa Schönfeldinger on the glass harmonica (an instrument invented by Benjamin Franklin) and Teodoro Anzellotti on accordion. It reminded me of the gamelan-like sounds in Debussy's La Mer, which I heard at Chautauqua in July–seamless, sensual, and eerily beautiful. It also reminded me of our family making music on wine glasses after Thanksgiving dinners and a wonderful street performer in Alexandria VA, who could play four-part music on crystal glasses.
The BBC broadcasts live concerts from this vast Hall every night from mid-July through mid-September. For £6, one can queue for an orchestra-level ticket, but there are no seats in that part of the hall–room for standing only. I paid a little more and sat comfortably in the first tier. The conductor of the BBC Philharmonic was John Storgårds. Besides Armonica and a forgettable Schumann violin concerto, he very competently led Sibelius' The Tempest and Nielson's Symphony No. 5, after which all the audience joined the standees in a standing ovation. A Proms regular sitting next to me pointed out that the conductor of the Boston Symphony Orchestra, Andris Nelsons, was sitting just a few rows in front of us. He had recently resigned from directing Parsifal at Bayreuth and was apparently checking out the competition. He stayed until the end and clapped enthusiastically, as did I.
Another treat in London was seeing In the Heights, the first musical by Lin-Manuel Miranda, composer and librettist of Hamilton. The songs propelled the story and were great fun to listen to, but the melodies failed to stick in my head. The actors, sets and costumes make a musical such a different experience than an instrumental concert. I like both. Watch for the movie of In the Heights!
Up north in Scotland, I heard plenty of repetitive reels and strathspeys as bagpipers competed for prizes. In Ullapool (sounds good spelled backwards, too: Loopallu) I discovered a piano in the upstairs living room of the small hotel where we stayed and was overjoyed to make my own music. New friends John and Sheila Duncan arranged for me to practice an hour or so each day on the fine upright in Dornoch Cathedral. My hands had been itching for keys to play on.