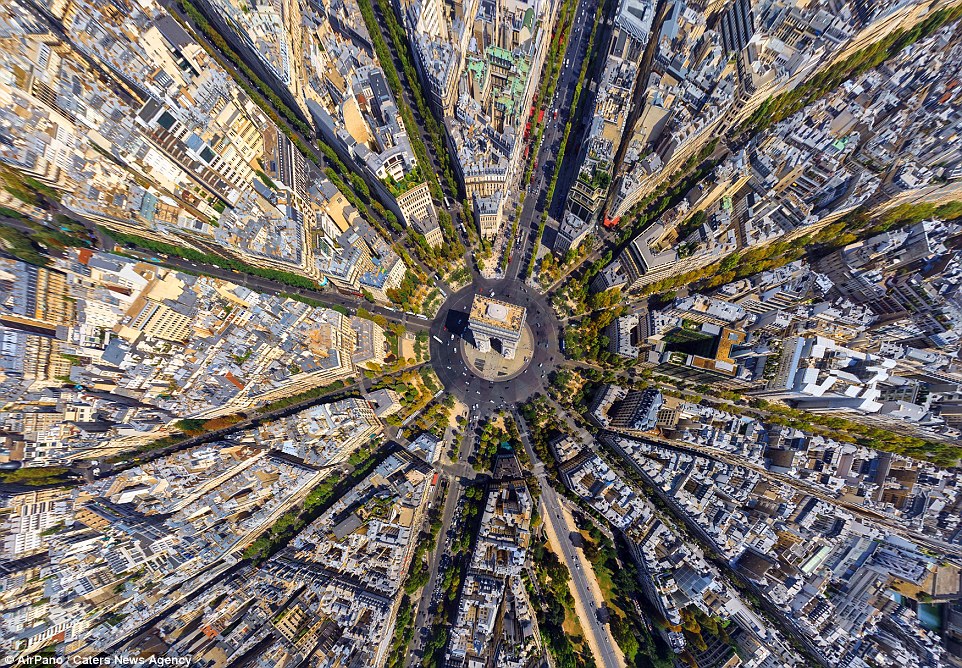 Paris was resplendent when we first saw it in June 1967 and again in 1986 and 1994. Those broad avenues lined with noble buildings made me feel happy just to be there. Paris remained resplendent when we arrived September 28, 2016 by train from Lyon. Primed for Paris art museums, I noticed something familiar about our first view of the Gare du Lyon. Two days later I saw that view in a painting by Monet at Musée d'Orsay.
Our hotel, Le Méridien Etoile, was not far from the Arc de Triomphe, seen above in an amazing photograph made with multiple drones (thanks, Marjo). The proximity to the Champs-Elysées reminded me of how much fun our three children had in 1986 parading down that famous boulevard in Burger King crowns. The Porte Maillot Metro station was but a block away. One day we logged 14,000 steps and climbed 30 flights of stairs.
On the first evening we found our way to Sainte-Chapelle in the Palais de la Cité, on the Île de la Cité in the heart of Paris. This building was the residence of the Kings of France until the 14th century. Surrounded by royal stained glass windows, we heard a concert by Paul Rouger and Les Soloistes Français, a string ensemble. The music was familiar–Pachelbel's Canon and Vivaldi's Four Seasons, but the interpretations were fresh and virtuostic. They knew how to take good advantage of the special acoustics of this unique space.
This slideshow requires JavaScript.
The next morning a Viking-appointed guide named Sylvana led us through the Marais District.  Sylvana was passionately in love with her city and displayed a thorough knowledge of Parisian history.  Le Marais, once a swamp, has been filled in like the Back Bay of Boston. Aristocrats since the time of Louis XIV have built fine mansions here. It has included a Jewish community, and now is home to a thriving LGBT culture. We had not visited this part of Paris before and enjoyed an informative stroll.
This slideshow requires JavaScript.
An art display in one of the Marais gardens reminded me of Orly Genger's artistic rope constructions that our family saw in Madison Square NYC in 2013 and that Violet and I saw at the De Cordova Museum in Lincoln MA in 2014. Orly Genger braids thick plastic fishing lines for her installations; these ropes appeared softer and subtler. Similar idea, but hard to see in the photo.
That afternoon we visited Monet's house and garden in Giverny, on the Seine, about an hour and a half north of the city. I had wanted to see it ever since one of my piano students, following a studio recital of French music inspired by my visit to Lyon, gave me the book, The Impressionists' Table: Recipes and Gastronomy of 19th-Century France, by Alexandra Leaf with wine selections by Jacques Pépin. Now I'm inspired to host another French dinner party, complete with Impressionist art and music.
This slideshow requires JavaScript.
And just look at Monet's kitchen!
This slideshow requires JavaScript.
Obviously, the next morning we had to visit the Paris museums where Monet's paintings hang. First, the Musée d'Orsay, with its amazing, almost overwhelming collection of Impressionist art. Sitting for a moment to catch my breath, I was particularly taken with the futuristic, comfortable, durable, and exquisite glass benches throughout the 5th floor. A helpful guide told me that they were designed by the Japanese artist Tokujin Yoshioka, an artist to watch. These water block benches are works of art themselves; the glass, a benefit of space exploration research.
This slideshow requires JavaScript.
After a wonderful lunch at d'O, we walked across the Seine to l'Orangerie, where we saw Monet's panoramic water lily paintings. Ah, so restful!
We concluded our visit to Paris on the last day of September with our dear friends, the LePechon family. That story demands its own post.