Why I love Classical Music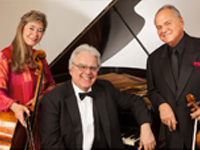 What does the term "classical music" mean to you? Bach? Beethoven? the Beatles? To me, classical music means the great works of Haydn, Mozart, Beethoven, and Schubert, whose lives in Vienna spanned the period 1750 to 1828. Inspired by eager audiences, they set an all-time gold standard for instrumental and vocal music. Later composers like Brahms, Schumann, Chopin, Mendelssohn, Debussy, Prokofiev and Gershwin have also earned the right to be called masters who built on the classical tradition. More recent works that rise to that lofty standard are sometimes hailed as "instant classics," awaiting the test of time. Last night Steve and I heard the Kalichstein-Laredo-Robinson Trio play a wonderful program of classical music at the Kravis Center in West Palm Beach.
First on the program was Ellen Taaffe Zwilich's Pas de Trois, composed just this year for the Kalichstein-Laredo-Robinson Trio in celebration of their 40th anniversary. Zwilich, a Pulitzer prize winner and widow of violinist Joseph Zwilich, was born in Miami in 1939 and is currently a professor at Florida State University in Tallahassee. She was spotlighted in the audience after her work was performed. It sounded like a lovely ballet with each instrument taking a solo turn, then concluding together. A classic? Time will tell. The next piece was Felix Mendelssohn's Trio No. 2, Opus 66. I have written before about my love of Mendelssohn, but last night I just let his music wash over me. That is, I dozed off now and then and so did Steve.
After intermission and coffee, Franz Schubert's Piano Trio in E-flat Major, D. 929, kept us both wide awake and thoroughly enthralled. These three players are widely considered the best chamber trio in the country. Each is a superb musician. Israeli-born pianist Kalichstein teaches at Juilliard, records, and performs solo concerts. Violinist Laredo, born in Bolivia, and cellist Robinson, whose parents both played in the Houston Symphony, have been married 35 years. They taught at Indiana University Jacobs School of Music for seven years and now serve on the faculty of the Cleveland Institute of Music. The trio's first collaboration was for a concert at the Inauguration of President Jimmy Carter in 1977 and they have been making music together ever since. Last night's program repeated two of the works, the Mendelssohn and the Schubert, that they played on their Inaugural concert. We give sincere thanks to new friends, John and Judy Haverkamp for giving us their tickets. Today I am inspired to practice my favorite Schubert pieces and to write about how much classical music, Schubert's in particular, means to me.
Beauty. Schubert's melodies are numerous, beautifully shaped (never angular or forced), and repeated often enough to be memorable. These melodies are transformed by inventive harmonic transformations and used to create emotional highs and lows. Together they create patterns as interesting as those in Persian carpets, telling stories that I find resonant with human experiences.
Artistry. To create art in real time musicians must be gifted, highly trained and recently practiced, as were all three of these performers. Kalichstein, the pianist, executed fast repeated notes, crystal-clear trills, and rapid scales with ease. The string players responded in kind. Their teamwork was obvious, as they listened carefully to each other and agreed on when to build and when to slow. They had thought deeply about what they wanted to project and were able to communicate fluently with the audience.
Making music with others. Around the year 2000 I played piano in a trio with my friends Roger and Leslie Nucho, fellow church choir members and parents of two girls in my piano studio. Roger plays cello and Leslie, flute. Leslie knew many trios in which the violin parts had been transcribed for flute. We played at church, for friends and for ourselves. We especially enjoyed exploring Claude Bolling's Suite for Flute and Jazz Piano Trio, a modern classic. In 1996 I performed Schubert's Sonata in A major, D. 664, on my Master's recital. In 1994, I took part in a three-day symposium on Schubert's music at the Smithsonian Institution Hall of Musical Instruments, which is now closed. Malcolm Bilson and other artists demonstrated the difference between how Schubert's music sounds on modern instruments and on the Smithsonian's historic instruments he would have had in Vienna. My love affair with Schubert goes even further back to playing his waltzes in my teacher's recitals and accompanying high school instrumentalists playing Schubert pieces in competitions. Best of all, two years ago, it was Schubert's An die Musik that I got to play with Yo Yo Ma.
Treasured memories of Vienna. Schönbrunn Palace, the sprawling home of the Empress Maria Theresa, was built in the 1740s and 50s just as the classical era of music began. I visited this elegant site in 1965, 2005 and again last year. It epitomizes classical style and grace–carefully crafted, tastefully ornamented, and built to last, like the Classical Masters' symphonies. Music from this era brings back happy memories of living with the Schmid family in Austria in 1965 and visiting them, Experiment group leader Heinz Stürzlinger, and my brother Joel and his wife Elisabeth many times since.
Schubert's genius, the Trio's artistry, Vienna memories, making music with friends–no wonder I LOVE classical music. Here's the first movement of the Schubert Trio.