Have you heard of the two Southern sisters who advocated for the abolition of slavery and the rights of women in the early 1800s? I hadn't, until I read the novel, The Invention of Wings by Sue Monk Kidd. Noticing unfamiliar names on Judy Chicago's art installation, The Dinner Party, Kidd discovered the Grimké sisters. What's more, they had lived in her own city, Charleston. Kidd makes Sarah, born in 1792, and Angelina, 12 years younger, come alive much more beautifully  than the rather grim head shots I found. Benefitting from the research of Gerda Lerner, Kidd employs her considerable literary skills in portraying the wretchedness of slavery in 19th-century Charleston SC and the two sisters whose consciences led them North into spirited advocacy. She also imagines two enslaved women in their Charleston household, Charlotte and her daughter Handful, who were not so lucky as to leave written records.
In this novel members of the Grimké family display varying attitudes towards slavery, from the father's legalistic justification, to the mother's belief that slavery was ordained by God, to the compassionate sisters' perception of its horrors early in their childhoods. When Sarah's parents discover that she has taught Handful how to read, both girls are severely punished. Earlier Sarah and Angelina got into trouble with their Episcopal minister for leading slave children in the alphabet song while teaching Sunday School. Even among Quakers in the North, the two sisters are castigated for sitting on the "Negro pew."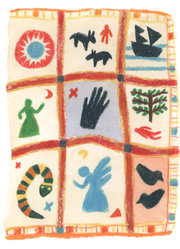 Cloth, thread, quilts and costumes are woven through this novel. Charlotte is a sought-after seamstress whose dresses are the talk of Charleston society. For herself, in secret, she makes quilts that tell the story of her forebears' voyage from Africa. Black triangles on the quilts represent the wings with which she hopes someday to fly to freedom. She shares her stories and her skills with her daughter Handful, who succeeds her as indispensable to the Grimké family, though they mistakenly discount her cleverness.
In addition to the story of  Sarah and Angelina, the famous advocates, Kidd illuminates two more sisterly relationships: Sarah and her maid, Handful, whom the family called Hetty, and Handful/Hetty and her younger sister Sky. These feisty sisters aren't always wonderful to each other, but almost always well-intentioned–just like most sisters I know. The issues they grapple with are what makes this novel so compelling. Sarah and Angelina spoke out against slavery from an intimate knowledge of its degradation; they also spoke out for women to take active roles in society and not settle for being just wives. Handful and Sky, too, became activists. I couldn't help but think of Willie Morris's North Toward Home, the book that Steve and I read and re-read in the late 1960s, when we, too, were relocating from South to North. Now I resolve to read two books Kidd acknowledged, Gerda Lerner's biography of the Grimké sisters and Colored People by Henry Louis Gates, Jr. (1994).