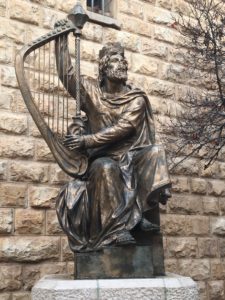 My first view of King David's City was from Mount Scopus, near Hebrew University and Hadassah Medical Center. Guide Revi poured wine and said a blessing for us in Hebrew and English: Blessed are You, Lord our God, King of the Universe, who has granted us life, sustained us and enabled us to reach this occasion.
Jerusalem–the syllables resound with meaning. In my mind I heard the chorus of the great Victorian anthem, The Holy City: " Jerusalem! Jerusalem! lift up your gates and sing! Hosanna in the highest! Hosanna to your King!"
Before us, we could see the Old City in the distance, with Al-Aqsa Mosque, Church of the Holy Sepulchre, and Hurva Synagogue. One City, many faiths, layers of history, depths of devotion.
This slideshow requires JavaScript.
Israel's population is 8.3 million. 74.7% are Jewish; 17.7%, Muslim; Christian, 2%; Druze, 1.6%; 4%, other (2016 est.).  Jerusalem, the largest city, adjoins the West Bank of the Jordan River, which the Israelis occupied in the Six-Day War of 1967. The Oslo II Accords in 1995 divided the West Bank territory into three areas, A, B, and C. Area A (18%) is administered by the Palestinian Authority; Area B (22%), jointly by the Palestinian Authority and Israel; and Area C (60%), by Israel. As of 2015, Area C is home to 150,000 Palestinians in 532 residential areas and home to 389,250 Israelis, in 135 settlements. Confused? I was. The amount of land the Palestinians have lost since 1946 is dramatic.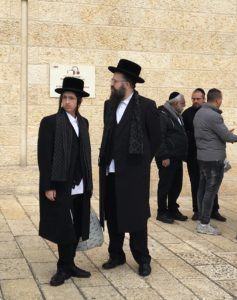 Revi told us that there is little separation between church and state; for example, Jewish laws prevail for marriage and divorce. Orthodox Jews (Haredi) make up 21% of the population and are the fastest-growing segment. They reject modern secular culture and keep the Sabbath so strictly that they can't even push an elevator button. Shabbat elevators stop on every floor. Many Haredi men, who wear their hair with long forelocks and wear prayer shawls around their waists, spend their days studying the Torah with state support. Several, dressed like the man on the left in this photo, were on my flight from New York to Tel Aviv. More photos I took on Jerusalem streets are in this Google album.
Our first stop was the Garden of Gethsemane, where Jesus prayed the night before he was crucified. It is located on the Mount of Olives just across the Kidron Valley from Jerusalem. Gethsemane means "oil press," Ancient olive trees stand there still. The garden has been in the care of the Franciscan Order for 800 years.
Next to Gethsemane is the Roman Catholic Church of All Nations, built 1919-24. Its twelve domes represent the twelve major contributing nations: Argentina, Brazil, Chile and Mexico; Italy, France, Spain and the United Kingdom; Belgium, Canada, Germany, and the United States of America. Its altar is open to other denominations. I said a prayer there in remembrance of what Jesus faced that night, for the challenges all nations face, and for the special challenges all refugees face. Any troubles I have are so, so insignificant.
This slideshow requires JavaScript.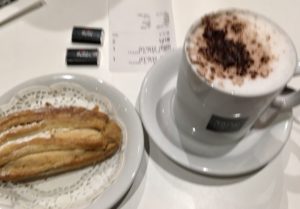 After that intense introduction to this pulsing city, we checked into the Inbal Hotel and discovered their amazing destination-dispatched elevators, something none of us had seen before. We walked to a nearby restaurant, Rina and Alice, run by two women married to each other and serving delicious food. After male-dominated Egypt and Jordan, it was refreshing to see Jerusalem embracing a variety of lifestyles. Later Marjo and I walked with Anita and Joe to the elegant Mamilla Mall and the "Night Spectacular" sound and light show at the Tower of David Citadel. Afterward I had hot chocolate, a delicious halva pastry, and a good night's sleep.
On the last day of our tour we started early. On Mount Zion we visited David's Tomb and the Upper Room, where Jesus' celebration of the Jewish Passover became transformed into Holy Communion for his followers. This room is also said to be the place where Jesus appeared to eleven of his Disciples on Pentecost, fifty days after Easter.
This slideshow requires JavaScript.
Next stop was the Church of Dormition, regarded as the "mother of all churches," where Mary fell asleep/died and was "assumed" into heaven. An early church was built here by the Emperor Constantine, then destroyed by the Persians in 614. The land on which the Church of the Dormition now stands was given in 1898 by the Turkish Sultan Abdul Hamid II to Kaiser Wilhelm II of Germany, who presented it to the Catholic Church. The Catholics completed construction in 1910.
At noon we approached the place where I found the maximum spiritual impact, the Western Wall of the Old City. Israeli high schoolers on a field trip were chanting, minarets were calling Muslims to prayers, and Christian Church bells were ringing. I went to the women's section of the Western Wall, feeling somewhat marginalized by the men, but still inspired to pray:
praising God for our magnificent universe and the privilege of coming to this Holy City
for our country and its leaders, that we may use our power wisely
for Israel and its neighbors that they may find more ways to live with each other in peace
for churches, synagogues and congregations that we may all grow in understanding and serve with common purpose
for each one of my family and friends, that their hopes and prayers may be realized.
This slideshow requires JavaScript.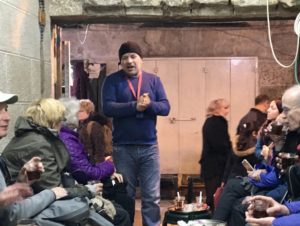 Revi had arranged time for tea with a merchant in a narrow corner of the the Arab Quarter. Rhiad, a Muslim, told us he thought Jerusalem should be a city administered by international peace keepers. He admired Itzhak Rabin,  Israel's Prime Minister who was assassinated, but despairs of the right wingers now in power. He pointed out that some Muslims serve in the Israel Army. See this album for photos of the markets we saw, the Via Dolorosa and other Jerusalem street scenes.
The Church of the Holy Sepulchre was crowded with pilgrims. It marks the end of the Via Dolorosa, or Way of Sorrows, along which Jesus dragged his cross to the place of his death. It is reputed to be the place of both the Crucifixion and the Tomb. In her wonderful book, Churches, Judith Dupré observes
Although it was never been definitively proved that this is indeed Jesus's burial spot, in the minds of many archeologists, it is one of the few, if not the only place on earth, were such a claim could be made….Today this church is home to six denominations–the Roman Catholics; and the Greek, Armenian, Syrian, Coptic, and Ethiopian branches of the Orthodox church–who adhere to complex schedules that dictate when and where they can worship.
This slideshow requires JavaScript.
In the evening, we had a festive dinner at the Inbal Hotel and sang farewell to Revi, our devoted guide. She gave each of us a memento with a blessing for our homes. Saying goodbye to new friends we had made on this 16-day trip was a little sad, but I fully expect some of us will meet again.
A special part of traveling to Jerusalem was getting in touch with friends who had been there before. Joel and Elisabeth spent more time there and saw more Christian sites. Nina Pitkin has a vivid memory of attending the trial of Adolf Eichmann in Jerusalem in 1961. Her grandmother, Marion Lipsitz, a lifelong fundraiser for Hadassah, was somehow able to get tickets. René Johnson shared her memories of studying at the Mormon University with her husband in 1990. Jan Lodal went there more than once when he was Principal Deputy Under Secretary of Defense for Policy in the mid-90s. He recommended visiting the City of David excavations, but alas we had no time. Elizabeth Lodal remembers singing "Jerusalem! Jerusalem!" ratifying my name for this post. Leslie Nucho, Vice President of Programs for Amideast, was on her way to Ramallah for two weeks, just as we departed Israel.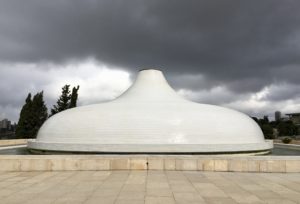 On the last day, before our evening flights, Marjo and I visited the Israel Museum on our own. Their exhibit of the Dead Sea Scrolls was housed in a special building called the Shrine of the Book. The roof is shaped like the lid of the jar in which the scrolls were found and faces a shiny black wall that reflects the shape. We appreciated a 20-minute movie shown there, in which actors played the parts of Essenes who lived in the Qumran caves. It helped us understand who copied these scrolls and why. Then we saw the actual scrolls and understood their value and their fragility. I also enjoyed the Museum's exhibit of Ai Weiwei's recent art. I had seen earlier works by Weiwei in London and in Miami. We could have spent many more hours there, but it was Friday and they closed early for Shabbat.
Many people go to Jerusalem seeking a profound religious experience. I made many discoveries, but nothing was as special as the surprise rainbow during Part One of our visit to Israel, or Karnak Temple in Luxor, or Petra in Jordan. We packed an almost bewildering number of sites into only three days. We did our best. Biblical sites inspire wonder, but take time to absorb. I could only wonder how traveling with other Presbyterians would have differed. I had signed up for such a trip in 2017, but it was canceled, inspiring this journey. With fresh, powerful images in mind, I can now study and reflect at home.
Before and during my travels I read several books about Israel. Most helpful were James Michener's 1965 novel, The Source, which let me better imagine the epochs of Israel's history, and Shimon Peres' 2016 memoir, No Room for Small Dreams, a concise review of more recent events. Geraldine Brooks' novel, The Secret Chord, vividly imagined for me the life and times of its founder, David, 1000 BCE. As I ponder the deeper meaning of what I saw, I expect to spend more time on Karen Armstrong's Jerusalem: One City, Three Faiths; Simon Schama's The Story of the Jews (and its accompanying DVDs), and the Metropolitan Museum's luscious catalog of their 2016 exhibit, Jerusalem 1000-1400, Every People Under Heaven.