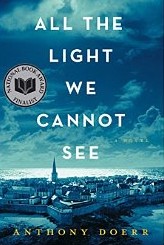 Anthony Doerr's lovely novel was a delight to read and to discuss with my Florida book group in March and my Morning Book Group in Arlington in September. Here are ten aspects of the book I especially appreciated:
Debussy's Clair de Lune, provides a familiar and appropriate soundtrack.
Skillful writing with powerful images: home-canned peaches described as "wedges of wet sunlight" and "a sunrise in his mouth"
Radio broadcasts are crucial in this book, especially those from France in the 1930s that inspire two German orphans: "Open your eyes and see what you can with them before they close forever." In contrast are the signals from Russian amateurs on the Eastern front that earned them quick execution by a German squad. Note the parallels with the movie, American Sniper.
A blind girl in France and a mechanical whiz-kid in Germany become vivid characters, making readers wonder if they'll ever meet.
The mysterious fate of the "Sea of Flames" diamond adds superstition and tension to the narrative.
Compassionate surrogate mothers Frau Elena and Madame Manec personify the peacetime sustenance and wartime suffering of ordinary people.
The intricate models of Paris and St. Malo that Daniel LeBlanc makes for his beloved blind daughter help her "see" where she lives and help  us perceive the scale of the war.
The flash forward at the end of the book provides satisfying answers
Dividing 529 pages into 178 short chapters keeps timeline clear and propels reading.
Marie-Laure's Braille copy of Jules Verne's Twenty Thousand Leagues Under the Sea challenges me to read that classic French novel.
The death of Ed Walker, a blind broadcaster for over 60 years on WAMU in Washington, gave fresh meaning to the insights I gained from this book. Here is his obituary in the October 27 Washington Post and here is NPR's memoir on October 26's All Things Considered