Rights for Blacks and Women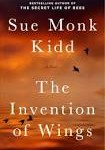 Re-reading Sue Monk Kidd's novel, The Invention of Wings, yielded new insights that I missed last year, when my Florida group discussed it and I posted this review. Recently I led a fresh discussion of this book via Internet with a Virginia group. Like my Florida friends, those in Virginia felt that it is an important one for anyone concerned about the treatment of blacks and of women.
One major question raised in Virginia was whether a white author could truly imagine the life of a black slave. Kidd certainly rendered vivid images of the suffering Charlotte and Hetty endured. For stealing a bolt of green silk taffeta, Charlotte had to stand on one leg for an hour, while the other ankle was strapped to her neck; somehow she avoided choking herself to death. Hetty, caught attending a radical black church, was sentenced to the mill wheel, where she suffered a crippling foot injury. As empathetic as Kidd portrayed the Grimké sisters to be, she made clear how far short they fell of comprehending the extent of the day-to-day humiliations their slaves felt.
Update 5/16/17:  On May 4, Allene, Kate, and I took a "Grimké Sisters" walking tour of Charleston that gave us much more insight into how slaves were treated in Charleston and into the pioneering work of these sisters. After the tour, Allene observed, "I thought Kidd had exaggerated how badly slaves were treated. Now I understand that she was portraying the situation accurately." See these annotated pictures that I took.
Although I've read a fair amount of black history, I felt it was time to redeem the promise I made last year to read more books about blacks by black writers. Henry Louis Gates, Jr. is Director of the Hutchins Center for African American Research at Harvard and Director of the PBS series, "Finding Your Roots." I have now read his 1994 memoir, Colored People. It was like eavesdropping on a homecoming or a black family reunion. Blacks in Piedmont, West Virginia sounded much like whites in Phillips, Texas in the 1950s, except that they ate better food and seemed to have had more fun than we did.
Gates lives in Cambridge, not far from Lilli. We were both aghast in 2009, when a Cambridge policeman arrested him for apparently breaking into his own home, a rather benign, but still hurtful example of racial profiling. President Obama invited both men to have a beer with him at the White House. These days, he would be very busy talking through every incident of racial profiling. I'm looking forward to hearing Gates speak at Chautauqua in July.
Another promise I made last year was to read more about Gerda Lerner, whose account of the Grimké sisters informed Kidd's novel. Now I've discovered that she was born into an Austrian Jewish family, but like Maria Altmann in the movie, Woman in Gold, she escaped to America and eventually pioneered the field of women's history. Next on my list is her 2003 book, Fireweed: a Political Autobiography.  A memorable Lerner quote:
First of all, nobody gave us anything. It makes me furious when I hear that they gave us suffrage. Excuse me? It took 72 years of unrelenting, unbroken organizing grassroots effort to get women's suffrage. It took 113 years to get rid of child labor by law. It took similarly long periods of organized effort to accomplish any advance in social policy."