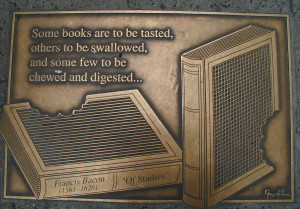 1. Centennial, a novel by James Michener, 1974. Forty years after first reading this book, I read it again before and during our trip to the "Colorado Rockies." Michener is such a great story teller that I raced to finish all 1056 pages. Along the way I learned about Indians around the South Platte River, fur traders, farmers and merchants, cattlemen and gold-seekers–good preparation for the focus on the American West at Chautauqua in July. Drinking Lapsang souchong tea, a favorite of one of the fur traders, will always remind me of this book.
2. An Astronaut's Guide to Living on Earth by Chris Hadfield, 2013. Cousin Jay had just received this book from JP Morgan, as their pick for summer reading. He graciously let me plow through it while in Steamboat and I could hardly put it down. This review sums it up well. Hadfield is a great guy who thinks, writes and sings well. He had me with his YouTube video of "Space Oddity" recorded in the International Space Station. See my earlier post on the Night Sky.
3. The True American: Murder and Mercy in Texas by Anand Giridharadas, 2014. When I heard Hari Sreenivasan interview Giridharadas on the News Hour, I knew I had to get this book. Shortly after 9/11/01 a Bangladeshi  immigrant, Raisuddin Bhuiyan, who was working at a Dallas convenience store, is shot in the face by Mark Stroman, a poorly-educated, self-appointed avenger. Though Bhuiyan loses vision in one eye and has multiple pellets in his face, he survives, succeeds, and decides to forgive his assailant. He goes even farther by working to save Stroman from death row.
4. Americanah, a novel by Chimamanda Ngozi Adichie, 2014. Lent by a friend, this book was so good I bought my own copy. I'm not finished yet, but I'm enjoying a hip Nigerian's view of race and class in the U.S. News flash: Oscar winner Lupita Nyong'o will reunite with the producer who helped make her a star, Brad Pitt, on a tale of lovelorn Nigerian migrants, according to the Hollywood Reporter.
5. Raising Cain: the Life and Politics of Senator Harry P. Cain by C. Mark Smith, 2011. Senator Cain's son, Harry, is a friend of ours. His granddaughter is Elizabeth Cain Diskins, author of The Green Line. What an interesting career the elder Harry had:  Mayor of Tacoma WA at 34, problem-solver for Allied Generals in WW II, Senator from Washington 1946-52, and later Miami-Dade County Commissioner. Throughout his life he fought to protect the freedoms and rights of all Americans. He stood alone in opposing the internment of Japanese American citizens in WW II; he supported voting rights for residents of DC (still not accomplished); he fought for people unjustly labeled Communists in the 1950s and for Blacks and Cubans in the 60s and 70s. Son Harry is a great guy, too.
6. A Farm Dies Once a Year: a Memoir by Arlo Crawford, son of Jim Crawford, Rice '65. I bought this book when I heard Arlo give a talk at Politics and Prose bookstore in DC. His parents started an organic farm in Pennsylvania forty years ago and still come to DC farmers' markets to sell their beautiful produce. They have built an adoring throng of loyal customers, many of whom came to the book talk. Arlo describes what it was like to grow up on such a farm and to return to it as an adult. Like Thoreau, he built a place of his own on the farm and succeeded in meeting his father's high construction standards. It's a sweet memoir, appealing to any gardener or foodie.
7. Room, a novel by Emma Donoghue, 2010. This is a tough, but rewarding book by an Irish writer with a great imagination. She leads you to believe a small room in which a captive woman lives for five years, raising her son, who has never seen the outside world. To tell more would be to spoil a hair-raising adventure. Lilli couldn't put it down either.
8. The Destiny of the Republic: A Tale of Madness, Medicine and the Murder of a President by Candice Millard, 2011. Millard's previous book, The River of Doubt, is one of my ten-best-evers. This book failed to grab me quite so intensely, but it's a fascinating tale of James A. Garfield, a poor boy who became an amazing scholar and soldier, and his assassin. The real villain is his close-minded doctor who refused to adopt methods Lister had promulgated about anti-sepsis. Alexander Graham Bell plays a more heroic part.
9. And the Mountains Echoed by Khaled Hosseini, 2013. I missed reading this book for my morning book group's discussion in April, but was glad to find it at my favorite bookstore in Dornoch, Scotland and finish it in time to pass it on to Beatrice in Berlin. Like Cloud Atlas this is a book of interlocking stories that echo for 60 years from Kabul to Paris to Hayward, CA to Tinos, a Greek island. Each story offers a unique love story and reveals beautiful ways that people take care of each other. These stories also echoed what I had learned about Scot poet Robert Burns (a prodigious lover) and what I was observing about long-term caring relationships among my traveling companions and their families.
10. Escape from Camp 14 by Blaine Harden, 2012. Florentine Friedrich in Berlin gave me this book to read on my return flight home on August 21 and it kept me wide awake. Two other books about North Korea provided background; this one featured several new angles. Most amazing was Shin Dong-hyuk's horrific existence in a North Korean work camp and his remarkable, unprecedented escape. Washington Post reporter Harden was adroit in verifying Shin's story and elucidating the difficulties he had in adjusting from imprisonment to a relatively normal life. What was puzzling was the indifference Harden found among South Koreans to the plight of their Northern neighbors. It seems they have studied Germany's reunification experience and realized that with an elapsed period of 60 years (twice Germany's), reunifying with the North would be even more expensive than it was for Germany. They'd rather keep the comfortable life style they have achieved.  These three books about North Korea are ones I'm still chewing and trying to digest, because they depict the darkest, most heinous place on the planet.
11. Far more pleasant to read, remember, chew and digest is my 1966 copy of A Choice of Burns's Poems and Songs, introduced by Sydney Goodsir Smith. After visiting Burns' Cottage in Ayr, reading the engraved footstones in the Auld Kirk, where Burns' father is buried, and drinking a few wee drams of his favorite beverage, we were in a receptive mood to recite these poems. Smith's footnotes helped me to understand Burns' language and "The Jolly Beggars" entertained Allene and me on our train trip to Glasgow. Steve used a doublet from "A Man's a Man for A'that" to toast the three Secession members who had made playing golf on the Ayrshire coast such a pleasure for him and Jim Cooley. Now several Scots and Americans are planning to get together to celebrate Burns's birthday next January 25 by reading his poetry, eating haggis, and drinking more wee drams of whisky (which, of course, aids digestion).
The Goldfinch (painting) by Carel Fabritius

12. The Goldfinch, by Donna Tartt, 2013. What a romp–from the power of art in our lives, to the preservation of antiques. It includes 39 references to works of literature, tragedy, survival and more than I ever wanted to know about drugs. I started it on a Tuesday evening and finished all 775 pages by Friday morning (doing little else). Vivid characters like Theo, Boris, Hobie and Pippa delighted me and taught me more about infinite varieties of love, recalling the #9 book above by Khaled Hosseini. Donna Tartt was born in Greenwood, Mississippi, was mentored by Willie Morris, author of my all-time favorite, North Toward Home, and graduated from Bennington College. In this interview on Dutch television, she discusses her love for Dickens. Now I must read Bleak House.


13. The Faith Club: A Muslim, a Christian, a Jew–Three Women Search for Understanding by Ranya Idliby, Suzanne Oliver, and Priscilla Warner, 2006. Shortly after 9/11, three women in New York City begin weekly meetings in order to understand each other's religions better and to decide what to tell their children. They work through various conflicts, gain deep respect for their varying traditions and become fast friends. An excellent set of questions at the end helps readers identify the stereotypes they hold and improve understanding. Members of my church circle read this book and discussed it on Sept. 22, the last day of summer!