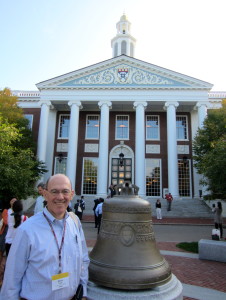 In September 1966, Steve and I loaded our '65 Chevy Impala and pulled a U-Haul trailer from Dallas to Cambridge MA, where he had a scholarship to Harvard Business School. We moved into a one-bedroom apartment in graduate student housing that cost $125 per month, including parking. Our budget was so tight I still remember the numbers. I got a job for $85/week at a small publishing firm and Steve joined the Class of 1968, 622 men and 8 women, divided into seven sections of 90 each to fit the specially-designed case-study classrooms. He studied in class, he studied alone, and he studied some more with his study group. I typed the case analysis papers that were due each Saturday at 4 pm and became a member of the Harvard Business School Wives Club. We both learned a lot about business, though from different perspectives. We dearly missed our families and looked forward to Joe Simmons' visits from Rhode Island. We acquired third-hand furniture and gear to survive the New England winters. We watched Julia Child's cooking classes on local television, but missed the counter-culture then taking root in Harvard Square. Gradually, we made friends with fellow students from many parts of the world. We returned the first weekend of October for Steve's 45th HBS Reunion and stayed with Lilli and Violet in North Cambridge.
It was not our first Harvard Reunion. They are serious affairs–no football, just a dazzling array of classes by Harvard's top professors, intended to challenge minds, build relationships and increase annual contributions. The campus is always impeccably groomed, convenient tents offer lavish lunches, guides at every corner help reunioners find their way. We loved seeing old friends–Freemans, Foundos, McKanes, Morrises, Moseleys, Schoenblums, Maxey and Ziegler–and meeting people from the classes of 1973 – 1988. It was a very stimulating two days. Let me introduce some of the outstanding lecturers we heard:
1. Nitin Nohria, Dean of Harvard Business School

2. Benjamin G. Edelman, Assoc. Prof. of Business Administration and Marvin Bower Fellow, and John A. Deighton, Harold M. Brierley Professor of Business Administration, spoke about "Google and Facebook."
3. William A. Sahlman, Professor of Business Administration and Senior Associate Dean for External Relations, spoke on "Entrepreneurial Action and the Case for Optimism." I took four pages of notes. Summary: opportunity is everywhere; the two greatest inventions of the 20th Century were the start-up and venture capital. Examples: iWalk, iBot, Novocure, Terra Power, Harvard Stem Cell Institute, HB-X/School Yourself (iPad application), Khan Academy and many more.
4.  Clayton M. Christensen, who teaches "Building and Sustaining a Successful Enterprise," spoke on "How Will You Measure Your Life?" It took him a while to build his case, but in the end it all fit together. We dared conclude that our lives were measuring up so far. Here's his 2012 Ted Talk on this subject:
5.  Douglas Melton, Professor in the Natural Sciences at Harvard and Investigator of the Howard Hughes Medical Institute, spoke on "The Promise of Stem Cell Science." This video provides a sample of his work:
6. On Saturday morning Steve went to see Amy Cuddy, Associate Professor of Business Administration present "How to Boost Your Power through Body Language." He was very impressed. Want to learn how to present yourself with confidence? Here is her Ted Talk on this subject:
7. While Steve was learning about body language, I heard a panel discussion on "Sustainability" moderated by Professor Ramana Nanda. The panel consisted of four MBA alumni who are helping sustain our environment through investments in renewable energy in the developing world. I thought this panel showed HBS graduates at their best, taking on difficult challenges and finding innovative solutions. They even inspired me to purchase carbon offsets for all the traveling I do. Here is an enterprise one has started involving women planting trees in Kenya:
8. With fond memories of our week at Chautauqua thinking about the Universe, I took myself to a lecture by Charles Alcock, Professor Astronomy and Director of the Harvard-Smithsonian Center for Astrophysics. Here's a short video of him at the Aspen Institute last June:
He talked about what constitutes true darkness, the mystery of dark matter and how few city children ever see stars in the sky. He went on to describe the new Giant Magellan Telescope the Center is helping construct in Chile, along with the University of Texas, Texas A&M, Carnegie Mellon and Australia-New Zealand University.
As you see, the Reunion centered on expanding our minds in many directions, but there were also parties–one at the Harvard Faculty Club Friday evening for the members of Steve's Section D, and one for the whole class Saturday night at the Boston Museum of Fine Arts. The food and the band were both very good. We danced like 1966. On Sunday, we had time with Violet and Lilli to read stories and carve pumpkins.