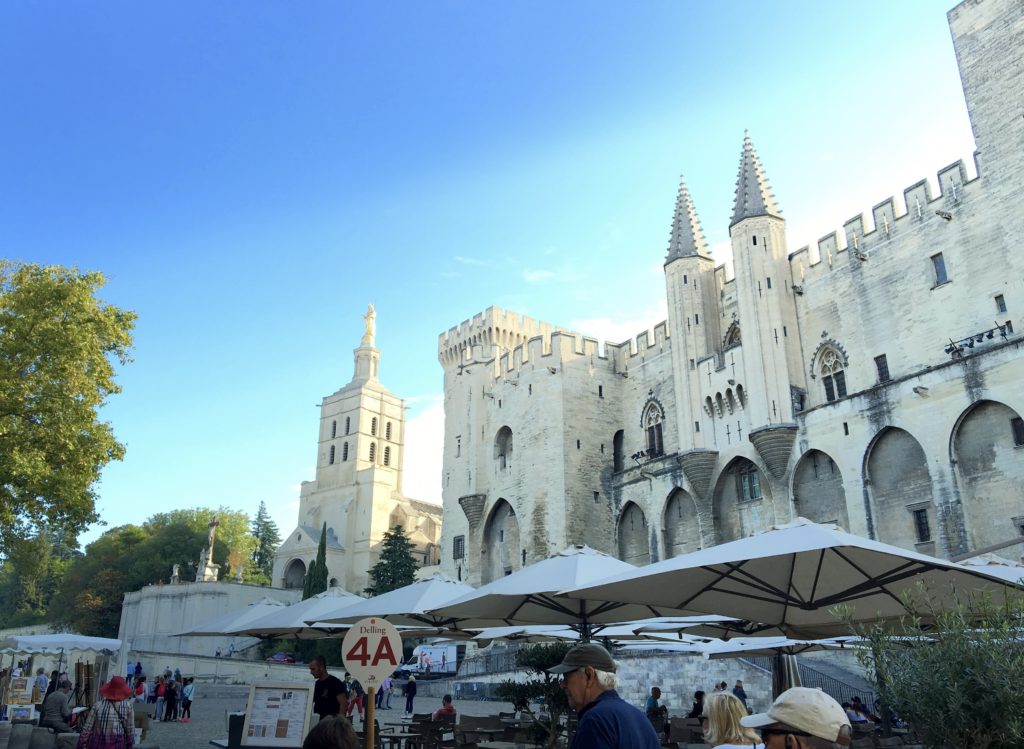 Our Viking boat moored near the famous, truncated bridge in Avignon for two days so that we could acquaint ourselves with the "City of Popes" and the vineyards of Chateauneuf-de-Pape. From 1309 to 1377 Avignon was home to seven pontiffs, the only period of Catholic history in which Rome's hegemony was challenged.
The Palace of the Popes is the largest Gothic building in Europe and along with the Bridge, another UNESCO World Heritage Site. Protected by walls up to 18 feet thick, with 15,000 square meters of floor space, its size is equivalent to four Gothic cathedrals. Construction began in 1335 and was completed in less than twenty years. The Palace is richly decorated with tapestry wall hangings and mural paintings. The Viking Daily reports:
Everything in this palace was done on a grand scale. At the 1344 coronation of Pope Clement VI, guest consumed 7,428 chickens, 3,043 fowl, 1,500 capons, 1,195 geese, 1,023 sheep, 914 kids, 118 oxen, 101 calves, 60 pigs, 15 sturgeon, 300 pike, 10 tons of sugar, 50,000 tarts, 95,000 loaves of bread and 42,000 gallons of wine. Not quite the miracle of loaves and fishes, but after all, this was France, where food has always been of the utmost importance.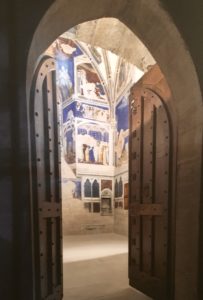 There's an old palace and a newer palace. As our guide said, the history is "complicated," but this link may help. A special treat was to see the maze of private papal apartments that feature stunning frescoes that Pope Clement commissioned by the Italian artist Matteo Giovannetti. We climbed many steps to the top of the highest tower (well, Steve did, but I stopped a little short of tippy top). We kept getting closer and closer to the gilded statue of the Virgin Mary on the Romanesque Cathedral of Notre-Dame-des-Doms next door. It was another lovely day; we viewed the town's roofs much as they might have looked eight centuries ago.
This slideshow requires JavaScript.
After a delicious lunch at Michelin-recommended Restaurant Christian Etienne in Avignon, generously hosted by Tor Hagen, we traveled to a wine tasting at the Domaine de Nalys in Châteaunefu-du-Pape and saw the Grenache grapevines growing in very rocky soil.
This slideshow requires JavaScript.
Back on the boat we could see the famous bridge again. I thought of my friend Judith, who taught me and my children to sing "Sur le pont, d'Avignon, on y danse, on y danse…" (on the bridge of Avignon, one dances…). And I remembered the time in 1986, when Steve and I celebrated our 20th wedding anniversary by driving through Southern France. We stopped in Avignon only briefly; I am so glad we had another chance to visit this beautiful, historic city.